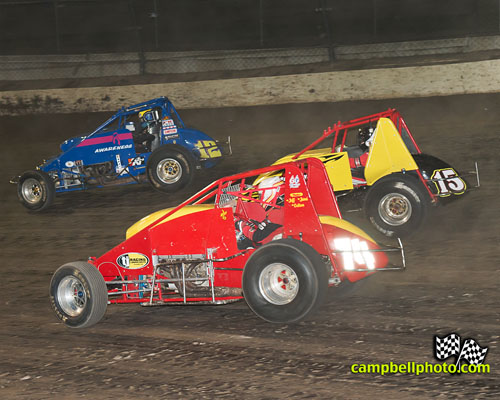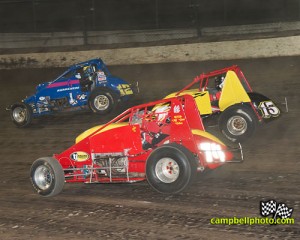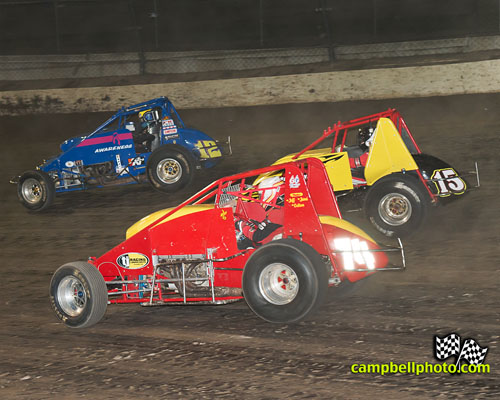 From Eldora Speedway
Rossburg, OH — (October 8, 2014) — Saturday's unique twilight UNOH (University of Northwestern Ohio) Sprintacular will feature three forms of Sprint Car racing – winged 410 c.i. All Star Circuit of Champions, non-winged Buckeye Outlaw Sprint Series (BOSS) with no engine rules and the winged 360 c.i. National Racing Alliance (NRA) Sprint Invaders – and close out its 61st consecutive year of racing with each group running complete racing programs. With the bulk of the Midwestern race tracks shuttered for the season, the late-season Sprintacular has the ability to attract drivers no longer chasing home-track titles; as evidenced by last year's astounding 119 entries.
Of the trio, the All Stars have the steepest history at the rural southwestern Ohio speed plant with 134 appearances since May 3, 1981, when Brad Doty captured the initial All Star run. During that 32-year run, Kenny Jacobs has garnered the most Eldora wins with his 21 checkered flags.
Jacobs was proficient at not only Eldora, but throughout the Midwest, as he raced to four career All Star championships – a fete shared by Frankie Kerr, Chad Kemenah and Dale Blaney.
That record will shatter Saturday evening as Blaney need only take the green flag to capture his fifth title. The Hartford, OH native has had a tremendous season with 16 All Star feature wins to up his career total to 115. Six of those victories have come from Eldora runs, dating back to his first Big E win in 1995. Earlier this year, young Danny Holtgraver (PA) won the Ohio Sprint Speedweek chase to become Eldora's 42nd different All Star winner.
Since joining the Sprint Car scene in 1994, the 360 c.i. Sprints have competed 118 times. From 1999 forward, the action has been under the NRA banner. In the three previous 2014 Eldora NRA chases, a trio of winners has emerged, with two of them claiming 'redemption' wins.
Jim Nier, the May 25 victor, had cruised to an apparent 2012 win only to fail the post-race fuel analysis; while Dustin Dagget's July 12 win erased the memory of a 2011 disqualification. Randy Hannagan, the leading winner on the NRA trail this season with five checkered flags prevailed over Eldora on July 11.
While their point season wrapped up in September, it will be a fully sanctioned contest and 2014 champion J.R. Stewart of Bellefontaine, OH will attempt put the icing on the cake with his second career Eldora win.
For the BOSS Sprints, a champion will be determined Saturday night. Dustin Smith of Russiaville, IN captured the series' inaugural title in 2012 with a dramatic season-closing run at Eldora and comes into this year's battle with a slim 10-point margin over Mike Miller of Wapakoneta, OH.
Neither of those two have Eldora wins on their BOSS resume. Luke Hall (OH) captured the initial run in 2012, while Brady Bacon (OK) captured last year's exciting Sprintacular and Chase Stockon (IN) moved into Eldora's hallowed victory lane earlier this year.
With the cooler fall temperatures in the air, Saturday' program will start earlier than usual, with the on-track action beginning at 4:30 with hot laps. Showtime is scheduled for 6:00 p.m.
Tickets for the Sprintacular are available by going online to www.EldoraSpeedway.com. Additionally, tickets may be purchased through the Eldora offices during normal business hours by calling (937) 338-3815 or on race day.
Race fans and race teams can get behind-the-scenes access by following @EldoraSpeedway on Twitter, hitting 'Like' at Facebook.com/EldoraSpeedway and view video highlights at YouTube.com/EldoraSpeedwayInc. Mobile device users can access the Eldora Speedway app for the iPhone, iPad and Android which are available for download via iTunes and Google Play.