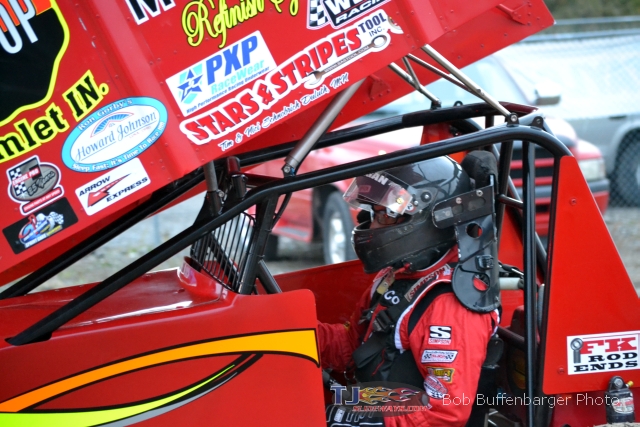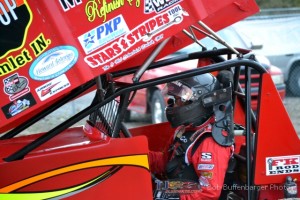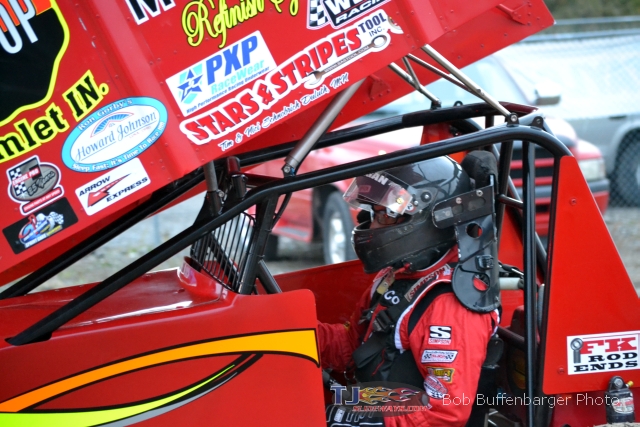 By T.J. Buffenbarger
Waynesfield, OH — (October 10, 2014) — Randy Hannagan proved to be the dominant car Friday night during the 360 sprint car portion of the Harvest of Sprints at Waynesfield Raceway Park. Hannagan held on through multiple caution and red flag peroids, passing Canadian driver Mitch Brown for the lead, and pulling away from Bob Reynolds Memorial winner Greg Wilson for the victory.
The win was bittersweet for Hannagan due to issues that his duo of car owners are going through.
"It's always really good to win when we can," said Hannagan. "Its bittersweet because my car owner Dennis Yoakam's father going in for surgery and my other car owner Ed Neumeister lost his house due to a fire, but everybody will be all right in the future to come."
Brown and Nick Roberts started on the front row for the 25-lap feature event. After the initial start was called back the field got one lap in when Taylor Ferns launched off turn to in a wild end of end crash into the cornfield. Ferns emerged from her car uninjured.
Brown pulled away from Hanngan during the restart until the red flag appeared again on lap five when Tim Allison spun, was clipped by Dustin Daggett, who then was clipped by Devon Dobie. Dobie launched into a wild flip that heavily damaged his car. All drivers in the incident were okay with Daggett the only one making the call for the restart.
Brown continued to hold off Hannagan until the caution appeared for Kevin Roberts and Kris Davis tangling in turn one.   During the restart Hannagan motored past Brown for the lead. Brown then swapped second position back and forth with Greg Wilson before making contact coming off turn four with Wilson taking the spot.
Hannagan then held off Wilson through three more caution flags for the win over Wilson, Brown, Knoxville Raceway regular Jon Agan, and Kyle Sauder.
K+L Ready Mix 360 Sprint Cars (25 Cars)
[#]-Starting Position
Heat 1 – Kears Speed Shop (8 Laps – Top 10 finishers transfer to the A-feature)
1. 6M-Max Stambaugh[1]
2. B20-Butch Schroeder[2]
3. 22H-Randy Hannagan[5]
4. 10-Mitch Brown[4]
5. 4S-Danny Smith[8]
6. 2M-Dustin Daggett[7]
7. 35-Ron Blair[6]
8. 9W-Derek Hagar[3]
Heat 2 – Biggies Coast 2 Coast (8 Laps – Top 10 finishers transfer to the A-feature)
1. 11-Tim Allison[1]
2. 6S-Greg Willson[4]
3. 83-Kyle Sauder[2]
4. 12J-Tyler Moore[3]
5. 23-Devon Dobie[8]
6. 28H-Hud Horton[5]
7. 5W-Jeff Williams[7]
8. 4K-Kris Davis[6]
Heat 3 – Texas Roadhouse (8 Laps – Top 10 finishers transfer to the A-feature)
1. 55F-Taylor Ferns[1]
2. 4-John Agan[4]
3. 12-Nick Roberts[2]
4. 33M-Beau Stewart[5]
5. 49-Shawn Dancer[6]
6. 11R-Chase Ridenhour[8]
7. 17-Jared Horstman[7]
8. 38-Dennis Wagner[9]
9. 22R-Kevin Roberts[3]
A-Main – (25 Laps)
1. 22H-Randy Hannagan[4]
2. 6S-Greg Willson[6]
3. 10-Mitch Brown[1]
4. 4-John Agan[5]
5. 83-Kyle Sauder[3]
6. 9W-Derek Hagar[22]
7. B20-Butch Schroeder[7]
8. 28H-Hud Horton[17]
9. 17-Jared Horstman[21]
10. 35-Ron Blair[19]
11. 6M-Max Stambaugh[10]
12. 12-Nick Roberts[2]
13. 12J-Tyler Moore[11]
14. 49-Shawn Dancer[15]
15. 4S-Danny Smith[13]
16. 11R-Chase Ridenhour[18]
17. 33M-Beau Stewart[12]
18. 2M-Dustin Daggett[16]
19. 22R-Kevin Roberts[25]
20. 4K-Kris Davis[23]
21. 11-Tim Allison[9]
22. 23-Devon Dobie[14]
23. 5W-Jeff Williams[20]
24. 38-Dennis Wagner[24]
25. 55F-Taylor Ferns[8]
Hard Charger: 9W-Derek Hagar[+16]