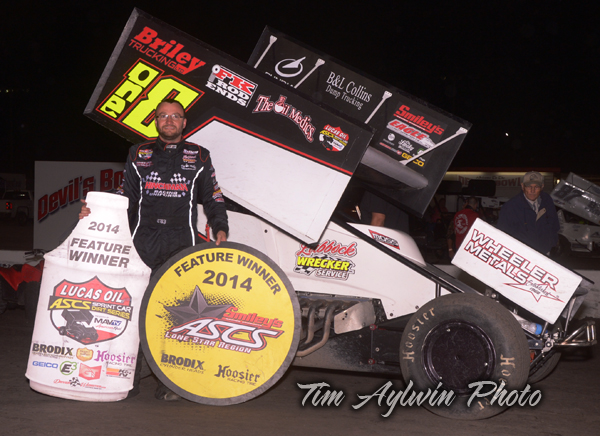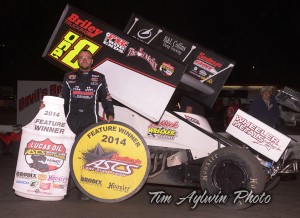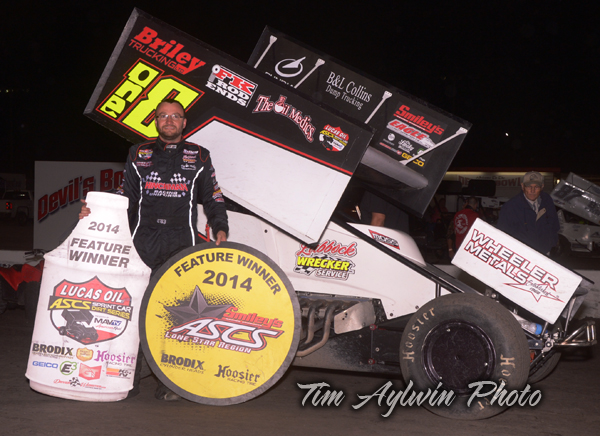 From Bryan Hulbert
Mesquite, TX — (October 17, 2014) — Winning the preliminary night of the 2014 Devil's Bowl Spring Nationals, Tony Bruce, Jr. added the preliminary night of the 2014 Devil's Bowl Winter Nationals to his list of victories at the Mesquite, Texas oval, bringing his win count to three with the Lucas Oil American Sprint Car Series presented by MAVTV American Real at the Devil's Bowl Speedway.
"First let me start off by saying my thoughts and prayers go out to Jason [Johnson]," said Bruce after scoring his third win of the season. "No one ever wants to win a race like that; we had a second place car that ended up getting a win to his unfortunate situation and like I said, my thoughts and prayers go out to him. I hope nothing's serious and he's out here tomorrow."
"We're happy to have a win. I mean, anytime you can get a win on this thing, it's tough to do and so I've got to thank everybody that's a part of this crew."
Giving chase to Jason Johnson from the start, Bruce took over the top spot on Lap 21 as the red flag flew for Johnson who saw his night end with a broken driveline in the MVT No. 41. Removed by Paramedics, Johnson did complain of pain in his legs but was not transported. No updates have been given as to his condition at this time.
Dusty Zomer raced from seventh to second. Capitalizing on the Lap 21 restart, Zomer shot under Matt Covington for the runner up spot.
"I pulled by wing back a little bit there. You have to run top four to get locked in here, so you're in a security blanket but we're here to make some money and do what we have to do, but the car stuck. It did push just a little on me, so I did check with Matt [Covington] to make sure I didn't do him dirty – First time back in 10 years, and I'm happy to be back."
Holding off Aaron Reutzel in the closing laps, Matt Covington recorded his fifth podium finish of the season, "The last national race we had at Wheatland, I had a hard time. Just some bad luck and didn't do the best job I could do but man, I love being here at the Devil's Bowl. This is my favorite track and had a lot of fun out there. Had fun racing with Tony and Dusty, he just caught me sleeping there in turn-two."
Aaron Reutzel earned the final transfer into Saturday's championship event for his eighth top five finish of the season. Brad Loyet came from ninth to complete the top five, putting 77 points between himself and Jeff Swindell who shot from fifth to second in tour standings.
Swindell from eleventh grabbed sixth with Sam Hafertepe, Jr. earning the KSE Hard Charger Award with an impressive driver from twenty-second to seventh after a crash in his Heat Race forced the No. 15h into the night's second B-Feature. Sam is now 80 points from the lead in third.
Equally impressive was Johnny Herrera's run from twenty-third to eight. Forced to take a provisional into the night's A-Feature, Herrera now sits fourth only 81 points back from Loyet. Jack Dover crossed ninth with Wayne Johnson coming from twentieth to complete the top-ten.
Bringing 47 drivers to the Devil's Bowl, six Heat Races went to Kris Miller, J.J. Simmons, Brad Loyet, Aaron Reutzel, Jeff Swindell, and Jason Johnson. Making the redraw, Miller was unable to continue as the engine expired on the No. 33 just after taking the checkered flag.
Danny Jennings and Brandon Long each won B-Features. Along with Herrera, Seth Bergman also took a provisional into the A-Feature but was unable to finish due to engine problems.
Paired with the Smiley's Racing Products Lone Star Region, high points went to Kevin Ramey, followed by Michael Lang, Patrick Stasa, Danny Jennings, and Martin Edwards.
The 41st annual Devil's Bowl Winter Nationals continues on Saturday, October 18 with races getting underway at 8:00 P.M. (CT).
For continued updates on the Lucas Oil ASCS presented by MAVTV American Real, log onto http://www.ascsracing.com.
Race Results:
Lucas Oil American Sprint Car Series presented by MAVTV American Real
Devil's Bowl Speedway – Mesquite, Texas
41st Winter Nationals
Friday, October 17, 2014
Car Count: 47
SpeedMart Heat Races (8 laps): Winners plus the next 10 highest in Passing Points transfer to the A-Feature.
Heat 1 (8 Laps): 1. 33-Kris Miller[1]; 2. 95-Matt Covington[4]; 3. 1J-Danny Jennings[2]; 4. 77X-Wayne Johnson[3]; 5. 81W-Danny Wood[6]; 6. 22-Koby Barksdale[5]; 7. 17-Josh Baughman[8]; 8. 65L-Nicholas Lucito[7]
Heat 2 (8 Laps): 1. 66-J.J. Simmons[1]; 2. 53-Jack Dover[7]; 3. 55-Brad Queen[2]; 4. 10-George White[3]; 5. 21T-Ray Allen Kulhanek[8]; 6. 10B-Mitch Brown[6]; 7. 16K-Kaden Taylor[4]; 8. (DNF) 27-Andy Shouse[5]
Heat 3 (8 Laps): 1. 05-Brad Loyet[1]; 2. 0-Jake Martens[2]; 3. 45-Martin Edwards[6]; 4. 3H-Brandon Hanks[7]; 5. 28-Tommy Bryant[4]; 6. 17T-Channin Tankersley[8]; 7. 23-Seth Bergman[5]; 8. 12W-Dale Wester[3]
Heat 4 (8 Laps): 1. 87-Aaron Reutzel[1]; 2. 4X-Shawn Petersen[2]; 3. 14-Michael Lang[4]; 4. 15H-Sam Hafertepe Jr[3]; 5. 93-Dustin Morgan[5]; 6. 45X-Johnny Herrera[7]; 7. 92-Jordan Weaver[6]; 8. 88M-Keith Meyer[8]
Heat 5 (8 Laps): 1. 94-Jeff Swindell[1]; 2. 7M-Kevin Ramey[2]; 3. 2K-Brandon Long[3]; 4. 19-Patrick Stasa[5]; 5. 33Z-Zach Chappell[6]; 6. 52-Blake Hahn[7]; 7. 4J-John James[4]; 8. 56-Jarrett Lucito[8]
Heat 6 (8 Laps): 1. 41-Jason Johnson[3]; 2. 18-Tony Bruce Jr[4]; 3. 82-Dusty Zomer[7]; 4. 4-Stevie Smith[2]; 5. 9-Bobby Breen[6]; 6. (DNF) 4A-Jon Agan[1]; 7. (DNF) E85-Derek Hagar[5]
Smiley's Racing Products B-Features (12 Laps): Top 3 advance to the A-Feature.
B Feature 1 (12 Laps): 1. 1J-Danny Jennings[2]; 2. 21T-Ray Allen Kulhanek[1]; 3. 19-Patrick Stasa[3]; 4. 81W-Danny Wood[5]; 5. 52-Blake Hahn[9]; 6. 10-George White[4]; 7. 9-Bobby Breen[6]; 8. 23-Seth Bergman[12]; 9. 22-Koby Barksdale[10]; 10. 28-Tommy Bryant[8]; 11. 12W-Dale Wester[15]; 12. (DNF) 16K-Kaden Taylor[13]; 13. (DNF) 65L-Nicholas Lucito[14]; DNS 17T-Channin Tankersley; DNS 4A-Jon Agan; DNS 56-Jarrett Lucito
B Feature 2 (12 Laps): 1. 2K-Brandon Long[1]; 2. 77X-Wayne Johnson[3]; 3. 15H-Sam Hafertepe Jr[4]; 4. 4-Stevie Smith[6]; 5. 45X-Johnny Herrera[8]; 6. E85-Derek Hagar[13]; 7. 33Z-Zach Chappell[5]; 8. 93-Dustin Morgan[7]; 9. 17-Josh Baughman[11]; 10. 10B-Mitch Brown[10]; 11. 88M-Keith Meyer[16]; 12. (DNF) 27-Andy Shouse[15]; 13. (DNF) 55-Brad Queen[2]; 14. (DNF) 92-Jordan Weaver[12]; DNS 4J-John James
Protect the Harvest A-Feature (25 Laps):
A Feature (25 Laps): 1. 18-Tony Bruce Jr[5]; 2. 82-Dusty Zomer[7]; 3. 95-Matt Covington[4]; 4. 87-Aaron Reutzel[10]; 5. 05-Brad Loyet[9]; 6. 94-Jeff Swindell[11]; 7. 15H-Sam Hafertepe Jr[22]; 8. 45X-Johnny Herrera[23]; 9. 53-Jack Dover[6]; 10. 77X-Wayne Johnson[20]; 11. 7M-Kevin Ramey[15]; 12. 21T-Ray Allen Kulhanek[19]; 13. 3H-Brandon Hanks[12]; 14. 14-Michael Lang[16]; 15. 19-Patrick Stasa[21]; 16. 0-Jake Martens[13]; 17. 1J-Danny Jennings[17]; 18. (DNF) 41-Jason Johnson[1]; 19. (DNF) 45-Martin Edwards[2]; 20. (DNF) 4X-Shawn Petersen[14]; 21. (DNF) 66-J.J. Simmons[8]; 22. (DNF) 2K-Brandon Long[18]; 23. (DNF) 23-Seth Bergman[24]; DNS 33-Kris Miller
Lap Leader(s): Jason Johnson 1-21; Tony Bruce, Jr. 22-25
KSE Hard Charger: Sam Hafertepe, Jr. +15
FSR High Point: Jack Dover
CSI Rebound: J.J. Simmons
Provisional(s): Johnny Herrera (BP2), Seth Bergman (P1)
Devil's Bowl Speedway – Lucas Oil ASCS Winners: Gary Wright (Hooks, TX) 20, Jason Johnson (Eunice, LA.) 10, Wayne Johnson (Oklahoma City, OK.) 6, Kevin Ramey (Ft. Worth, TX.) 4, Danny Jennings (Norman, OK.) 3, Sammy Swindell (Germantown, TN.) 3, Tony Bruce, Jr. (Liberal, KS.) 3, Brian Brown (Grain Valley, MO.) 2, Garry Lee Maier (Cimarron, KS.) 2, Jeff Swindell (Bartlett, TN) 2, Johnny Herrera (Albuquerque, N.M.) 2, Mike Peters (Wichita, KS.) 2, Shane Stewart (Bixby, OK.) 2, Terry Gray (Bartlett, TN.) 2, Travis Rilat (Forney, TX.) 2, Shane Carson (Oklahoma City, OK.), Alan Payne (Dallas, TX.), Danny Lasoski (Dover, MO.), Edd French (El Paso, TX.), Jack Dover (Springfield, NE.), Jake Peters (Sioux Falls, S.D.), Kyle Bellm (Nixa, MO.), Larry Neighbors (Oklahoma City, OK.), Mike Ward (Memphis, TN.), Patrick Stasa (Ft. Worth, TX.), Sam Hafertepe, Jr. (Sunnyvale, TX.), Seth Bergman (Snohomish, WA.), Shane Carson (Oklahoma City, OK.), Tim Crawley (Bryant, AR.)
=======================================================
2014 A-Feature Winner(s): Sam Hafertepe, Jr. – 4. Brad Loyet – 3, Jeff Swindell – 3, Tony Bruce, Jr. – 3, Aaron Reutzel -2, Rico Abreu – 2, Christopher Bell – 2, Brian Brown – 2, Seth Bergman – 2, Wayne Johnson – 2, Derek Hagar – 2, Patrick Stasa – 1, Sammy Swindell – 1, Davey Heskin – 1, Matt Covington – 1, Tim Crawley – 1
2014 Lucas Oil ASCS Driver Standings (Top 10): 1. Brad Loyet 3,526; 2. Jeff Swindell 3,574; 3. Sam Hafertepe, Jr. 3,571; 4. Johnny Herrera 3,570; 5. Jason Johnson 3,558; 6. Seth Bergman 3,397; 7. Matt Covington 3,305; 8. Tony Bruce, Jr. 3,278; 9. Aaron Reutzel 3,064; 10. Blake Hahn 3,045;