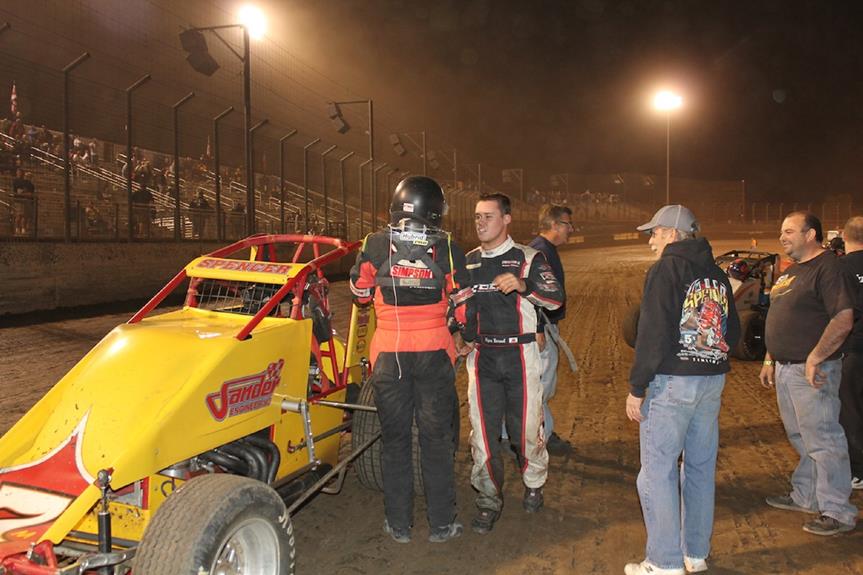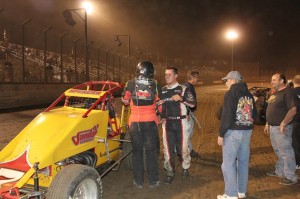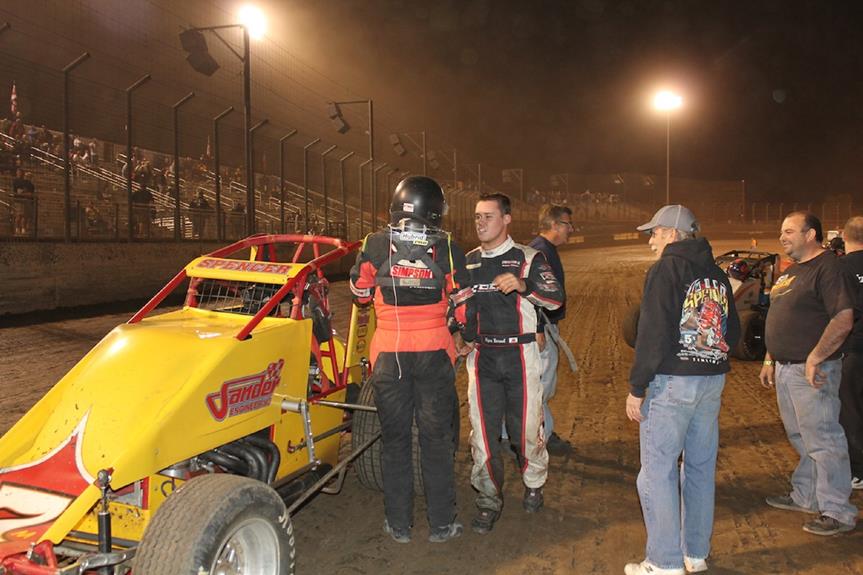 From Scott Daliosio
Perris, CA — (October 21, 2014) — The early entries are in for the 360-portion of the 19th Annual Budweiser Oval Nationals Presented by All-Coast Construction on November 6th and to say the least, it will be a show fans will not want to miss. The prelude to the 410 portion of the Oval Nationals on November 7th and 8th, open wheel racing stars are prevalent throughout the first 33 entries in the 360 field.
The winner of the 360 main event will take home $2,500.00 and that has drawn the attention of top stars from California, Arizona and Indiana.
"What a super field we have for the 360 Budweiser Oval Nationals this year," promoter Don Kazarian said on Tuesday afternoon. "The winner will take home $2,500.00 and that is a great payday for 360's. That is obvious by the top stars who have already entered the race this year. Mike Spencer is the defending champion and he will have to be on his game again to win this one. Last year the 360 race was fabulous and I expect the same on November 6th."
Three of the entries, Jon Stanbrough of Avon, Indiana, Kevin Thomas Jr. of Cullman, Alabama and two-time defending USAC National Sprint Car champ Bryan Clauson of Noblesville, Indiana have all entered the prestigious race and are currently ranked in the top 12 in USAC points. Laveen, Arizona's R.J. Johnson, the defending champ and current point leader in the USAC Southwest Sprint Car Series, and multi-time Arizona area champion Charles Davis Jr. of Buckeye, Arizona, head the list of entries from the Copper State.
Heading the contingent from Central and Northern California will be 2014 USAC Western Classic Champion Ryan Bernal of Hollister, 2013 USAC West Coast Champion Danny Faria Jr. of Tipton, Landon Hearst of Riverdale and Colby Copeland of Roseville.
All of the visiting drivers will have to put up with a fierce group of PAS locals who plan on ferociously defending their local turf. Included in The PAS delegation is Spencer of Temecula, the defending race champ and 5-time USAC/CRA champion. Matt Mitchell of Orange, who leads the USAC West Coast Series standings, Huntington Beach driver Brody Roa, who is getting married this weekend, twins Richard and Jace Vander Weerd of Visalia and past USAC/CRA rookie of the year Jake Swanson of Anaheim.
The 410's will take over the action on November 7th and 8th and will be joined by The PAS Senior Sprints both of those night. The California Lightning Sprint Cars will be in action on the 7th as well.
Advance tickets for the Oval Nationals are on sale 24 hours a day by calling 1-800 595-4849 or by clicking on the following link to purchase tickets online: Order Oval Nationals Tickets
Entries
02 – Matt Rossi – Glendale AZ
04 – Mike Collins – Lake Forest, CA
2F – Danny Faria Jr. – Tipton, CA
3X – Terry Schank Jr. – Santa Rosa, Ca
4G – TBA
5V – Colby Copeland – Roseville, CA
5X – Max Adams – Loomis, CA
10 – Richard Vander Weerd – Visalia, CA
12 – Josh Pelkey – Peoria, AZ
15 – J.J. Ercse – Huntington Beach, CA
16 – Mike Martin – Yuma, AZ
16B – Bryan Clauson – Noblesville, IN
17 – Jonathon Henry – San Luis Obispo, CA
20 – Shon Deskins – Waddell, AZ
25 – Brian Grosenheider – El Cerrito, CA
36 – Mikey Lovas – Menifee, CA
37 – Matt Mitchell – Orange, CA
39E – Kyle Edwards – Fountain Valley, CA
48 – Brody Roa – Huntington Beach, CA
50 – Charles Davis Jr. – Buckeye, AZ
54 – Cody Majors – Simi Valley, CA
55 – Tony Everhart – El Cajon, VA
56 – Ryan Bernal – Hollister, CA
73 – Marcus Niemela – Rauma, Finland
73X – Kevin Thomas Jr. – Cullman, AL
74 – David Taylor – Moorpark, CA
77M – RJ Johnson – Laveen, AZ
81 – Tristan Guardino – CA
81M – Jon Stanbrough – Avon, IN
86 – Chris Ennis – Bakersfield, CA
88 – Jace Vander Weerd – Visalia, CA
92 – Jake Swanson – Anaheim, CA
179 – Landon Hurst – Riverdale, CA
For more information on The PAS call: (951) 940-0134.
Camping for all events at The PAS is available for $25.00 per night. The campground will open at noon on Friday. Tailgating in the spectator parking lot will begin at 1:00 PM for all PAS events as well.