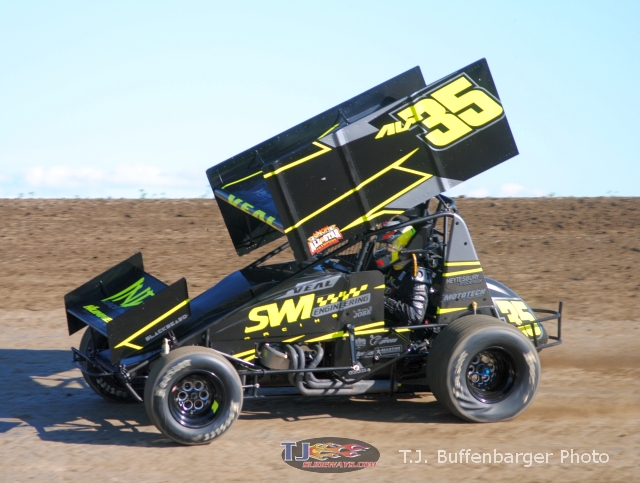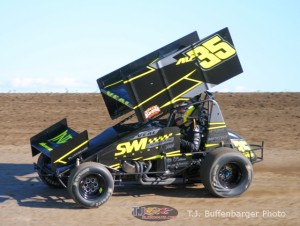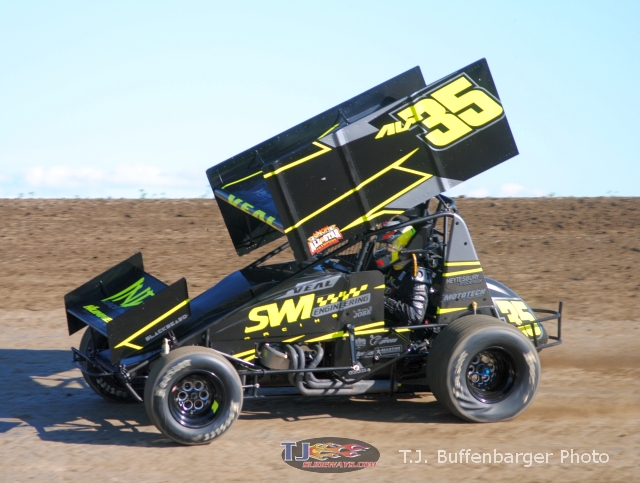 Sydney, AU — (October 25, 2014) —
Jamie Veal tonight became the first Victorian to ever win three consecutive Sprintcar main events at Valvoline Raceway.
The 26 year old started his SWI Engineering / Lucas Oils Maxim from the front row alongside Max Dumesny in the 30 lap main event and waged a spectacular battle with the wily veteran for much of the race.
It was only when the two almost made contact in turn three and Dumesny looped the Valvoline #5 Maxim that the energy went out of what was an absorbing battle.
The win was far from easy for the Warrnambool tear-away however as Sydney hard charger Troy Little stepped up to the plate and made his own play for the number one position.
Little would eventually, and ironically, run over his own exhaust and cut down a tyre within sight of the chequered flag but Veal's victory was sealed even with a motor that was slightly down on horsepower.
"It's great to get the win tonight but we've been chasing some problems all night and we never really got on top of them. The boys hardly saw a race because we were trying to get this thing sorted.
We'll be back on November 22 and try and get our fourth in a row."
Darryl Campbell was thrilled to run second after being top four for most of the race.
"Anytime you can get on the podium with Jamie Veal and Robbie Farr you're doing well I guess. We'll take it. I'm pleased for our guys and I hope the fans enjoyed the show," Campbell smiled.
For Robbie Farr third place was not what he had originally intended but still a significant result all things considered.
"When we crashed in the dash I was sure we were going to get upside down," he conceded, "any time you get into trouble like that and somehow get away with it and then come away with top three in the main event it's not so bad I guess."
Marty Perovich recorded his best result for the season with a strong fourth place ahead of the consistent Danny Reidy, the improved Kelly Linigen, James Thompson, Toby Bellbowen (who was in the motor wars all night and even caught fire in the Dash) the improved Sam Walsh, Ben Atkinson (who came from well back on the grid) Warren Ferguson, Grant Tunks, Max Dumesny (who pedaled back to thirteenth from the rear on the restart) Jordyn Brazier, Matt Dumesny, Jackson Delamont, Troy Little, Garry Rooke, Max Johnston, Alex Orr and Jack Lee.
DNF's for the main event were Paul Jeffrey, Jeremy Cross and Luke Nash.
The B-Main was won by Jeremy Cross over fellow transferees Warren Ferguson, Grant Tunks and Garry Rooke.
The C-Main saw victory for Guy Stanshall.
Jamie Veal scored another Network Industry Quick Time award with a 12.436s lap over Warren Ferguson, Marty Perovich, Toby Bellbowen and Jordyn Brazier rounding out the fifth quickest cars.
Jamie Veal won the A-Dash and Max Dumesny the B-Dash.