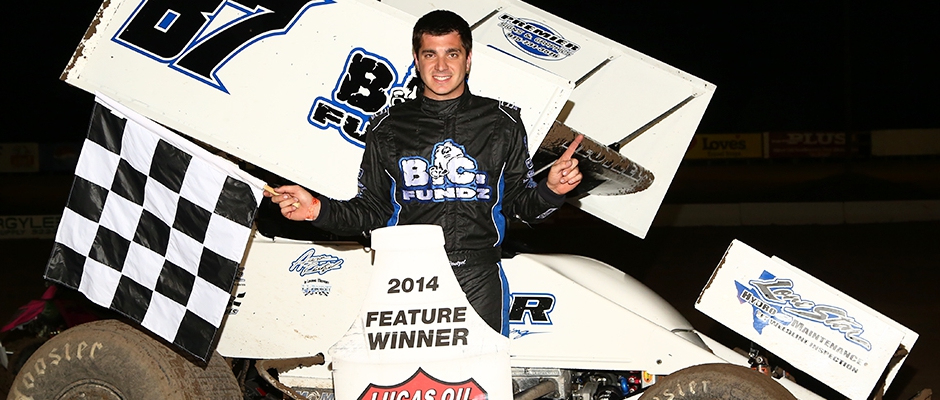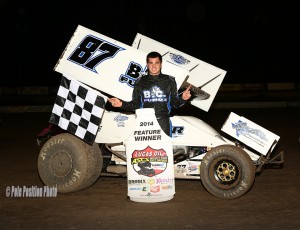 From Bryan Hulbert
Las Cruces, NM — (November 8, 2014) — The tenth visit by the Lucas Oil American Sprint Car Series presented by MAVTV American Real to the Southern New Mexico Speedway yielded its tenth different winner as Aaron Reutzel parked the B.C. Funds No. 87 in Victory Lane.
"I tell you what, this team is just rolling. Two months of bad luck, but this just shows how good this team is," said an overjoyed Aaron Reutzel, who dedicated the win to his sponsors James Ivison, who recently got married, and Bob Miller, who has helped furnished Reutzel with engines throughout the season. "Last year we took the lead on the first lap, had a restart, and then spun out. I was pretty sure we were going to win that one so this one's for Bob."
Taking the lead in traffic on Lap 7, Reutzel was challenged slightly in the closing laps before traffic played to the advantage of the No. 87 as Reutzel crossed 2.755 seconds ahead of John Carney II for his fourth victory of the season against the National Tour.
Matching his performance from a year ago, John Carney II finish was his third career runner-up against the National Tour, "We've got great stuff, and everyone works really hard on this car. We expect to run this well, but would like to win. We've had plenty of seconds with the national guys, and a lot of top-fives, so we know we've got a win coming pretty soon."
Bettering his Friday night finish, Southern New Mexico Speedway promoter, Royal Jones, crossed the stripe third for his first podium finish with the Lucas Oil ASCS National Tour.
"If it'll race, I'll drive it. I like it, I love to race," commented Royal who has raced nearly every class offered around the borderland the past 33 years. "I call it 'Bronco Bob' on this kind of stuff. You just really have to pony up on this kind of track and I know a lot of those guys get tired, and their cars are too tight, and you just have to ride it through there. I just tried to keep it from biking up."
A night filled with drama for the championship, Brad Loyet suffered two flips during the night; first in his Heat Race, then in the B-Feature. Forced to utilize his first Provisional of the season, fought from twenty-third to finish sixteenth.
Johnny Herrera sits third in tour standings after a fourth place finish moved the No, 45x within 35 points of the lead, and only a single point from Jeff Swindell who completed the top five in the night's feature event.
Tyler Thomas placed sixth with Josh Baughman seventh. Tony Bruce, Jr. crossed eighth with Jason Johnson ninth. The finish by Johnson was enough to move the MVT No. 41 to fourth in tour standings with 67 markers separating Johnson from the points lead, and one ahead of Sam Hafertepe, Jr. whose night ended with a fourteenth place finish. Matt Covington completed the top-ten.
Signing in 34 drivers, four Heat Races went to Jeff Swindell, Josh Baughman, Shawn Petersen, and Aaron Reutzel. The night's B-Feature was won by Sam Hafertepe, Jr. Provisionals were utilized by Brad Loyet and Channin Tankersley.
Coming down to the final two nights of the 2014 season, the Cocopah Speedway in Yuma, Ariz. will see competition on Friday, November 14 and Saturday, November 15. Preliminary night action will pay $5,000 to win, with Saturday's finale paying $10,000 to win. Races will be preceded by a Fanfest on Thursday, November 13 at the Wild River Family Entertainment Center located across the street from the Cocopah Speedway. Tickets for the two night affair can be purchased on http://www.cocopahspeedway.com.
For complete news, details, and updates on the Lucas Oil ASCS presented by MAVTV American Real, log onto http://www.ascsracing.com.
Race Results:
Lucas Oil American Sprint Car Series presented by MAVTV American Real
Southern New Mexico Speedway – Las Cruces, N.M.
Saturday, November 8, 2014
Car Count: 34
SpeedMart Heat Races (8 laps): Winner plus top 12 in Passing Points advance to the A-Feature.
Heat 1 (8 Laps): 1. 94-Jeff Swindell[2]; 2. 41-Jason Johnson[1]; 3. 72-Phil Dietz[3]; 4. 95-Matt Covington[4]; 5. 8-Bob Ream Jr[7]; 6. 22-Jesse Baker[5]; 7. 17W-Harli White[9]; 8. 17JR-Bruce Griffith Jr[6]; 9. (DNF) 17-Channin Tankersley[8]
Heat 2 (8 Laps): 1. 17B-Josh Baughman[1]; 2. 131-Royal Jones[4]; 3. 45X-Johnny Herrera[6]; 4. 0-Glenn Styres[5]; 5. 23-Seth Bergman[8]; 6. 94X-Nick Parker[7]; 7. 20Z-Rick Ziehl[2]; 8. 41W-Joshua Williams[9]; 9. 99-Chuck Jackson[3]
Heat 3 (8 Laps): 1. 4X-Shawn Petersen[1]; 2. 74B-John Carney II[5]; 3. 21-Tyler Thomas[8]; 4. 74X-Joshua Hodges[4]; 5. 44-Damon McCune[7]; 6. 0J-Jeremy McCune[2]; 7. (DNF) 05-Brad Loyet[6]; 8. (DNF) 88-Scottie McDonald[3]
Heat 4 (8 Laps): 1. 87-Aaron Reutzel[1]; 2. 18-Tony Bruce Jr[3]; 3. 2L-Logan Forler[4]; 4. 52-Blake Hahn[5]; 5. 15H-Sam Hafertepe Jr[7]; 6. 36DD-Matt Ziehl[2]; 7. 14-Cody Sickles[6]; 8. 29S-Darrell Sickles[8]
Smiley's Racing Products B-Features (12 Laps): Taking top 6 to the A-Feature.
B Feature (12 Laps): 1. 15H-Sam Hafertepe Jr[2]; 2. 74X-Joshua Hodges[4]; 3. 95-Matt Covington[3]; 4. 17W-Harli White[6]; 5. 88-Scottie McDonald[16]; 6. 41W-Joshua Williams[12]; 7. 94X-Nick Parker[5]; 8. 20Z-Rick Ziehl[14]; 9. 0J-Jeremy McCune[8]; 10. 17JR-Bruce Griffith Jr[15]; 11. 44-Damon McCune[1]; 12. 29S-Darrell Sickles[13]; 13. 99-Chuck Jackson[18]; 14. (DNF) 22-Jesse Baker[7]; 15. (DNF) 36DD-Matt Ziehl[9]; 16. (DNF) 05-Brad Loyet[10]; 17. (DNF) 14-Cody Sickles[11]; 18. (DNF) 17-Channin Tankersley[17]
Protect the Harvest A-Feature (30 Laps):
A Feature (30 Laps): 1. 87-Aaron Reutzel[3]; 2. 74B-John Carney II[2]; 3. 131-Royal Jones[4]; 4. 45X-Johnny Herrera[6]; 5. 94-Jeff Swindell[7]; 6. 21-Tyler Thomas[1]; 7. 17B-Josh Baughman[5]; 8. 18-Tony Bruce Jr[9]; 9. 41-Jason Johnson[10]; 10. 95-Matt Covington[19]; 11. 2L-Logan Forler[11]; 12. 23-Seth Bergman[12]; 13. 17W-Harli White[20]; 14. 15H-Sam Hafertepe Jr[17]; 15. 52-Blake Hahn[15]; 16. 05-Brad Loyet[23]; 17. 8-Bob Ream Jr[16]; 18. 41W-Joshua Williams[22]; 19. 4X-Shawn Petersen[8]; 20. 0-Glenn Styres[14]; 21. (DNF) 72-Phil Dietz[13]; 22. (DNF) 88-Scottie McDonald[21]; 23. (DNF) 17-Channin Tankersley[24]; DNS 74X-Joshua Hodges
Lap Leaders: John Carney II 1-6; Aaron Reutzel 7-30
KSE Hard Charger: Matt Covington +9
FSR High Point Driver: Tyler Thomas
Provisional(s): Brad Loyet (P1), Channin Tankersley (BP2)
=======================================================
2014 A-Feature Winner(s): Sam Hafertepe, Jr. – 4, Christopher Bell – 4, Aaron Reutzel -4, Brad Loyet – 3, Jeff Swindell – 3, Tony Bruce, Jr. – 3, Brian Brown – 3, Rico Abreu – 2, Seth Bergman – 2, Wayne Johnson – 2, Derek Hagar – 2, Matt Covington – 2, Patrick Stasa – 1, Sammy Swindell – 1, Davey Heskin – 1, Tim Crawley – 1, Logan Forler – 1
2014 Lucas Oil ASCS Driver Standings (Top 10): 1. Brad Loyet 3,973; 2. Jeff Swindell 3,939; 3. Johnny Herrera 3,938; 4. Jason Johnson 3,906; 5. Sam Hafertepe, Jr. 3,905; 6. Seth Bergman 3,687; 7. Matt Covington 3,655; 8. Tony Bruce, Jr. 3,629; 9. Aaron Reutzel 3,491; 10. Blake Hahn 3,347;