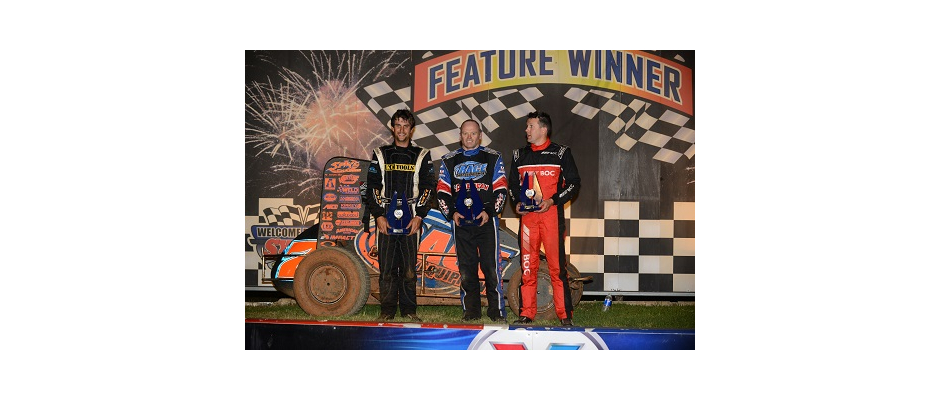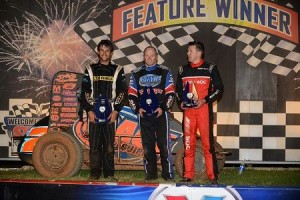 From Syndey Speedway
Sydney, AU — (November 15, 2014) — Nathan Smee's dominance of the Speedcar racing at Valvoline Raceway continued tonight with another stirring victory in the 25-lap main event.
Driving his lethal #7 Race Safety Equipment Spike Smee quickly blazed his way through from the back of the field to be literally unchallenged for the majority of the feature.
"I blew it in qualifying," he conceded from the podium, "it was my fault entirely with a gearing choice that didn't work but we were able to get the set up right just now and I'm pleased for everyone that works on this deal that we could get another win."
Trailing home Smee in second was a disappointed yet determined Matt Smith.
"We were fast all night but missed the set up in the feature," he mused, "I gave Nathan too much of a head start and he got through and drove a good race. It was always going to be tough to catch him."
Smith endured a titanic struggle with Sydneysider Troy Jenkins before eventually claiming second over Jenkins' third.
"The track was fast tonight, you could really run it in there on the cushion or even run the low line and be quick. I had a good battle with Smithy just then and a podium finish is a good result for our team. I can't wait for the Pro Series here in December."
Smee too, although originally planning to race in NZ in early December, is keen to hang around for the Pro Series event on December 6.
"Originally we were going to be away but we've postponed the New Zealand trip for a week so we can run against the Pro Series guys. It seems like Dayne Kingshott is the guy to beat so I'm keen to take him on around here.""
Goulburn teenager Brayden Wilmington put together his best VR drive to date with a strong fourth place (he led early) ahead of West Aussie Dean Merrylees in fifth, Dean Meadows sixth, Reid Mackay seventh, Cam Restall eighth and Alan Day rounding out the finishing nine.
DNF's were recorded by Michael Stewart, Rob Mackay, Aidan Corish, Pierce Lehane, Richard Malouf, Gavin Gay, Bob Jackson and Andy Hassan.
Earlier in the night Newcastle racer Matt Hunter rolled his car in turn three when he rode the wheel of another car on the back straight and ended up cage down.
Hunter was OK but his night was ended.
Next Saturday night sees the Sprintcars return for the fifth round of the Sydney Premiership with Late Models, Legend Cars and a Demolition Derby also on the program.