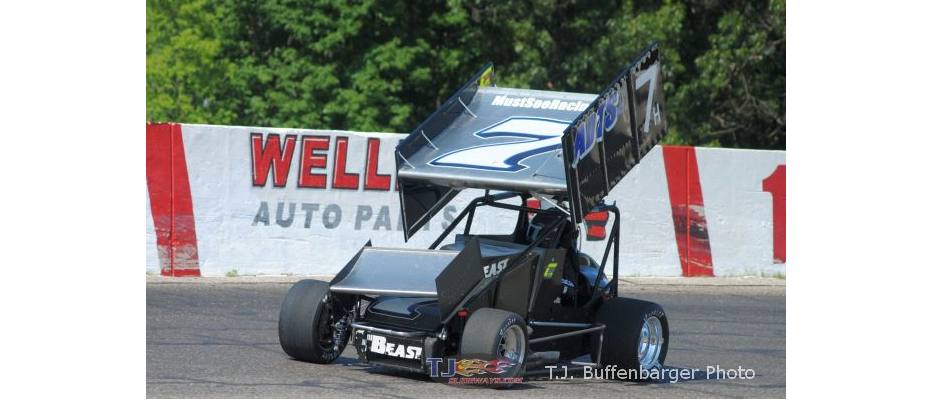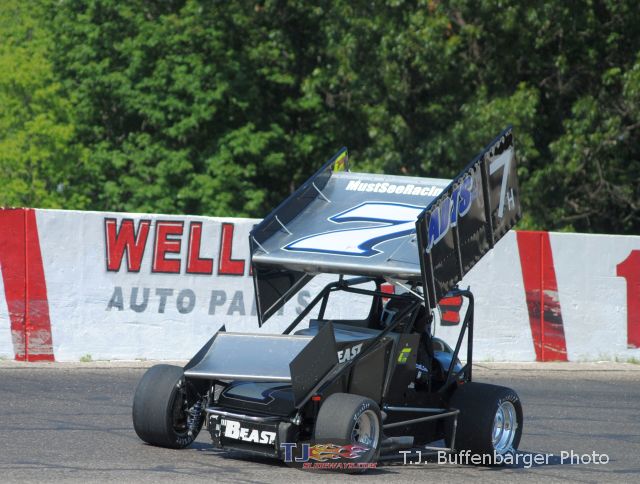 From Kern County Raceway
Bakersfield, CA — (November 23, 2014) — Rohnert Park, CA's JoJo Helberg put a cap on the inaugural King of the Wing Sprint Car championship by winning the season ending national championship race on Sunday evening at Kern County Raceway Park. Helberg's win at the lightning fast half-mile was his fourth win in the six race series for Winged Pavement Sprint Cars at speeds over 150 miles per hour.
A hearty crowd of over 2000 braved cool temperatures to witness some of the fastest oval track racing in the history of Kern County. The event wrapped up the second season of racing for the speedway as well.
The series organized by Davey Hamilton ran a three race swing across Southern California, with Helberg winning the Saturday night round at Irwindale. Helberg kicked off Sunday's round at KCRP with a blistering 14.296, 125.909 mile per hour lap in qualifying to set the all-time track record.
Helberg started on pole after pulling a zero invert and paced the field comfortably through the first nine laps that went caution-free. A lap 18 caution for oil fire on Ohio's Kyle Edwards brought out a red flag for refueling.
With the refueling completed incoming Western Swing points leader Sierra Jackson of Idaho saw her hopes dashed as she dropped from fourth to eighth on the restart. Aaron Pierce hounded Helberg with Chowchilla's Eric Humphries running third. Humphries night went up in smoke on lap 30 to set up a ten lap sprint to the finish.
Pierce used the restart to clamp down on Helberg, and on lap 35 the Indiana driver made his move. Diving into turn three, Pierce went side-by-side with Helberg briefly before washing up the race track. The maneuver allowed Helberg to pull away to a 10 car length lead that never waivered. Helberg sprinted past the checkers for the $3000 win ahead of Pierce, Bobby Santos, Wisconsin's David Byrne, and Sierra Jackson. Helberg not only won the overall series championship but won the Midwest Swing in July and unofficial won the Western Swing with the win tonight.
Helberg made waves with outside pass on the last turn to win his heat race, with other heat race wins to Pierce, Jackson, and Edwards. A scary incident occurred on the opening lap of the first heat race when Rick Brown tagged the backstretch wall and rode against it all the way into turn three. Brown was transported by helicopter to Kern Medical Center but was reported to have only minor injuries.
Major marketing partners at Kern County Raceway Park include Budweiser, CITGO Lubricants, Monster Energy, Advance Beverage Company, Coca Cola, DC's RV Center, Three-Way Chevrolet, and Whelen Engineering.
Kern County Raceway Park is online at www.kernraceway.com More information is available on Facebook at www.facebook.com/kernraceway and on Twitter at www.twitter.com/kernraceway
November 23 – King of the Wing Sprint Cars
Kern County Raceway Park – Bakersfield, CA
King of the Wing Sprint Cars
Qualifying: JoJo Helberg 14.296, 125.909
Heat Race 1: 1) 7 JoJo Helberg, 2) 40 David Byrne, 3) 22a Bobby Santos, 4) 12 Ronnie Larson, 5) 22 Richie Larson, 6) 33 Rick Brown
Heat Race 2: 1) 26 Aaron Pierce, 2) 3 Robert Beck, 3) 15 Eric Humphries, 4) 61 Kevin Feeney, 5) 11x Tom Paterson, 6) 07 Jacob Wilson
Heat Race 3: 1) 25j Sierra Jackson, 2) 40 Cody Gerhardt, 3) 60 Tim Skoglund, 4) 3t Tim Barber, 5) 14 Matt Mansell
Heat Race 4: 1) 11 Kyle Edwards, 2) 60 Davey Hamilton, Jr., 3) 1 Ken Hamilton, 4) 7 Randy Dubois, 5) 98 Geoff Ensign, 6) 10 Anthony Simone
Feature – 40 laps
1) 7 JoJo Helberg, 2) 26 Aaron Pierce, 3) 22a Bobby Santos, 4) 40 David Byrne, 5) 25j Sierra Jackson, 6) 40 Cody Gerhardt, 7) 61 Kevin Feeney, 8) 07 Jacob Wilson, 9) 1 Ken Hamilton, 10) 12 Ronnie Larson, 11) 22 Richie Larson, 12) 60 Davey Hamilton, Jr., 13) 11x Tom Paterson, 14) 15 Eric Humphries, 15) 11 Kyle Edwards, 16) 3 Robert Beck, 17) 60 Tom Skoglund, 18) 14 Matt Mansell, 19) 7 Randy Dubois, 20) 10 Anthony Simone, 21) 91 Davey Hamilton 21:54.727