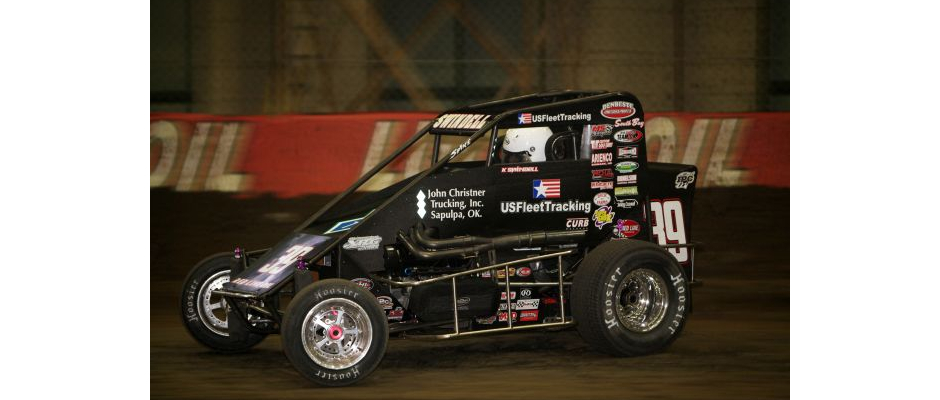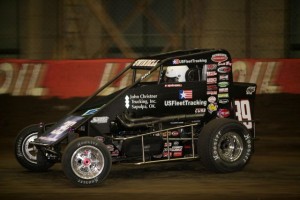 From Bryan Hulbert
Tulsa, OK — (December 15, 2014) — As construction of Tulsa Expo Raceway begins, the entry list for the 29th annual Lucas Oil Chili Bowl Nationals presented by General Tire has swelled past the 200 mark with 206 entries confirming 194 drivers.
Among the latest wave of drivers are half-dozen Golden Driller winners as four-time champion, Kevin Swindell, has entered along with five-time champion, Sammy Swindell, in what could possibly be the Tennessee veteran's final Chili Bowl appearance. The elder Swindell's 25th Chili Bowl appearance, Sammy leads the list of feature starts with 21 to his credit.
Teaming with Joe Dooling and Rusty Kunz, 2014 champion, Bryan Clauson, will seek his second Golden Driller in the Priority Aviation No. 63. Teamed with Michael Pickens, the pair represents 10 Chili Bowl feature starts with each having taken the green in five championship A-Features.
Thirteen feature starts for Tracy Hines, the 2005 Chili Bowl winner will again pilot the Bob Parker owned No. 24. The always formidable team of Andy Bondio and Tim McCreadie will seek the Late Model veteran's second driller since topping the field in 2006. Damion Gardner will have more than just the driller on his mind as the Concord, Cal. shoe will pilot the No. 71L for Klatt Motorsports as the car represents the late, Jason Leffler. Pairing Gardner in the Leffler Memorial machine is only fitting as it was Damion who gave Leffler his Golden Driller as a car owner.
An overview of the latest entry list finds 33 drivers who have made the cut in Saturday's A-Feature along with 48 Chili Bowl Rookies; including the Chili Bowl's first driver from England. With Twitter already abuzz, the British are indeed coming as Tom Harris, of Oxfordshire, England, will wheel the Beast Enterprises No. 6. If Harris does check in, the list of countries represented at the Chili Bowl will stand at seven.
Presently, Canada, England, New Zealand, and the United States are represented. State count for the U.S. stands at 27.
Lucas Oil Chili Bowl Nationals presented by General Tire Entry List (as of December 15, 2014):
Car #-Driver-Hometown
0 -Johnny Murdock -Kaufman, TX
0B (R) -Billy Melton -Longview, TX
0K -Don O'Keefe Jr -Pittsboro, IN
0T -Tyler Brehm -Pottstown, PA
00 (R) -Cole Custer -Kannapolis, NC
1 -Sammy Swindell -Germantown, TN
1B -Bobby Brewer -Cabot, AR
1OU -A.J. Burns -Norman, OK
1P -Terry Nichols -Delano, CA
1W (R) -Mike Wheeler -Central Point, OR
2 -Ryan Hall -Midlothian, TX
2$ -Stuart (Stu) Snyder -Waverly, NE
2A -TBD Driver
2B -Ryan Bernal -Hollister, CA
2H -Robert Harr -Arvada, CO
2HH (R) -Nathan Benson -Concordia, MO
2K (R) -Kyle Jones -Kennedale, TX
2ND -Jeb Sessums -Burleson, TX
2S -TBD Driver —
2X (R) -Charlie McDonald -Jefferson, TX
3 -Shane Cottle -Kokomo, IN
3A -Chris Andrews -Tulsa, OK
3C (R) -Raven Culp -Mesquite, TX
3F -TBD Driver
3M -Mike Fulper -Cumberland, OH
3N (R) -Jake Neuman -New Berlin, IL
3T -Tim Barber -Sonoma, CA
4 -Caleb Armstrong -New Castle, IN
4A -TBD Driver
4C (R) -Chadd Howell -Waurika, OK
4J -Tim Crawley -Benton, AR
4R -Ryan Greth -New Cumberland, PA
4X -Shawn Petersen -Irving, TX
5$ -Danny Smith -Sand Springs, OK
5B -Andee Beierle -Bismarck, ND
5C -Colten Cottle -Kansas, IL
5D -Zach Daum -Pocahontas, IL
5E -James Edens -Petaluma, CA
5F -Rik Forbes -Omaha, NE
5G -P.J. Gargiulo -Morton, PA
5X (R) -Justin Peck -Monrovia, IN
6 (R) -Tom Harris Oxfordshire, Eng.
6A -David Gough -Machesney Park, IL
7 -Shannon McQueen -Bakersfield, CA
7AB (R) -Amber Balcaen -Winnipeg, MB, Can.
7D -Michelle Decker -Guthrie, OK
7F (R) -Claud Estes III -Godley, TX
7J -Shawn Jackson -Bear, DE
7JR (R) -Anton Julian -New Plymouth, NZ
7K -Robby Parish -Knightstown, IN
7M -Kevin Ramey -Ft Worth, TX
7R (R) -Anton Julian -New Plymouth, NZ
7RS -Scott Crystal -Overland Park, KS
7S -Pat Schudy -Springfield, MO
7W -Kory Schudy -Springfield, MO
8 -Alex Sewell -Broken Arrow, OK
8L (R) -Austin Liggett -Tracy, CA
8R -Randi Pankratz -Bradley, CA
9$ -Kyle Clark -Sand Springs, OK
9D -Sean Dodenhoff -Reno, NV
9E (R) -Brody Roa -Buena Park, CA
9S -TBD Driver
10 -George White -Fort Worth, TX
10V -Richard VanderWeerd -Visalia, CA
11 -Justin Melton -Flower Mound, TX
11A -Andrew Felker -Carl Junction, MO
11B -Josh Baughman -Odessa, TX
11C -Chett Gehrke -Broken Arrow, OK
11F -Floyd Alvis -San Carlos, CA
12 -Chris Sheil -Aurora, CO
12A (R) -Austin Archdale -Brinfield, IL
12C -Chris Stockham -Cicero, NY
12S -Bryan Severs -Collison, IL
13JR (R) -Jock Thacker -Hineston, LA
13SR -John Ricketts -Hineston, LA
14D -David McIntosh -Broken Arrow, OK
14E -Eric Fenton -Tulsa, OK
14H -Harley Hollan -Tulsa, OK
14W -Matt Westfall -Ludlow Falls, OH
15 -Tim Siner -Dupo, IL
15B -Danny Burke -Houston, TX
15D -Andrew Deal -Dewey, OK
15W -Brandon Waelti -Sun Prairie, WI
16 -Brandon Matus -Wampum, PA
17 -Ricky Stenhouse Jr -Olive Branch, MS
17C -Casey Shuman -Rattlesnake Bend, AZ
17D -Dave Darland -Lincoln, IN
17E -Blake Edwards -Claremore, OK
17J -Chase Johnson -Penngrove, CA
17K -Alex Schutte -Rohnert Park, CA
17N (R) -Duke Nalon III -Pittsboro, IN
17S -Dominic Scelzi -Fresno, CA
17W -Cole Wood -Auburn, CA
18P -Payton Pierce -Bridgeport, TX
19 -Steven Drevicki -Reading, PA
19S -Patrick Stasa -Kingman, KS
19W -Matt Streeter -Galt, CA
20 -Tadd Holliman -Murray, NE
20S -Shon Deskins -Waddell, AZ
20W (R) -Chad Wilson -North Richland Hills, TX
20X -Jimmy Harris -Broken Arrow, OK
21 -Daryn Pittman -Owosso, OK
21D (R) -Justin Dickerson -Pittsboro, IN
22D (R) -David Stephenson -Porter, OK
22E -Mike Goodman -Broken Arrow, OK
23 -Jimmy Light -West Springfield, PA
23A -Hannah Adair -Tulsa, OK
24 -Tracy Hines -Wilkinson, IN
24T (R) -Glenn Bratti -Springdale, AR
24X -Landon Simon -Tipp City, OH
25 -Jake Blackhurst -Hanna City, IL
25B -Steve Buckwalter -Royersford, PA
25D -Dylan Petersen -Sioux Falls, SD
25G (R) -Dustin Golobic -Fremont, CA
25J -Matt Juhl -Estherville, IA
26 -Shane Golobic -Fremont, CA
27 -Alex Bright -Collegeville, PA
27A (R) -Tommy McCarthy -Mountain View, CA
27B (R) -Scott Kinney -Citrus Heights, CA
27C -TBD Driver
27H (R) -Curt Michael -Ocean View, DE
27K -Kyle O'Gara -Beech Grove, IN
27KK (R) -Kyle Keeler -El Reno, OK
29S (R) -Christian Kinnison -Mansfield, TX
31 (R) -James Burke -Baytown, TX
32 (R) -Cale Thomas -Fairland, IN
32A -Garrett Aitken -Paris, IL
32D -Danny Jennings -Norman, OK
35 -Billy Wease -Noblesville, IN
32F -Michael Faccinto -Hanford, CA
35L -Cody Ledger -Omaha, NE
35M -Matt Sherrell -Owasso, OK
35T -Tyler Robbins -Collinsville, IL
38 -Justin Grant -Ione, CA
39 -Kevin Swindell -Bartlett, TN
39B (R) -Spencer Bayston -Lebanon, IN
P40 (R) -Aaron Dromgoole -North Richland Hills, TX
41 -Jason Johnson -Eunice, LA
43 (R) -Logan Arnold -Franklin, IN
44 -Don Droud Jr -Lincoln, NE
45 -C.J. Johnson -Quinter, KS
45X -Johnny Herrera -Albuquerque, NM
47 -Danny Stratton -Riverside, CA
47X -Tim McCreadie -Watertown, NY
50 -Daniel Adler -St. Louis, MO
51 -TBD Driver
51S (R) -Steven Shebester -Mustang, OK
52C -Isaac Chapple -Wilkinson, IN
53 (R) -Aaron Schuck -Joliet, IL
53H -Matt Harms -Lacon, IL
55D -Nick Drake -Mooresville, NC
57D -Daniel Robinson -Mt Vernon, IL
57K -Kevin Studley -Plainfield, IN
62 (R) -Jacob Davis -Strafford, MO
62T -Taylor Simas -Orland, CA
63 -Bryan Clauson -Noblesville, IN
63NZ -Michael Pickens -Auckland, NZ
67RW -TBD Driver
68 -Ronnie Gardner -Norco, CA
68M -Tyler Edwards -Salina, OK
68S (R) -Matt Land -Elk Grove, CA
68W -Jake Swanson -Anaheim, CA
69 -A.J. Fike -Galesburg, IL
69X (R) -Jeromy Hefler -Kennedale, TX
71L -Damion Gardner -Concord, CA
71T -Ricky Shelton -Huntington Beach, CA
71X -Tyler Courtney -Indianapolis, IN
73 -Jason McDougal -Broken Arrow, OK
73D -David Gravel -Watertown, CT
73T -Trey Marcham -Oklahoma City, OK
75 -Thomas Meseraull -San Jose, CA
75X -TBD Driver
76M (R) -Adam Pearson -Fairlee, VT
77 -John Klabunde -Ft. Calhoon, NE
77B (R) -Kenny Bowers -Olathe, KS
78 -Nick Wean -Phillipsburg, NJ
78J (R) -Tommy Kunsman -Bethlehem, PA
79J -Jacob Patton -Bethalto, IL
80 -Josh Hawkins -Whitehouse, TX
81 -Ryan Beechler -McKinney, TX
82 -Eric Johnson -Rockford, IL
82H -Mike Hess -Riverton, IL
85 -Matt Johnson -Edmond, OK
85H -Shane Hollingsworth -Lafayette, IN
87C -Coby Hughes -Collinsville, OK
87F -Brian McClelland -Tulsa, OK
88 (R) -Tyler Nelson -Olathe, KS
88B -Terry Babb -Decatur, IL
88J -Jace VanderWeerd -Visalia, CA
88W -Chad Wheeler -Muskogee, OK
89 (R) -Nick Bailey -Cabot, AR
91 -Jeff Stasa -Kingman, KS
91T -Tyler Thomas -Collinsville, OK
91W -Mickey Walker -Broken Arrow, OK
92 -Brenden Bright -Collegeville, PA
93 -Dustin Morgan -Tulsa, OK
95 -Jim Radney -New Cumberland, PA
96 -Cody Brewer -Choctaw, OK
98 (R) -Jarid Blondel -Orange, CA
98R -TBD Driver
930 (R) -Chase Allen -Midlothian, TX