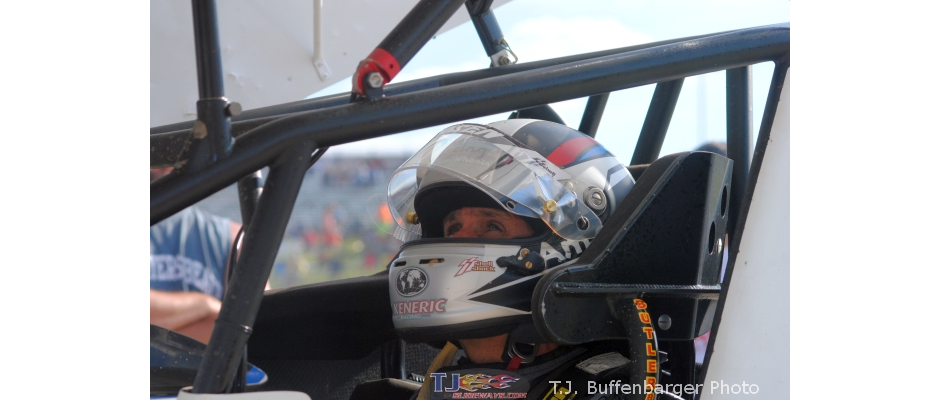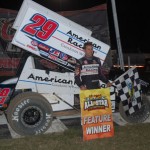 From Brian Liaski
Ocala, FL — (February 7, 2015) — Kerry Madsen seems to have found something at Bubba Raceway Park that the competition hasn't discovered as yet. The Sydney, Australia native led all 30 laps Saturday to score his second straight University of Northwestern Ohio All Star Circuit of Champions feature win in as many nights.
"The Mad Man" survived heavy lapped traffic and a couple of restarts to score his fifth career All Star victory – 3 of which have now come at Bubba Raceway Park.
"When you have Dale Blaney behind you there's no letting up. We had a good run and a good car. I just really want to thank our sponsors, American Racing Custom Wheels, Earthex Logistics…big hello and thank you to the guys at home, Bob Gavranich and Pete Gavranich and a big thank you to our engine builder to Brian Meyers…the things just rip. Steve Kent at KCP Chassis…just fantastic race cars. Thanks to my wife…hope she's listening out there in Iowa," said Madsen of his Keneric Racing machine.
"I really enjoy being here and appreciate the effort of Bubba (Clem, track promoter) and Tony (Stewart, All Star owner) and everyone puts in. It was an enthusiastic crowd…we really appreciate that," continued Madsen.
As for winning three in a row?
"You really come here just to have a good run. When you win a race the stars are aligned. It's as simple as that. Tomorrow night is a new night and there are a lot of quick cars here. We've got a great package and we'll see," concluded Madsen.
Five time All Star champion Dale Blaney would hound Madsen and a few times in heavy lapped traffic closed to within a car length of the leader. And after suffering a mechanical failure on the season opener the previous night, Blaney was happy to finish second.
"I'm disappointed in qualifying. We raced really well after that. For what ever reason the last two nights we haven't qualified good and I put 50 percent of that on me at least…maybe 80. I just haven't made very good laps," said Blaney beside his Kennedy Cattle/Winchester Ag Services/Penske Shocks backed machine.
"Kerry was a little bit better…traffic was pretty cool for awhile. It was fun. Kerry's been running pretty good and to run second to him…I'll take it," said Blaney.
Steve Kinser would hold off a charging Danny Holtgraver for a third place finish.
"We didn't make any headway. Started third and finished third. I just couldn't get through three and four very good. I was pretty good in one and two. I could get through three in four about one every five or six times. I was just losing too much time there," said Kinser beside his Tony Stewart/Curb-Agajanian Motorsports/Bad Boy Buggies #11.
Blaney and Madsen would bring the field to the green for the 30-lap feature with Madsen gaining the upper hand. The leaders would set a lightening quick pace, hitting lapped traffic by only the fourth circuit.
Blaney would drive to Madsen's inside to challenge by lap five and six but once clear of traffic Madsen would pull away.
Behind the lead duo, Kinser, Steve Buckwalter, Wayne Johnson and Danny Holtgraver were battle for third.
Action would grind to a halt on lap 11 when Mark Coldren would tumble in turn four. After Coldren walked back to the infield and the track was cleared the green would fly with Madsen pulling away from Blaney with Kinser, Holtgraver, Buckwalter, Johnson, Chad Kemenah and Caleb Armstrong would follow.
The caution would fly soon after for a Tyler Clem spin. Again when the green flew so did Madsen who would catch the rear of the field at the halfway point as Blaney slowly closed with Kinser trying to hold off Holtgraver.
With 12 laps to go the running order was Madsen, Blaney, Kinser, Holtgraver, Johnson, a charging Danny Smith, Kemenah and Buckwalter.
Blaney and Kinser would get one more shot at Madsen when the caution would fly for the final time on lap 23 for an Armstrong spin. But, when the green reappeared Madsen would drive off.
At the checkers it was Madsen over Blaney, Kinser, Holtgraver and Johnson in the top five.
The UNOH All Stars will wrap up their three night event at Bubba Raceway Park on Sunday, Feb. 8. Bubba Raceway Park is located at 9050 NW Gainesville Rd in Ocala, Fla. Ticket and event information is available by calling (352) 622-9400, visiting www.BubbaRacewayPark.com or Facebook.com/BubbaRacewayPark.
The UNOH All Star Circuit of Champions Sprint Car Series is the original winged sprint car tour. Follow the All Stars during their 50 plus race season on Twitter.com/@ASCoC, www.facebook.com/AllStarCircuitofChampions and www.Instagram.com/AllStarSprints using the hashtag #TheNewAllStars. An all new website has been launched at www.AllStarSprint.com.
————————————————-
Ocala Speedway – 2/7/2015
UNOH Night
All Star Circuit of Champions (21 Cars)
[#]-Starting Position
Qualifying –
1. 29-Kerry Madsen, 12.069; 2. 10H-Chad Kemenah, 12.088; 3. 11-Steve Kinser, 12.126; 4. 87-Aaron Reutzel, 12.246; 5. 45-Tim Shaffer, 12.379; 6. I07-Steve Buckwalter, 12.388; 7. 4-Danny Smith, 12.561; 8. 14K-Dale Blaney, 12.593; 9. 7C-Caleb Armstrong, 12.599; 10. 77X-Wayne Johnson, 12.614; 11. 59-Danny Holtgraver, 12.802; 12. 14-Tyler Clem, 12.815; 13. 55F-Taylor Ferns, 12.823; 14. 9P-Parker Price-Miller, 12.862; 15. 40-Mark Imler, 12.909; 16. 71M-Paul May, 13.013; 17. O7-Mark Coldren, 13.048; 18. 13-Brandon Matus, 13.122; 19. 49H-Bradley Howard, 13.364; 20. 10-Terry Gray, 13.633; 21. 33-Brent Matus, 14.067
Heat 1 – (8 Laps – Top 7 finishers transfer to the A-feature)
1. 77X-Wayne Johnson[1] ; 2. 29-Kerry Madsen[4] ; 3. 4-Danny Smith[2] ; 4. 55F-Taylor Ferns[5] ; 5. 71M-Paul May[6] ; 6. 49H-Bradley Howard[7] ; 7. 87-Aaron Reutzel[3]
Heat 2 – (8 Laps – Top 7 finishers transfer to the A-feature)
1. 59-Danny Holtgraver[1] ; 2. 14K-Dale Blaney[2] ; 3. 45-Tim Shaffer[3] ; 4. 10H-Chad Kemenah[4] ; 5. 9P-Parker Price-Miller[5] ; 6. O7-Mark Coldren[6] ; 7. 10-Terry Gray[7]
Heat 3 – (8 Laps – Top 7 finishers transfer to the A-feature)
1. 11-Steve Kinser[4] ; 2. I07-Steve Buckwalter[3] ; 3. 14-Tyler Clem[1] ; 4. 7C-Caleb Armstrong[2] ; 5. 40-Mark Imler[5] ; 6. 13-Brandon Matus[6] ; 7. 33-Brent Matus[7]
Dash – (8 Laps, finishing order determined first 9 starting positions of A-feature
1. 14K-Dale Blaney[2] ; 2. 29-Kerry Madsen[1] ; 3. 11-Steve Kinser[3] ; 4. 77X-Wayne Johnson[4] ; 5. 59-Danny Holtgraver[6] ; 6. I07-Steve Buckwalter[5] ; 7. 10H-Chad Kemenah[7] ; 8. 7C-Caleb Armstrong[9] ; 9. 4-Danny Smith[8]
A-Main – (30 Laps)
1. 29-Kerry Madsen[2]; 2. 14K-Dale Blaney[1]; 3. 11-Steve Kinser[3]; 4. 59-Danny Holtgraver[5]; 5. 77X-Wayne Johnson[4]; 6. 10H-Chad Kemenah[7]; 7. 4-Danny Smith[9]; 8. I07-Steve Buckwalter[6]; 9. 45-Tim Shaffer[10]; 10. 9P-Parker Price-Miller[14]; 11. 55F-Taylor Ferns[11]; 12. 7C-Caleb Armstrong[8]; 13. 13-Brandon Matus[18]; 14. 71M-Paul May[16]; 15. 14-Tyler Clem[12]; 16. 40-Mark Imler[13]; 17. 49H-Bradley Howard[17]; 18. 33-Brent Matus[19]; 19. 10-Terry Gray[20]; 20. O7-Mark Coldren[15]; 21. 87-Aaron Reutzel[21]
Hard Charger: 13-Brandon Matus[+5]