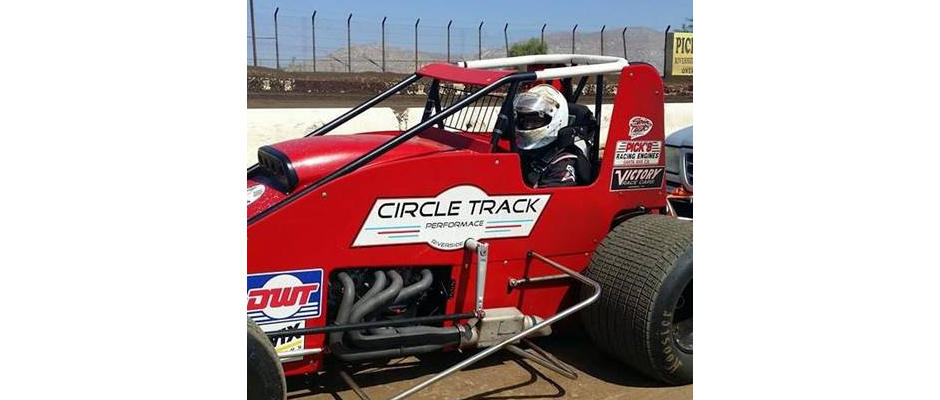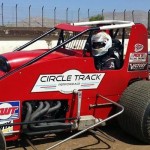 From Scott Daloisio
Perris, CA — (February 9, 2015) — When it comes to racing, sprint cars have always been one of the most dangerous disciplines in the sport. More specifically, 410 wingless sprint cars. However, for Corona, California's Stephen Limon, who will be contesting his rookie 410 season in the Amsoil USAC/CRA Series at Perris Auto Speedway in 2015, sprint car racing is a walk in the park. When he was in the United States Army, Limon served two tours in Iraq and in one of those tours, was wounded in action.
Limon, who will turn 29-years-old in May, enlisted in the United States Army in 2005 and served 4 ½ years of active duty.
"I had two deployments under my belt," the ambitious racer said last Tuesday while waiting to attend an electrician's class. "The first one was 15-months and the second one was 12-months. My first tour I was actually blown up a couple of times and one actually penetrated the armor. I was wounded and was out of action for a couple months and received the Purple Heart. I was able to rehabilitate and stay in the army and do another tour of duty."
In 2010, not long after he completed his service and received his honorable discharged from the army, Limon attended the Christian Stover Memorial lightning sprint car race with his wife Melissa. He liked what he was watching and decided he wanted to do that. That should not have been a surprise and it was only natural that sitting in the stands would progress to jumping into a racecar. After all, dirt track racing runs through the veins of his family as his grandfather, two uncles and a cousin all raced before him.
"When I got out of the army, I got into racing as it was something I wanted to do all my life," the dark haired driver said. "Along the way I also started a family and am now a union electrician."
After purchasing a car to compete in the California Lightning Car Series, Limon ran two races near the end of 2010. For 2011, he was geared up for a full season and it turned into a memorable one as he impressed one and all by finishing sixth in the championship point standings and receiving the Rookie of the Year Award.
"We had a lot to learn that rookie season," Limon said. "We had 10 top 10 finishes. By 2012, we knew enough of what we should and should not do to the car maintenance wise and started to really get a hold on things. My son Jaxon was born on June 9th and at the next race I won my first main event at Perris Auto Speedway."
Limon only finished second to longtime veteran Bobby Michnowicz in the championship standings in 2012. The following year, he went one spot higher and won the 2013 CLS title in only his third full season on the track. Title in hand, his thoughts were to jump up to a full size sprint car.
"I had been contemplating jumping up to a full size sprint car, but it was kind of hard when I still had the lightning sprint," stated Limon with a chuckle. "So I put the car up for sale. We were going to keep on racing in what we knew and did well in, but if the car sold, we would move up."
Limon got off to a good start in 2014 and won the April 5th main event at the Ventura Raceway. He was leading the point standings heading into the last race in May when someone in the Midwest called him and bought the car. That put an end to his Lightning Sprint career and plans were to go and buy a full size sprint car and continue his racing.
However, the absolute unthinkable happened a few days after he sold the car. The couple's five-month old daughter London passed away in her sleep. Needless to say, racing was not on the table at that time.
"It was a big loss for me and my family and put a hold on things," orated Limon. "I took time away and just focused on family. When I felt more comfortable, I got back into it. That is why it took so long to buy a full size sprint car. Now we have a child on the way, too. He is expected to be born April 19th. It is another boy so we will have another wild child in our hands pretty soon."
When he did feel comfortable, Limon purchased a Viper chassis powered Mopar from retired USAC/CRA star and fellow California Lightning Sprint Car champion David Cardey to race in 2015. There is a big difference between a lightning sprint car and a 410 sprint car. Most notably in horsepower and weight, but there are tons of other significant differences to learn as well. That is why Limon has been getting some practice in before the outset of the season.
"We were going to try and make the Oval Nationals last year, but I did not want to rush things and start in an event like that," he said. "I wanted to know the ins and outs of the car. We decided to wait on the Oval Nationals and get some practice time in for this year. We have been out twice to practice and I hope to get out two more times before the first race in March. The first one was really just learning everything. The second one I really stepped up and got the hang of it. David (Cardey) and his father Jim have been a great help to me as far as preparation, set up and driving the car. We are learning a lot about the maintenance as there really is a lot more of it than there was with the lightning sprint car."
For now due to a limited budget, Limon plans on only contesting the races at Perris Auto Speedway. Thus far, the new team does not have any sponsors, but hopes are high that some will come on board and help in this rookie campaign. Anyone who is interested in helping can contact the track through the information at the top of this release and will be put in touch with the talented driver.
Fans can see Limon and get a preview of the 20th anniversary season when the track hosts the annual pre-season practice on Saturday, February 21st. The practice, which will begin at 4:00 PM, will be free for fans in the grandstands and there will be $2.00 pizza, soda and beer. Two weeks later on March 7th, the Amsoil USAC/CRA Sprint Cars, Senior Sprints and Young Gun Sprints will open their 2015 season. The PASSCAR Stock Car Series will take the 2015 green flag on March 14th and the first of five Nights of Destruction will be on March 28th.
Money saving Perris Auto Speedway season seats are available now through February 20th. For more information or to order, please call the office on Monday, Wednesday or Friday from 9:00 AM and 3:00 PM and ask for Kim Kazarian.
World of Outlaws tickets are available by calling 1-877-395-8606 or online at the following link: http://dirtcar.ticketforce.com/ordertickets.asp?p=558&backurl=default.asp
For more information on The PAS call: (951) 940-0134.