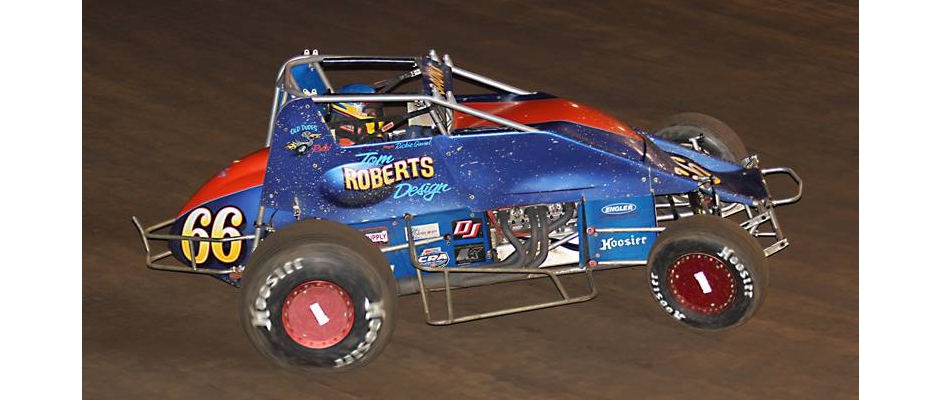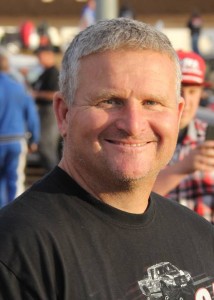 From Scott Daloisio
Perris, CA — (March 3, 2015) — Hope will spring eternal when Perris Auto Speedway kicks off its 20th anniversary season this Saturday, March 7th, with the Sokola Shootout featuring the Amsoil USAC/CRA Sprint Cars, PAS Senior and Young Gun Sprints. The brightest crop of rookies in several years will begin the USAC/CRA season and talented youngsters will launch their sprint car endeavors in the Young Guns. However, one longtime popular veteran, "Super Rickie" Gaunt, will begin the last chapter of his long, illustrious career. The Torrance, California veteran has announced that his last sprint car race will take place at The PAS on July 4th.
The winner of the 1999 Oval Nationals at The PAS and the 2004 SCRA and Non Wing World Champion, had originally planned to call it a career at last year's Oval Nationals. Gaunt's wife, Denise, asked him to carry on for a little bit longer.
"It will be fitting to do it on July 4th as Perris Auto Speedway is what made me and I have never missed a July 4th there since they opened," an emotionally charged Gaunt said. "I was actually going to retire last year at the Ovals, but Denise threw a fit and said that my whole family and a lot of friends could not be there. She said to do it at a race where they all could be at. My whole family goes out there for the fourth of July, so it just makes sense."
"It is just killing me to do this, because I think I can still win," he continued over the phone on Sunday night. "I am not happy about it by any means. There are guys older than me. Dave Darland is older than me and Jon Stanbrough is older than I am and those guys are still winning races, but I have had my day in the sun. I have not raced as much in the last two years and to stay competitive you have to race quite a bit. If it is not 100% effort in a sprint car, there is no reason to do it. It is too competitive. It is not enough just for me to show up at the races and be there. I want to run up front and battle for the win."
Gaunt will split his racing between two cars in his final half season. He will be in the Shawn McDonald owned Jeff and Jimmy Gardner prepped white #9 at the races at The PAS. He will be in Dave Miller's #66, his regular ride the past few years, for the race at Ventura in May as it is the home track of longtime sponsor Tom Roberts. At his final race on July 4th he is not sure what he is going to drive. It could be the #66 car or the #9 or they could put the motor from the #66 car in the #9. In addition to Gaunt retiring, Miller is retiring as a car owner.
Gaunt's stellar driving and epic interviews have been on display at The PAS since it first opened in 1996. His racing skills and light hearted nature will be missed by everyone including fans, fellow competitors and officials.
"I hate to see Rickie go," Perris Auto Speedway promoter Don Kazarian said regarding Gaunt hanging up his helmet. "He is a promoter's delight. Not only is he a good sprint car driver, but he is a colorful character. You never know what he is going to say. He is one of the most popular drivers in the history of Perris Auto Speedway. The fans absolutely love him."
With the extra time he will have on his hands, Gaunt will be helping out more with his two sons, Chasen and Maverick, in their off-road racing careers, but by no means is he turning his back on sprint cars. He plans to be around in another capacity.
"You cannot get rid of me and I will still be around," Gaunt laughed. "I am already working on some deals to have somebody come in and run the #9 car after I am done with it on the 4th of July. I may be switching gears and be going from a driver to an owner. I had Jeremy McGrath out there running the car last week and he is going to do it again in a few weeks. He did a really good job. Would love to see him come out and race it."
Spectator gates will open at 5:00 PM on Saturday and racing will begin at 7:00. As a special for the 20th anniversary season opener, adult tickets will be 20% off making them $20.00. Another anniversary special will at the concession stands from 5:00 to 6:00 PM when fans can purchase any beverage or food item for full price and get a second of the same item for only twenty cents.
Advance tickets for all events at The PAS, with the exception of the World of Outlaws, are available 24 hours a day by calling 1-800-595-4849 or online at http://pas.tix.com/Schedule.aspx?OrgNum=7. Advance tickets for the World of Outlaws can also be obtained via phone or online at 1-877-395-8606 or http://dirtcar.ticketforce.com/ordertickets.asp?p=558&backurl=default.asp
For more information on The PAS call: (951) 940-0134.