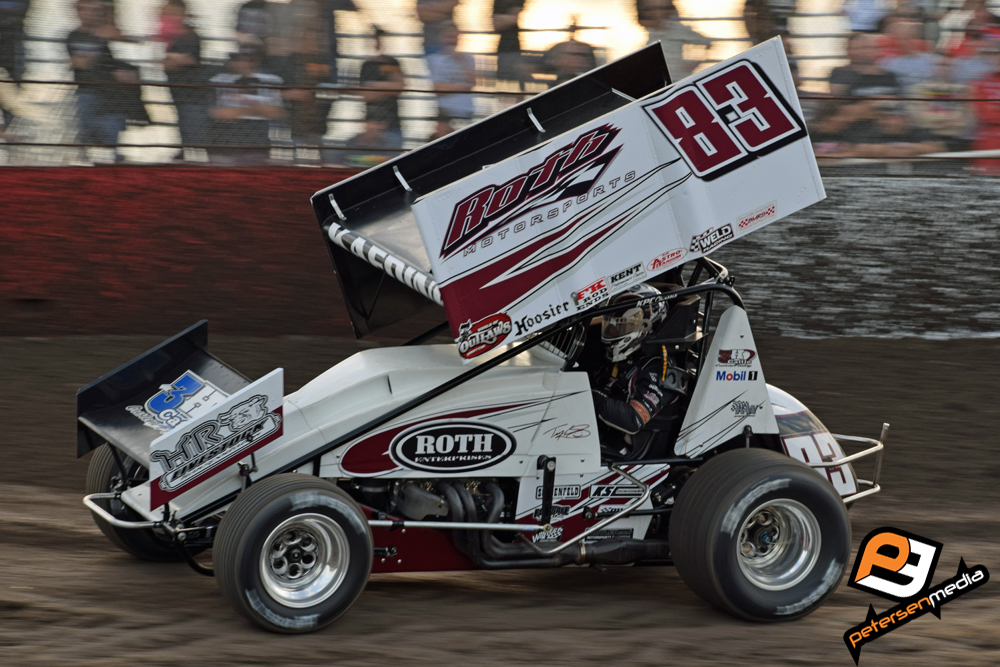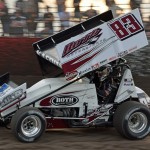 From Peterson Media
Tim Kaeding made the most of his return to Roth Motorsports over the weekend. On a hooked up, rough Thunderbowl Raceway on Friday night, the San Jose, CA driver outlasted the field, as he scored his fourth series win at the track he his very fond of.
"I have got to thank Dennis and Teresa Roth, Todd Ventura, and everyone with the Roth Enterprises team," Kaeding said. "This organization has given me so much over the last 10 years, this is a great way to repay them."
Lining up fourth in the 35-lap feature event, Kaeding was conservative in the early stages of the feature event as he ran in the top five, and waited things out.
A lap 12 red saw the leader, and third place car get taken out, and Kaeding would move into the second position. Chasing after race leader, Terry McCarl, another red on lap 15 allowed crews to get out to their cars.
Taking a drink of water, and calming down, TK was poised to get to the top spot. When the action resumed, Kaeding quickly went to the tricky Thunderbowl cushion, and had his Roth Enterprises/HR Livestock Transportation/3H Cattle machine all over McCarl's mount.
In thick traffic, Kaeding was all over McCarl, and was finally able to make his move exiting turn four, as they completed the 31st lap. Out front, TK was flawless over the final laps, as he raced his way to his 20th career World of Outlaws win.
"I calmed down, and finally got my car where I needed to be after the red," Kaeding said. "It is awesome to get another World of Outlaws win with this Roth Motorsports team."
Saturday night, things did not quite go as Kaeding and company had hoped. Timing in 21st fast on a slicked off racing surface, TK would race his way into the feature event by scoring the fourth and final transfer position in the evening's B Main.
Starting 21st for the 35-lap main event, TK was patient as he slid around the slick Thunderbowl Raceway. Making some great moves high atop the raceway, Kaeding would get collected in a lap 10 pile up in turn one, but would make repairs and restart the race.
Back underway, TK continued to charge, as he was able to work up to the 11th position, as the track began to take rubber, and passing became pretty tough. When the checkered waived, Kaeding would cross with an 11th place finish.
"Again, I have to thank Dennis and Teresa Roth for this opportunity to take on the World of Outlaws," he added. "We were pretty good in the feature on Saturday night, but after the rubber came, we kind of got stuck in 11th."
The Roth Motorsports team would like to thank Roth Enterprises, HR Livestock Transportation, 3H Cattle, Mobil1, FK Rod Ends, Weld Wheels, Brown and Miller Racing Solutions, Kent Performance, Kaeding Performance, and Astro Titanium for their support in 2015.
2015 ROTH MOTORSPORTS BY THE NUMBERS: Starts-2, Wins-1, Top 5's-1, Top 10's-1
ON TAP: Tim Kaeding and the Roth Motorsports team will return to action this Saturday and Sunday night at the Stockton Dirt Track.
STAY CONNECTED: Stay connected with Tim by following him on Twitter, @tkaedingracing, or by visiting www.rothmotorsports83.com.