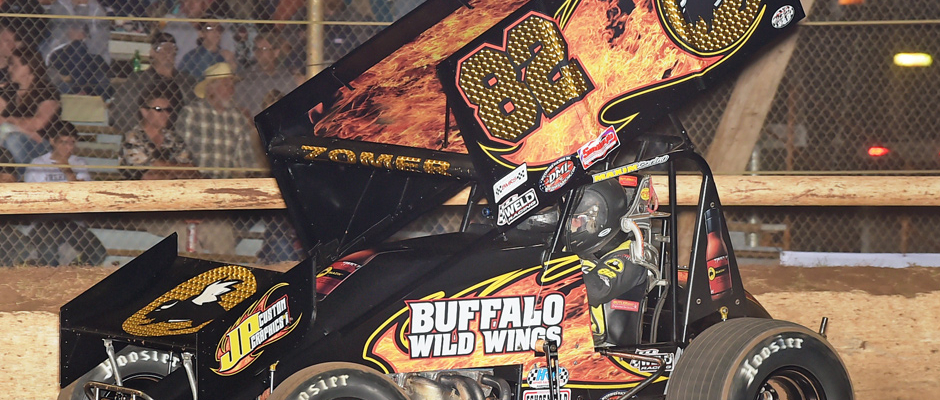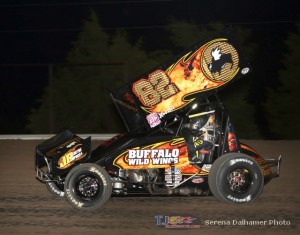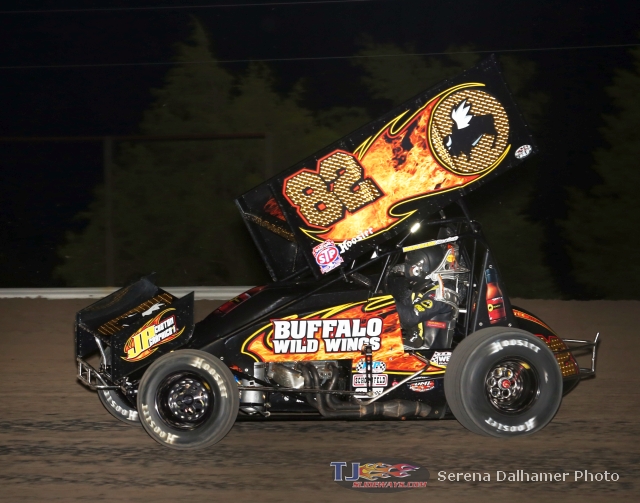 From Bryan Hulbert
Tucson, AZ — (March 21, 2015) — Putting the Buffalo Wild Wings No. 82 to the front of the field on the opening lap of Saturday's Copper on Dirt A-Feature with the ASCS Southwest Region, South Dakota's Dusty Zomer made sure he was the class of the field at Tucson's USA Raceway.
Leading start to finish, Zomer left only 12 drivers on the lead lap when the checkered flag fell.
Friday night winner, Logan Forler, crossed second with Aaron Reutzel taking the final podium step. El Paso's John Carney II scored fourth with Josh Baughman completing the top five. Advancing six spots, Seth Bergman crossed sixth with Joshua Williams seventh. Joshua Hodges, Ryan Linder, and Rick Ziehl, from 17th, competed the top-ten.
USAC/CRA competition saw Damion Gardner with the win. West Coast Late Model victory went to Jason Papich.
The ASCS Southwest Region competes next at the Canyon Speedway Park on April 4. For more information on the ASCS Southwest Region, log onto http://www.ascsracing.com.
Results:
ASCS Southwest Region
USA Raceway – Tucson, Ariz.
Copper on Dirt
Saturday, March 21, 2015
Car Count: 32
Heat 1 (8 Laps): 1. 41W-Joshua Williams; 2. 74X-Joshua Hodges; 3. 23-Seth Bergman; 4. 8-Bob Ream Jr; 5. 75-Brady Bacon; 6. 6-Bud Rowe; 7. 21-Tyler Thomas; DNS 00-Roger Cummings; DNS 17W-Harli White; DNS 91-Casey Buckman
Heat 2 (8 Laps): 1. 17-Josh Baughman; 2. 01-Kaylene Verville; 3. 9-Ryan Linder; 4. 17K-Kyle Danielson; 5. 5H-Patrick Krob; 6. 94-Nick Parker; 7. 0J-Jeremy McCune; 8. 5A-Jeff Lowery; DNS 51-Cody Cambensy
Heat 3 (8 Laps): 1. 96-Greg Hamilton; 2. 22-Mike Rux Jr; 3. 27-Perry McMillan; 4. 22X-Jesse Baker; 5. 20Z-Rick Ziehl; 6. 90-Lance Norick; 7. 2-Alex Pettas; 8. 12-James Mosher; 9. 29-Darrell Sickles
B Feature (12 Laps): 1. 20Z-Rick Ziehl[4]; 2. 12-James Mosher[9]; 3. 90-Lance Norick[3]; 4. 94-Nick Parker[2]; 5. 17K-Kyle Danielson[1]; 6. 17W-Harli White[14]; 7. 0J-Jeremy McCune[7]; 8. 5A-Jeff Lowery[11]; 9. 2-Alex Pettas[8]; 10. 5H-Patrick Krob[5]; 11. 6-Bud Rowe[6]; 12. 29-Darrell Sickles[12]; 13. 21-Tyler Thomas[10]; 14. 00-Roger Cummings[13]; 15. 91-Casey Buckman[15]; 16. 51-Cody Cambensy[16]
A Feature (25 Laps): 1. 82-Dusty Zomer[2]; 2. 2L-Logan Forler[6]; 3. 87-Aaron Reutzel[7]; 4. 74B-John Carney II[5]; 5. 17-Josh Baughman[4]; 6. 23-Seth Bergman[12]; 7. 41W-Joshua Williams[3]; 8. 74X-Joshua Hodges[10]; 9. 9-Ryan Linder[8]; 10. 20Z-Rick Ziehl[17]; 11. 75-Brady Bacon[16]; 12. 8-Bob Ream Jr[13]; 13. 90-Lance Norick[19]; 14. 01-Kaylene Verville[11]; 15. 27-Perry McMillan[15]; 16. 17K-Kyle Danielson[21]; 17. 96-Greg Hamilton[1]; 18. 94-Nick Parker[20]; 19. 22X-Jesse Baker[14]; 20. 17W-Harli White[22]; 21. (DNF) 22-Mike Rux Jr[9]; 22. (DNF) 12-James Mosher[18]