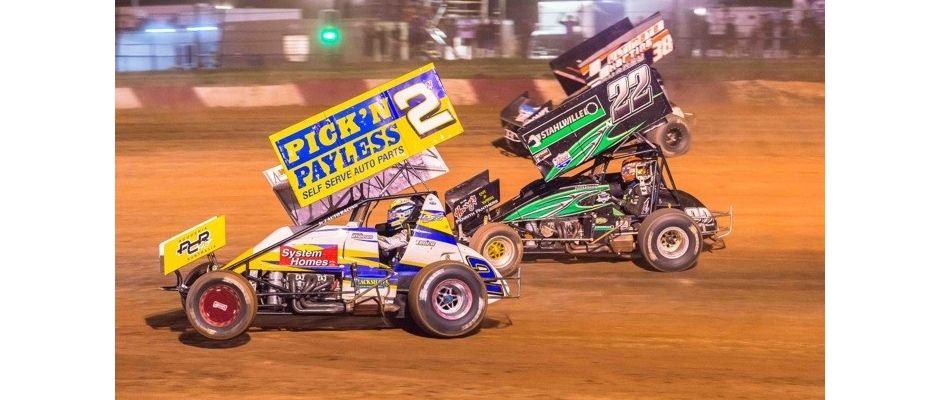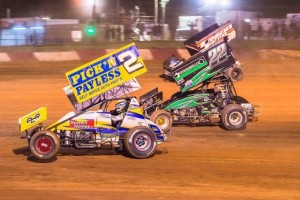 From Valvoline Raceway
Sydney, AU — (March 26, 2015) — This Saturday is the culmination of one of the most historic Sydney Sprintcar Premierships ever conducted, and it goes right down to the wire between points leader James Thompson and rival Ben Atkinson.
Atkinson has two track championships to his credit already and a bagful of main event wins, whereas Thompson has yet to win a main event or track title in his 15 years.
Regardless of what he has or hasn't done in the past though 33 year old Kellyville Pest Controller Thompson has been the standout competitor in terms of consistency this summer.
"I feel like I'm really getting the hang of all this," he admits, "I know it's been a long time but I feel like I really have a handle on what we need to do every time we go out there. We've been sticking to the same game plan every night and it seems to have worked so far."
There's only one more night to go, and James has a narrow 27-point lead over the rapidly closing in Darwin racer Atkinson.
"We can't change the way we're doing things and think about the Championship," concedes Ben, "we just have to keep treating every race and every night as it comes. I can't allow myself to think about the possibilities."
The possibilities seem to swing in favour of Thompson on paper.
FOR BEN TO WIN:
– Ben has to finish 14 spots ahead of James to win track championship.
– So if Ben finishes 2nd, James has to finish 16th or worse.
– If Ben finishes 12th James would had to have finished 5th in B-Main or worse and not transferred.
– If Ben were to just win the A-Main, James would have to finish 14th or worse.
– If Ben were to win A-Main and lead most laps (4 bonus points), James would have to finish 12th or worse.
FOR JAMES TO WIN:
– Stay within striking distance – or 14 spots – of Ben all A-Main.
– Beat Ben.
– Ensure he makes the A-Main
– If Ben wins and leads most laps, finish 11th or better.
So a third Track Championship win for Atkinson is certainly not out of the question but the likelihood of a Sydney battler and father of two wrapping up his first is also seriously on the cards.
Aside from the Track Championship honours though there's also the matter of the "Month of Money" March prize-money bonus that pays $5,000.
So far the individual points score for the March promotion sees Young (NSW) 20-year-old Jackson Delamont and Australian champion David Murcott sharing the lead with Ben Atkinson sitting just two points shy of the lead duo.
South Aussie Trevor Green aggravated an old back injury last weekend in a crash during the Pole Shootout and as such will miss the Grand Finale.
The 45 year old veteran from Two Wells will fly in promising South Aussie youngster Chad Ely (the current Australian 360ci champion) in to steer the #11 NATRAD Maxim.
In addition to Ely the interstate vision will extend to former Queensland Champion Andrew Scheuerle, Queensland second generation racer Mitchell Gee, Victorian gasser Brett "the Jet" Milburn, former Valvoline Raceway Track Champion Ian Loudoun in the Essendon Ford (Victoria) #3, Victorian Ryan Davis and Northern Rivers region Mick Sauer.
With the Parramatta Posse that's an impressive 59 Sprintcars!
The night will also see the many former track champions honored and recognized including:
Bob Tunks
Bob Blacklaw
Rob Worthington
Garry Rush
Dennis Farr
Brooke Tatnell
Skip Jackson
Robbie Farr
Peter Attard
Trevor Green
Adam Clarke
Troy Little
Ian Loudoun
Mitchell Dumesny
Ben Atkinson
Max Dumesny
Top Ten in Month of Money Points:
Jackson Delamont 732
David Murcott 732
Ben Atkinson 730
James Thompson 710
Robbie Farr 706
Sam Walsh 695
Grant Anderson 680
Jeremy Cross 673
Max Dumesny 668
Adrian Maher 666
Top Ten in Valvoline Raceway Track Championship
James Thompson 4540
Ben Atkinson 4513
Sam Walsh 4426
Max Dumesny 4408
Jackson Delamont 4384
Toby Bellbowen 4329
Danny Reidy 4286
Trevor Green 4250
Grant Tunks 4110
Matt Dumesny 4037
In addition to the Sprintcars will also be Late Models and Street Stocks.
Gates open at 2pm with hot laps commencing at 5.30pm and qualifying prior to 6pm.
Adults $30
Concession $20
Juniors (13-15) $15
Kids 12 and under FREE
Family (2 adults/2 juniors) $70
For more information visit www.valvolineraceway.com.au or visit us on Facebook.