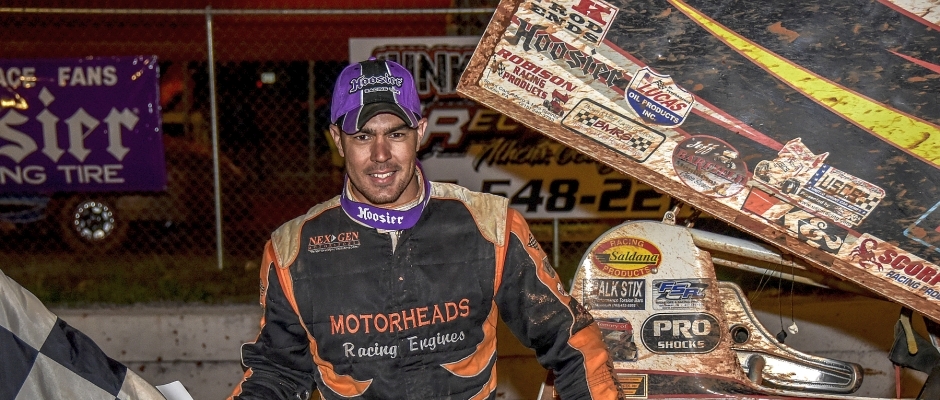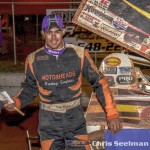 From Jacob Seelman
Toccoa, FA — (March 27, 2015) — The era where Sarasota, Fla. Hot-shoe Danny Martin Jr. could win five or more United Sprint Car Series filtercharged by K&N feature races in a row has long since passed, but the talented driver proved on Friday night at Toccoa Raceway that he still knows how to go and win with the best.
Martin seized the lead from K&N Filters polesitter Greg Smyre on the opening lap of Friday's 20-lap Toccoa Tangle preliminary A-main and went on to wire the field for his 21st career trip to thr www.rockauto.com USCS Victory Lane and first since September of 2010 – despite being involved in a field-altering melee on lap 12 that took out nearly half the starting grid in turn three. The incident began when Danny Smith spun racing for second with Robbie Stillwaggon, and the track bottlenecked so quickly that drivers did not have time to react and ultimately were swept up in the aftermath.
When asked in www.rockauto.com Victory Lane how he managed to survive the crash, Martin was very upfront with his response. "I didn't [make it through]. I ran over two cars and someone else hit me. I got out and checked everything and it all appeared to be okay. Then my car owner said, 'Drive it like you stole it,' so we went with it and here we are."
"I was beginning to think Doug might lose faith in me – we bought four of these 360s and we hadn't been able to win in one of them," Martin added. "We've been killing them in the limited series but we just couldn't pull off a 360 win – at least until tonight."
Former URC Sprint Series champion Stillwaggon, out of Burlington, N.J., chased Martin the entire distance but ultimately had to settle for second at the twin checkers, with Bartlett, Tenn. native and defending series champion Terry Gray rounding out the podium in third. The Carolina Kid, Eric Riggins Jr., finished fourth and Denton, N.C. pilot Johnny Petrozellle completed the top five.
Indian Trail, N.C. veteran Jake McLain led the next group of drivers with a sixth-place effort, followed by Terry Witherspoon, from Jacksonville, Florida in seventh. K&N Filers polesitter Greg Smyre dropped back to eighth at the finish, with Cherryville, N.C. driver Johnny Bridges and Ripley Mississippi's Jeff Willingham capping off the top ten at the finish.
2013 series champion Derek Hagar was scheduled to compete in the No. 23 entry owned by noted car owner Jeff McCall, but the machine broke the butterfly at the end of his heat race and relegated Hagar to the pit area for the main event.
Morgan Turpen kicked off the evening's racing action by winning the first Hoosier Tire Speed Dash of the season, with the six-car field set by last year's USCS Southern Thunder points standings. Eric Riggins Jr. scored the win in the Engler Machine and Tool First Heat and Terry Gray rolled to the victory in the Butlerbuilt Second Heat.
Gray was the provisional pole starter after scoring the most passing points in heat race action, but after a six came up in the K&N Inversion Draw, Danny Martin Jr. received the K&N Filters Pole Award. Terry Witherspoon passed the most cars in the A-main (eight) to grab the Wilwood Disc Brakes Hard Charger Award.
For rules and updated schedule information about the United Sprint Car Series Outlaw Thunder Tour, please visit www.uscsracing.com or call the series office at 770-460-7223 or 770-865-6097.
RESULTS: USCS Sprint Car Series "Toccoa Tangle"; Toccoa Raceway; March 27, 2015
Hoosier Tire Speed Dash: Morgan Turpen, Terry Gray, Eric Riggins Jr., Brandon McLain, Jeff Willingham, Terry Witherspoon.
Engler Machine and Tool First Heat: Eric Riggins Jr., Robbie Stillwaggon, Derek Hagar, Johnny Petrozelle, Morgan Turpen, Johnny Bridges, Jeff Willingham, Jay Dunham, Joe Larkin, Bob Auld.
Butlerbuilt Second Heat: Terry Gray, Greg Smyre, Jake McLain, Danny Smith, Danny Martin Jr., Nick Snyder, Brandon McLain, Terry Witherspoon, C.J. Miller.
USCS Sprint Car Series filtercharged by K&N Toccoa Tangle preliminary A-main: 20-laps
1. #24 – Danny Martin Jr., Sarasota, FL
2. #89 – Robbie Stillwaggon, Burlington, NJ
3. #10 – Terry Gray, Bartlett, TN
4. #47 – Eric Riggins Jr., Charlotte, NC
5. #59III – Johnny Petrozelle, Denton, NC
6. #67 – Jake McLain, Indian Trail, NC
7. #43 – Terry Witherspoon, Jacksonville, FL
8. #21K – Greg Smyre, Hickory, NC
9. #07 – Johnny Bridges, Cherryville, NC
10. #28 – Jeff Willingham, Ripley, MS
11. #33 – Joe Larkin, Suwanee, GA
12. #4 – Danny Smith, Chilicothe, OH
13. #21B – Brandon McLain, Indian Trail, NC
14. #116 – Nick Snyder, Marco Island, FL
15. #51 – Jay Dunham, Grovetown, GA
16. #83 – Bob Auld, Largo, FL
17. #10M – Morgan Turpen, Cordova, TN
18. #9 – C.J. Miller, Mooresville, NC
19. #23 – Derek Hagar, Marion, AR (DNS)
USCS Sprint Car Series Race Awards:
Hoosier Tire Speed Dash: #10M – Morgan Turpen
Engler Machine and Tool First Heat: #47 – Eric Riggins Jr.
Butlerbuilt Second Heat: #10 – Terry Gray
K&N Filters Pole Award: #21K – Greg Smyre
JE Pistons Top Guns Award: #24 – Danny Martin Jr. (1st place)
Bell Helmets Focus Award: #89 – Robbie Stillwaggon
K&N Filters Podium (3rd place) Award: #10 – Terry Gray
Wilwood Disc Brakes Hard Charger Award: #43 – Terry Witherspoon
Brown and Miller Racing Solutions Fourth Place Award: #47 – Eric Riggins Jr.
Keizer Aluminum Wheels Top Five Award: #59III – Johnny Petrozelle
Saldana Racing Products Super Sixth Award: #67 – Jake McLain
Pyrotect Racing Cells Lucky Seven Award: #43 – Terry Witherspoon
DMI/Bulldog Rear Ends Top Ten Award: #28 – Jeff Willingham