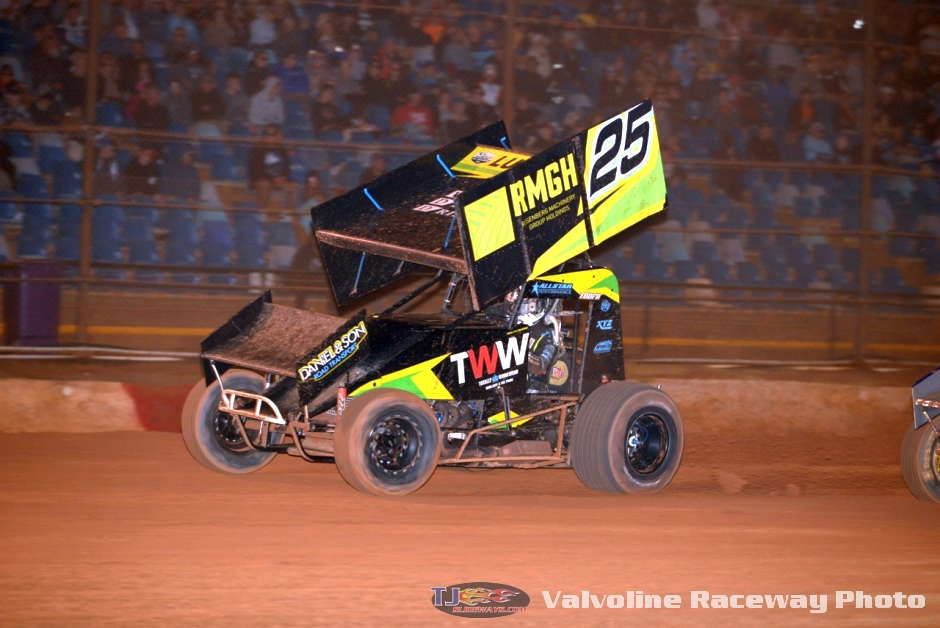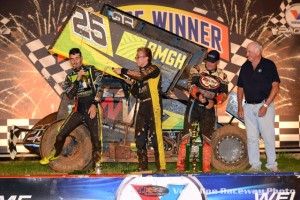 From Valvoline Raceway
Sydney, AU — (March 28, 2015) — A pair of James' went home happy tonight.
James McFadden won the main event and James Thompson won the Track Championship at Valvoline Raceway tonight in front of an excellent crowd and a stout field of 59 Sprintcars.
McFadden outclassed a stellar line up in his RMGH Cool Chassis to win his second 30 lap A-Main from the pole position start ahead of fast finishing Sydneysider Toby Bellbowen in second place and West Aussie domiciled Robbie Farr home in third.
The racing was highlighted by the loveable larrikin Grand Marshall Bob "The Streak" Blacklaw dancing a jig on the main straight as he held the four chequered flags aloft to salute the A-Main field as they rolled by.
Getting his second A-Main win for the season at VR was a highlight for McFadden who earlier in the night took his Mum Tania for the ride of her life in the 2-seater Sprintcar.
"Having Moth (Tim Gleeson) working on this car has helped us enormously racing here," James admitted, "he really has a great handle for Parramatta and it shows."
Toby Bellbowen came from virtually nowhere to really get rolling on the low side as he stripped first Dave Murcott for fourth and then Robbie Farr for third to move into second place.
"We ran out of laps," conceded the 20 year old, "I think we were coming at the end but it wasn't the best racecar we've had all season and we probably didn't get to the front guys quick enough."
Robbie Farr, who switched to COOL Chassis earlier in the week, was clearly a better proposition tonight for his best result at Valvoline Raceway this season.
"We tried a new car out and it worked really nicely," he conceded, "I think we're all pretty well encouraged by the car's performance and it gives us some momentum going into Easter in Queensland."
Though James McFadden claimed the main event the night however was owned by Kellyville 33 year old James Thompson who – after 15 years of trying – wrapped up his first ever Track Championship and the $20,000 payday for doing so.
"I can't believe this has finally happened," he smiled in victory lane, "it's been a long, long week this week. I just wanted it to hurry up and be race day. I can't thank this fantastic team enough for all the opportunities they've given me and now I can finally reward them with the Championship."
It was a nail-biting night for Thompson whose main rival in the Championship battle Ben Atkinson made him work for every corner and every point throughout the night.
Atkinson powered through the field from position #20 to an eventual seventh place finish – a typical swashbuckling drive from the Darwin tyro.
Thompson finished tenth – three spots behind Atkinson – but it was enough to wrap up the title.
David Murcott sped home in fourth place in the A-Main and along the way earned the $5,000 bounty for the highest points corer in the "March month of money" promotion for his trouble.
"It's been great racing here week in and week out and actually starting to get this place (Sydney) worked out. We've had a great time here and I think you'll see us here more often next season."
Former track champion Ian "Wazza" Loudoun made a welcome return to Valvoline Raceway in the Essendon Mitsubishi #3 entry to finish fifth ahead of Network Industry Quick Time winner Danny Reidy who had to come from a win in the B-Main and start the A-Main from the fifth row of the grid to place sixth.
Ben Atkinson was seventh, Grant Tunks eighth, Adrian Maher ninth and James Thompson rounding out the ten.
Trailing home outside the top ten were Andrew Scheuerle, Max Dumesny (who came from the last row of the grid) Andrew Wright, Matthew Craft (who was high points man going into the Pole Shootout and began the A-Main from the front row) Jay Waugh, Steve Rowell and Jeff Lawler respectively.
DNF's were Brent Aprile, Mark Attard, Max Johnston, Jeremy Cross, Craig Brady, Sam Walsh and Matt Dumesny.
The next event at Valvoline Raceway is in a fortnight's time on Saturday night April 11 with the Speedcar Super Series, Legend Cars, Litre Sprints and Street Stocks.