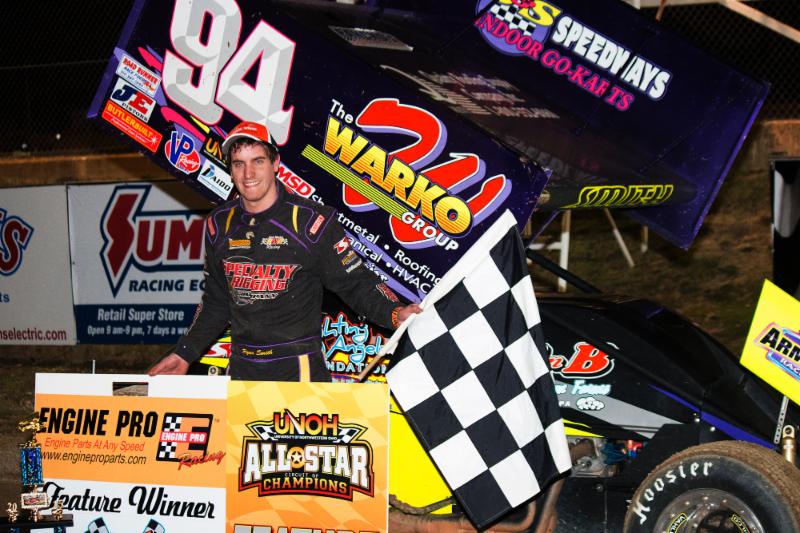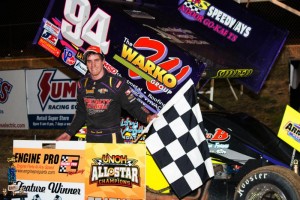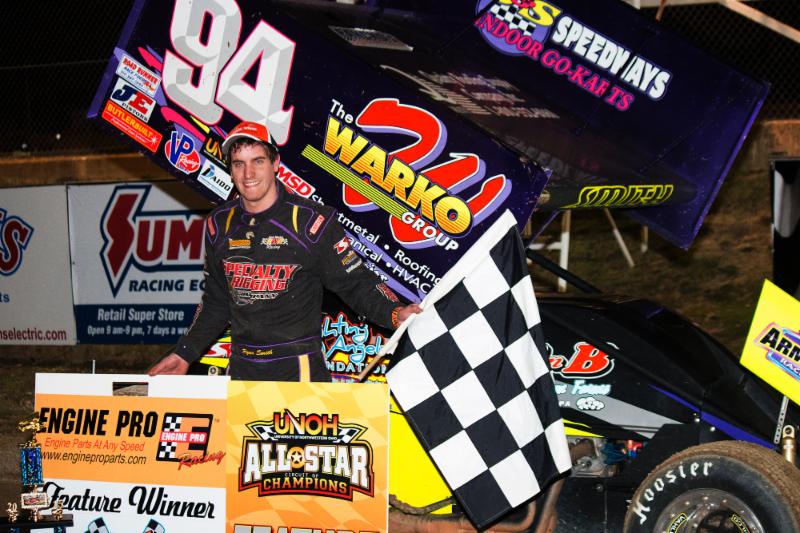 From Inside Line Promotions
Attica, OH — (April 6, 2015) — Ryan Smith had such a standout night last Saturday he even surprised himself.
Smith led all 40 laps to capture his first career All Star Circuit of Champions feature victory during his debut at Attica Raceway Park.
"It wasn't one that I expected," he said. "To be honest the goal was a top 10. We actually talked about it before the dash, my crew chief and I, that whatever happens the rest of the night it's a good night."
It was a great night for Smith from start to finish. He qualified fourth quickest – fifth overall – in his group, which started him on the pole of a heat race. Smith finished second to lock himself into the dash. He then maneuvered from fifth to third place in the dash to earn the third starting position for the main event.
"It seemed like race after race I did enough to have the opportunity to win the event," he said. "Ultimately I think the deciding factor was our right rear tire. The All Stars allow you to run one tire per night. We gambled a little bit. I went with a soft tire and the track really never got abrasive or to the point it was going to hurt me."
Smith also caught a couple of breaks on the track, starting on the opening lap as the polesitter was involved in a crash. That gave Smith the top spot for a complete restart following a red flag.
"We had that red flag and my crew chief came out," he said. "He said, 'You know what's going to happen now?' And I said, 'Yeah, I'm on the pole.' He sat there and talked to me a little bit about where I needed to be. I needed to get the jump on the start and from there it's the seat of your pants, do what you need to do. I got the jump and ran the top about 10 laps and then the track got dirty and crumbly on the top. I kept moving down."
Smith maintained the lead and had a couple of yellow flags provide a clear race track while he was in thick traffic.
"With the way the track was it was tough to get runs on guys," he said. "I knew I had to be aggressive. Clean air was key. Yellows really fell my way. When I needed to get away from lapped traffic a yellow came out. It's one of those nights when things went my way."
Smith held onto the top spot throughout the feature and he held off the field following a late caution to record his first triumph of the season.
He will return to action this Friday at Williams Grove Speedway in Mechanicsburg, Pa.