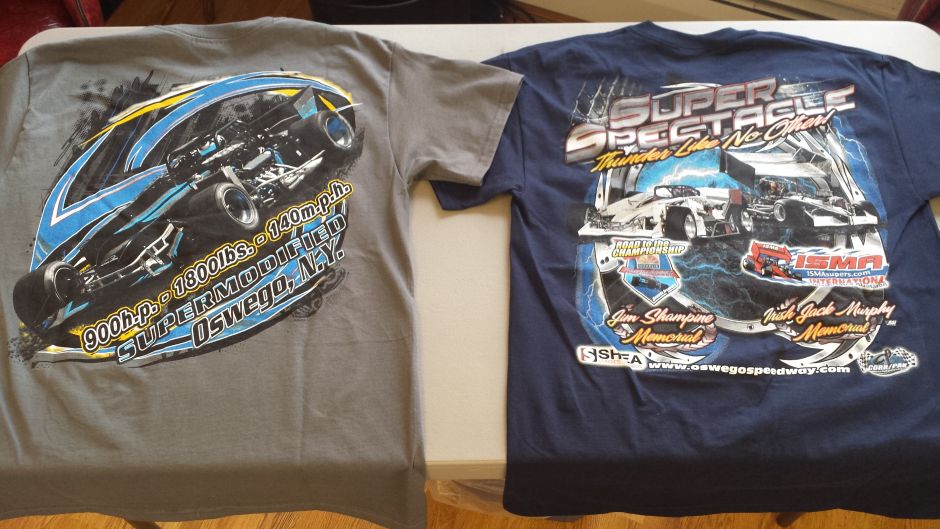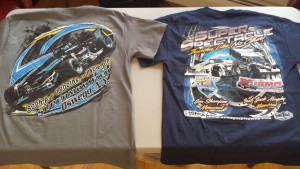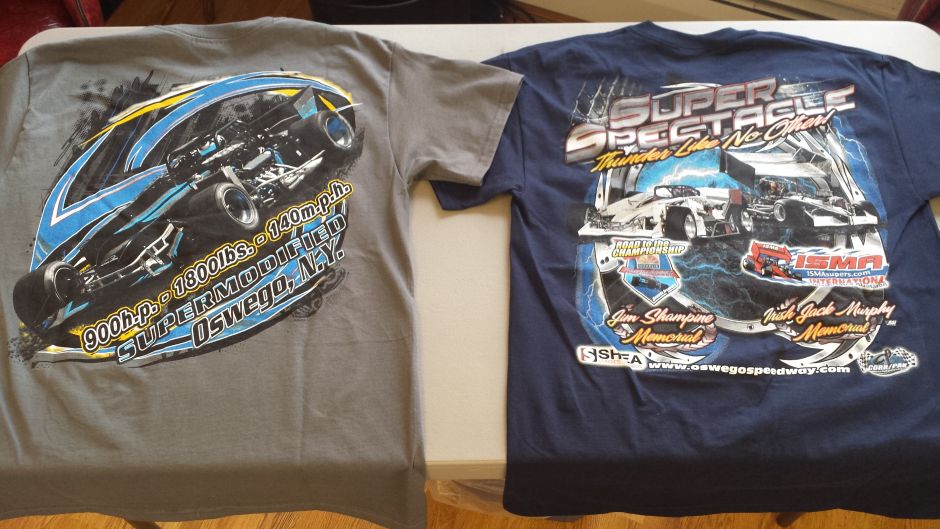 From Oswego Speedway
Oswego, NY — (April 13, 2015) — A new line of Oswego Speedway merchandise is now available leading up to the 65th annual season opener at the Steel Palace on Saturday, May 9 presented by Planet Fitness and Mitchell's Speedway Press.
Three new t-shirts are currently available including a limited edition Novelis Supermodified/ISMA Supermodified 'Super Spectacle' shirt, featuring the Jim Shampine and Jack Murphy Memorials which will take place at the Speedway on May 23.
The limited edition shirt comes in navy blue, and is $25.
The second of the three shirts available is a new Oswego Speedway, Home of the Supermodifieds, tee. The shirt, which features the Oswego Speedway logo on front and a Novelis Supermodified on back, utilizes a gray livery and will be on sale for $22.
Each of the shirts mentioned come in an array of sizes, leading up to 5-XL.
The final of the new shirts during this early portion of the season is a gray scale digital camo Oswego Speedway tee. These shirts come in sizes up to 4-XL and will be available for $20.
Along with new t-shirts, remaining flex fit hats from 2014 are also on sale for only $18.
All of the merchandise mentioned can be purchased at the Oswego Speedway box office, Monday through Friday from 9 a.m. to 4 p.m. Merchandise can also be ordered on the phone for pick-up or to be shipped, by calling (315) 342-0646. Additional shipping fees would apply.
Oswego Speedway's 2015 racing season will kick off on Saturday, May 9 with the 65th annual opening night celebration featuring the lid lifters for the Novelis Supermodifieds and Pathfinder Bank SBS, as well as the 75-lap Richie Evans Memorial for the Race of Champions Asphalt Modified Series presented by Planet Fitness and Mitchell's Speedway Press.
For more information on Oswego Speedway visit online at www.oswegospeedway.com or call (315) 342-0646. Visit the Speedway on social media @OswegoSpeedway or on Facebook at www.facebook.com/OswegoSpeedway.