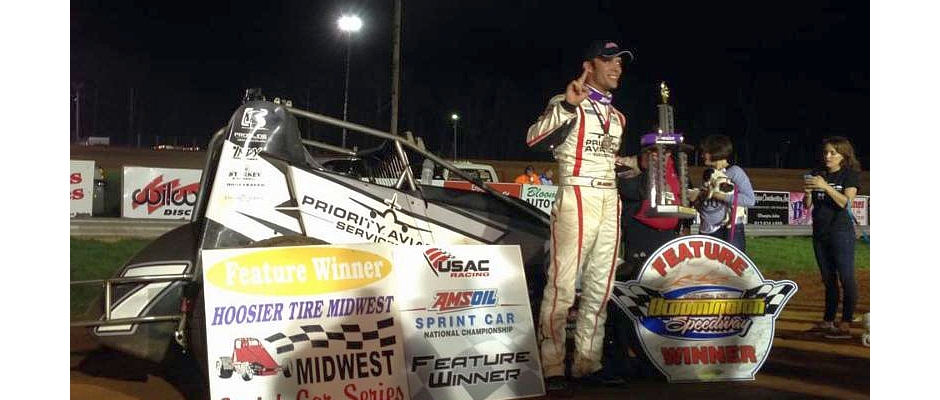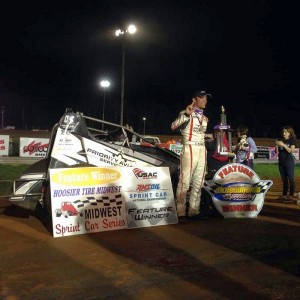 From Dick Jordan
Bloomington, IN – (April 17, 2015) –Bryan Clauson came back to Bloomington Speedway, oneof his early-career regular stops, to take his first AMSOIL Sprint Car victory of the season on Friday night in an event co-sanctioned by the Midwest Sprint Car Series. The Noblesville, Indiana driver made it 32 career wins in the series, tying him for 11th all-time with Rollie Beale. The victory came back aboard the Bryan Clauson Racing entry after two years driving for Tony Stewart/Curb-Agajanian Racing.
It did not come easily, as the 25-year old nearly gave it away on the final lap as he slipped over the banking in turn-two and clawed his way back onto the track as he got to turn-three. Luckily, he had established a large advantage and held on for the win in the Priority Aviation – Jonathan Byrd's Racing #7 Maxim/Parker.
"Fortunately we built that big lead to hold on when I drove over the end. I hadn't even seen the white flag. It would have been pretty embarrassing to lose it that way. I did a quick scan and realized we were still leading and the checkered was right there. Our car was really able to work anywhere I put it. We got a little help from Bob (East), and we made some changes from there. It was fun to win again in our own car and win a race with my dad (Tim). I'm not gonna run quite as many shows this year, but I love winning these USAC races and was happy to get this one," Clauson said.
Clauson came from row-three to track down early leader Carson Short, who had opened up a comfortable advantage after a lap-two caution. Clauson used a turn-one slidejob on lap thirteen to take command, quickly opening up a lead as he worked traffic and Short fell into the clutches of a hellacious battle for second through fifth.
Jon Stanbrough worked past Short and Tracy Hines to take over the second spot, eventually notching the best finish of the season for his newly-started Jon Stanbrough Racing MP Environmental Services – AED Motorsports Products #81 Spike/J&D.
"Tonight makes it worthwhile to put in the time and work to piece this team together and try to improve our program each race. We work really well together. I had to go through the middle once, and my car stuck pretty well through there. Our car was really good tonight, and I could kinda go wherever I needed. We've gotten better week by week, but tomorrow is a new night," Stanbrough said.
From row-six, National point leader Chase Stockon was on a charge and sliced his way through the pack fighting for third to round out the podium in the Superior Tank & Trailer – Crescent Electric Supply #32 DRC/Fisher. For his efforts, Stockon earned the B&W Auto Mart "Hard Charger Award."
"We have been starting pretty far towards the front lately, and I didn't really see us being able to drive through there like that tonight. (Crew chief) D.J. (Ott) gave me a really good car tonight, and we could work traffic and pick some guys off as they were hanging coming off the corner. I was trying to pay attention to the cushion and see if I could stick to the bottom when it got tougher to run up high. I stuck to my guns down lower and tried to perfect that line," Stockon said.
Hines slipped to fourth in the final rundown aboard his The Carolina Nut Company – Hansen's Welding #4 DRC/Stanton Chevy, and the night's ProSource "Fast Qualifier" Brady Bacon worked into the top-five at the finish. Short wound up sixth.
AMSOIL USAC NATIONAL SPRINT CAR RACE RESULTS: April 17, 2015 – Bloomington, Indiana – Bloomington Speedway
QUALIFYING: 1. Brady Bacon, 69, Dynamics-11.056; 2. Kevin Thomas, Jr., 17RW, Dutcher-11.083; 3. Bryan Clauson, 7, Clauson-11.145; 4. C.J. Leary, 30, Leary-11.152; 5. Shane Cottle, 57, Hazen-11.161; 6. Chase Briscoe, 5B, Briscoe-11.202; 7. Jon Stanbrough, 81, JSR-11.232; 8. Brandon Mattox, 28, Mattox-11.257; 9. Carson Short, 21, Short-11.265; 10. Tracy Hines, 4, THR-11.275; 11. Aaron Farney, 15F, Farney-11,277; 12. Daron Clayton, 2E, Epperson-11.281; 13. Logan Jarrett, 29, Jarrett-11.287; 14. Chad Boespflug, 5, Baldwin-11.287; 15. Chase Stockon, 32, 32/TBI-11.293; 16. Brady Short, 11P, Pottorff-11.345; 17. Kyle Cummins, 3R, Byram-11.371; 18. Robert Ballou, 12, Ballou-11.381; 19. Justin Grant, 40, Hery-11.392; 20. Landon Simon, 24, LSR-11.443; 21. Travis Hery, 21H, Hery-11.457; 22. Dave Darland, 71P, Phillips/Curb-Agajanian-11.526; 23. Max McGhee, 17, McGhee-11.528; 24. Shane Cockrum, 66, Wade-11.539; 25. Ted Hines, 12H, Hines-11.543; 26. Austin Prock, 77, Wingo-11.587; 27. Jerry Coons Jr., 10E, Edison-11.604; 28. Chris Babcock, 35, Babcock-11.672; 29. James Lyerla, 11, JL Motorsports-11.818; 30. Ethan Barrow, 15, Barrow-11.902; 31. Donnie Brackett, 4B, Brackett-11.916; 32. Brandon Morin, 98, Morin-12.181; 33. Robert Bell, 71, Bell-12.525; 34. Jarett Andretti, 18, Andretti-12.738; 35. Jeff Bland Jr., 04, Burton-NT.
FIRST HEAT: (10 laps) 1. Bacon, 2. Cummins, 3. Cottle, 4. C.Short, 5. Lyerla, 6. Ted Hines, 7. Jarrett, 8. Hery, 9. Bell. NT
SECOND HEAT: (10 laps) 1. Darland, 2. Ballou, 3. Tracy Hines, 4. Boespflug, 5. Thomas, 6. Andretti, 7. Barrow, 8. Prock, 9. Briscoe. NT
THIRD HEAT: (10 laps) 1. Stockon, 2. Clauson, 3. Grant, 4. McGhee, 5. Stanbrough, 6. Farney, 7. Brackett, 8. Coons . NT
FOURTH HEAT: (10 laps) 1. Cockrum. 2. Simon, 3. B.Short, 4. Leary, 5. Mattox, 6. Babcock, 7. Morin, 8. Clayton. NT
SEMI: (12 laps) 1. Thomas, 2. Jarrett, 3. Stanbrough, 4. Briscoe, 5. Coons, 6. Ted Hines, 7. Andretti, 8. Babcock, 9. Brackett, 10. Farney, 11. Hery, 12. Morin, 13. Lyerla, 14. Barrow. 15. Mattox. NT
7. FEATURE: (30 laps) 1. Bryan Clauson, 2. Jon Stanbrough, 3. Chase Stockon, 4. Tracy Hines, 5. Brady Bacon, 6. Carson Short, . Brady Short, 8. Robert Ballou, 9. Shane Cottle, 10. Dave Darland, 11. Kevin Thomas Jr., 12. C.J. Leary, 13. Chad Boespflug, 14. Logan Jarrett, 15. Justin Grant, 16. Chase Briscoe, 17. Kyle Cummins, 18. Landon Simon, 19. Jarett Andretti, 20. Jerry Coons Jr., 21. Ted Hines, 22. Shane Cockrum, 23. Max McGhee, 24. Aaron Farney, 25. Brandon Morin. NT
——————————
**Bland flipped during qualifying. Clayton flipped during the fourth heat.
FEATURE LAP LEADERS: Laps 1-12 C.Short, Laps 13-30 Clauson.
NEW AMSOIL USAC NATIONAL SPRINT POINTS: 1-Stockon-414, 2-Ballou-387, 3-Darland-369, 4-Bacon-367, 5-Thomas-345, 6-Stanbrough-345, 7-Leary-321, 8-Grant-296, 9-Tracy Hines-290, 10-Boespflug-267.
NEXT AMSOIL USAC NATIONAL SPRINT RACE: April 18- Haubstadt, IN – Tri-State Speedway "Spring Showdown"