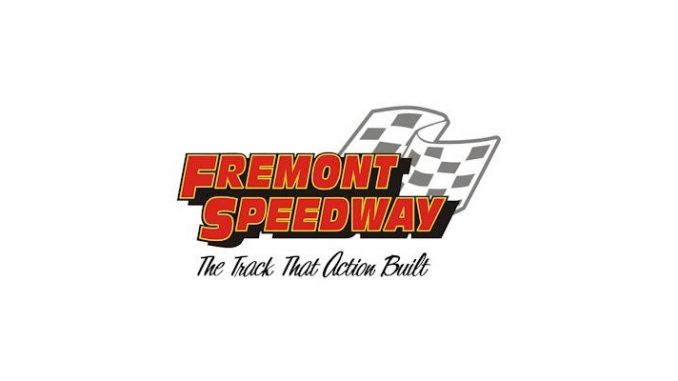 From Brian Liskai
Fremont, OH — (April 18, 2015) — Chris Andrews got off the couch – literally – came to Fremont Speedway and ended up in victory lane Saturday night.
The Sandusky, Ohio driver has been battling the flu the past few days but it couldn't keep him from the track and his new Mintz family ride in the Fort Ball Pizza Palace 410 Sprints. Lapped cars allowed Byron Reed to close on Andrews the final four laps but Andrews made some big moves and drove to his eighth career win on Level Performance/Gressman Powersports Night.
The victory also gained Andrews valuable points in the chase for the Kistler Racing Products Fremont Attica Sprint Title (FAST) Championship Series Presented by KS Sales and Service. At season's end the champion will take home $10,000.
"Literally I was sitting on a couch all day today. I'm sick as hell. If you would have told me at noon I'd be up here I'd have told you you were crazy. I'm going home and rest up a little. Definitely have to thank Les Mintz and Craig Mintz for putting me in this thing and Sennebogen and Real Geese Decoys…this is going to be a fun year," said Andrews in the Engine Pro Victory Lane.
"I dealt with Jody Keegan there…he didn't know I was behind him. His car was about 60 foot wide. Lapped traffic is usually not my better part. But tonight they gave me such a great car I could do just about where ever I wanted to. I knew our car was pretty tough to beat and kept my cool and kept rolling," added Andrews of his Kistler Engines/Lucas Oil/Design Graphics Group/Erie Shore Propane/GF1 Chassis backed machine.
Last week Fremont, Ohio's Bobby Clark took a nasty tumble in the Fremont Federal Credit Union 305 Sprint feature. He shook it off and used a lapped car as a pick to drive past last week's winner Steve Rando with four laps to go and went on to record his 30th career Fremont win. Clark sits 14th on the track's all-time win list.
"Our other car was good and we crashed that last week. Dad's been wanting us to try this car and we had no choice and I think this car is just as good," said Clark of his Fremont Fence/Kear's Speed Shop/B&L Plumbing and Cooling/Nagy Equipment Sales/Miller Rigging/Shellukes Bar/Willey's Towing/Big D's Pizza/Kistler Engines backed machine.
"I was gaining on him (Rando) in three and four and was just trying to hold my own in one and two and fortunately for me he got tied up with that lapped car. I was going to try to run the outside at the same time…his bad luck turned into my good luck but we'll take it," added Clark.
The win also makes Clark a main contender for the title in the JLH General Contractor 305 FAST Championship Series Presented by Engine Pro.
Bobby Clark won the 305 sprint car feature.
Fort Ball Pizza Palace 410 Sprints (24 Cars)
[#]-Starting Position
Qualifying – Fricker's Restaurant/Callie's Performance
1. 19-Chris Andrews, 12.616; 2. 40DD-Nate Dussel, 12.873; 3. O9-Craig Mintz, 12.874; 4. 16-Stuart Brubaker, 12.915; 5. 83M-Broc Martin, 12.958; 6. 1ST-Gary Taylor, 12.999; 7. 53-Cap Henry, 13.009; 8. 14H-Todd Heller, 13.046; 9. 5R-Byron Reed, 13.063; 10. 8M-TJ Michael, 13.067; 11. 9Z-Duane Zablocki, 13.073; 12. 2+-Brian Smith, 13.115; 13. 45L-Brian Lay, 13.127; 14. 97-Dean Jacobs, 13.145; 15. 77-Dain Naida, 13.150; 16. 6M-Max Stambaugh, 13.163; 17. 60-Jody Keegan, 13.183; 18. 33K-Kyle Patrick, 13.184; 19. 68G-Tyler Gunn, 13.197; 20. 16X-Ryan Ruhl, 13.302; 21. 25M-Ken Mackey, 13.573; 22. 17-Jared Horstman, 13.610; 23. 59J-Kirk Jeffries, 13.629; 24. 50B-Mike Burns, 14.255
Heat 1 – American Power Sports (8 Laps – Top 5 finishers transfer to the A-feature)
1. 6M-Max Stambaugh[1] ; 2. 53-Cap Henry[4] ; 3. 45L-Brian Lay[2] ; 4. 19-Chris Andrews[6] ; 5. 68G-Tyler Gunn[7] ; 6. 16-Stuart Brubaker[5] ; 7. 8M-TJ Michael[3] ; 8. 17-Jared Horstman[8]
Heat 2 – Kistler Racing Products (8 Laps – Top 5 finishers transfer to the A-feature)
1. 97-Dean Jacobs[2] ; 2. 60-Jody Keegan[1] ; 3. 14H-Todd Heller[4] ; 4. 40DD-Nate Dussel[6] ; 5. 9Z-Duane Zablocki[3] ; 6. 83M-Broc Martin[5] ; 7. 59J-Kirk Jeffries[8] ; 8. 16X-Ryan Ruhl[7]
Heat 3 – Hoosier Racing Tires (8 Laps – Top 5 finishers transfer to the A-feature)
1. 77-Dain Naida[2] ; 2. 33K-Kyle Patrick[1] ; 3. 5R-Byron Reed[4] ; 4. O9-Craig Mintz[6] ; 5. 2+-Brian Smith[3] ; 6. 1ST-Gary Taylor[5] ; 7. 25M-Ken Mackey[7] ; 8. 50B-Mike Burns[8]
Dash – Borer Glass & Mirror (6 Laps, finishing order determined first 6 starting positions of A-feature
1. 19-Chris Andrews[6] ; 2. O9-Craig Mintz[4] ; 3. 5R-Byron Reed[1] ; 4. 53-Cap Henry[3] ; 5. 14H-Todd Heller[2] ; 6. 40DD-Nate Dussel[5]
B-Main – Computer Man Inc. (10 Laps – Top 5 finishers transfer to the A-feature)
1. 16-Stuart Brubaker[1] ; 2. 83M-Broc Martin[2] ; 3. 8M-TJ Michael[4] ; 4. 1ST-Gary Taylor[3] ; 5. 16X-Ryan Ruhl[5] ; 6. 25M-Ken Mackey[6] ; 7. 59J-Kirk Jeffries[8] ; 8. 50B-Mike Burns[9]
A-Main – (30 Laps)
1. 19-Chris Andrews[1]; 2. 5R-Byron Reed[3]; 3. O9-Craig Mintz[2]; 4. 53-Cap Henry[4]; 5. 2+-Brian Smith[8]; 6. 97-Dean Jacobs[10]; 7. 45L-Brian Lay[9]; 8. 1ST-Gary Taylor[13]; 9. 9Z-Duane Zablocki[7]; 10. 16-Stuart Brubaker[11]; 11. 77-Dain Naida[15]; 12. 83M-Broc Martin[12]; 13. 68G-Tyler Gunn[19]; 14. 40DD-Nate Dussel[6]; 15. 33K-Kyle Patrick[18]; 16. 16X-Ryan Ruhl[20]; 17. 60-Jody Keegan[17]; 18. 14H-Todd Heller[5]; 19. 8M-TJ Michael[14]; 20. 6M-Max Stambaugh[16]
Hard Charger: 68G-Tyler Gunn[+6]
Full Results: JLH General Contractors Fremont/Attica Sprint Title '305' Championship Series presented by Engine Pro – Night #2 – Saturday, April 18th, 2015
Fremont Federal Credit Untion 305 Sprints (21 Cars)
[#]-Starting Position
Heat 1 – American Power Sports (8 Laps – Top 5 finishers transfer to the A-feature)
1. 8-Bobby Clark[2] ; 2. 18-TJ Michael[7] ; 3. 25-Jason Keckler[1] ; 4. 11G-Luke Griffith[4] ; 5. 99-Alvin Roepke[3] ; 6. 12-Kyle Capodice[5]
Heat 2 – Kistler Racing Products (8 Laps – Top 5 finishers transfer to the A-feature)
1. 19R-Steve Rando[3] ; 2. 5R-Jordan Ryan[5] ; 3. 3J-Trey Jacobs[1] ; 4. 7M-Brandon Moore[2] ; 5. 18N-Frank Neill[4] ; 6. 36-Seth Schneider[6] ; 7. 44-Kyle Farmer[7]
Heat 3 – Hoosier Racing Tires (8 Laps – Top 5 finishers transfer to the A-feature)
1. 2-Ricky Peterson[5] ; 2. 77I-John Ivy[1] ; 3. 75-Jerry Dahms[7] ; 4. 87-Brian Gibbs[2] ; 5. 39-Jamie Miller[3] ; 6. 37-Austin Ream[6]
B-Main – Computer Man Inc. (10 Laps – Top 5 finishers transfer to the A-feature)
1. 12-Kyle Capodice[1] ; 2. 36-Seth Schneider[2] ; 3. 37-Austin Ream[3] ; 4. 44-Kyle Farmer[4]
A-Main – (25 Laps)
1. 8-Bobby Clark[4]; 2. 19R-Steve Rando[2]; 3. 18-TJ Michael[8]; 4. 99-Alvin Roepke[13]; 5. 2-Ricky Peterson[3]; 6. 5R-Jordan Ryan[6]; 7. 77I-John Ivy[12]; 8. 3J-Trey Jacobs[5]; 9. 39-Jamie Miller[15]; 10. 12-Kyle Capodice[16]; 11. 11G-Luke Griffith[7]; 12. 25-Jason Keckler[10]; 13. 36-Seth Schneider[17]; 14. 7M-Brandon Moore[9]; 15. 18N-Frank Neill[14]; 16. 75-Jerry Dahms[1]; 17. 37-Austin Ream[18]; 18. 44-Kyle Farmer[19]
Hard Charger: 99-Alvin Roepke[+9]