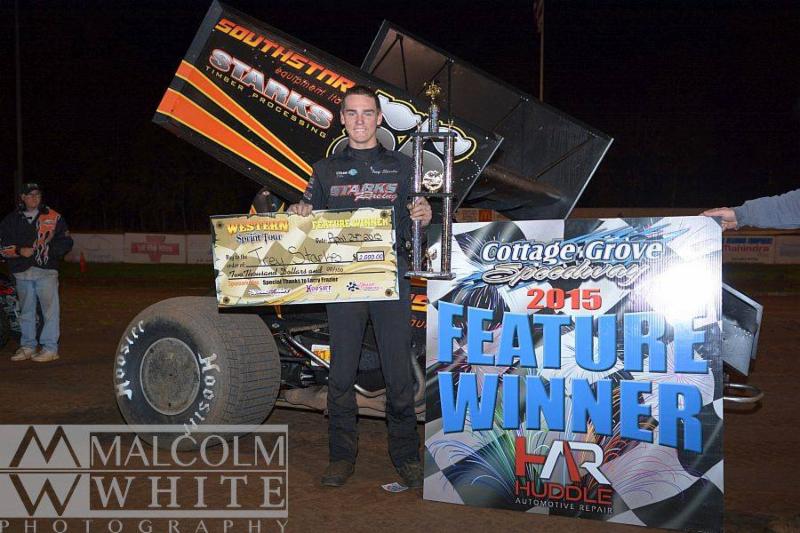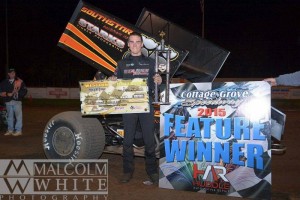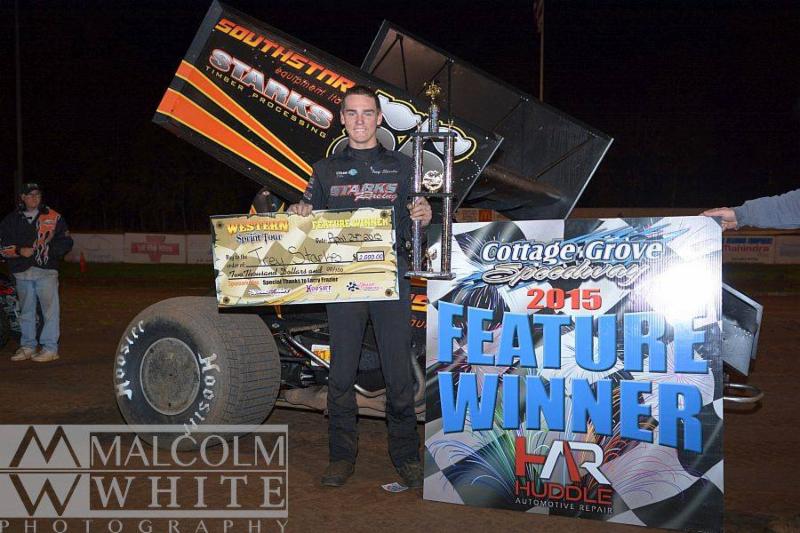 From Inside Line Promotions
Elma, WA — (April 26, 2015) — Trey Starks got over the hurdle in a big way this weekend.
Starks scored a pair of victories at two tracks in the Northwest, including his first career at Cottage Grove Speedway in Cottage Grove, Ore., on Friday and his first since 2012 at Grays Harbor Raceway on Saturday.
"That's the reason why we run with the World of Outlaws (to start the season each year)," he said. "Obviously you go to win, but it's really tough on that level. When you come back home you can use all the things you learned. We definitely felt confident going into both races and we knew we had a chance to win. You've got to be good and you've got to be lucky to win. We had some things work out our way."
The weekend opened on Friday at the quarter-mile track in Oregon, where Starks qualified eighth quickest during the inaugural Western Sprint Tour event.
"We did not qualify very well," he said. "We missed by a long shot at Cottage Grove, but we picked it up in the heat race. That gave us enough points to get in the dash."
Starks powered from fourth to win his heat race. Unfortunately he drew the highest number – six – in the dash draw to line up on the outside of the third row. Starks picked up two spots in the dash to finish fourth, which is the position he started the 30-lap feature.
"We got into second on the opening lap and then we ended up hitting traffic in about six or seven laps," he said. "We just navigated through traffic a little better than the leader and we ended up picking it off in traffic.
"We had I think eight cautions after the halfway point. We handled the restarts well. I thought our race was over with about five laps to go. Coming off turn four I saw a car up against the frontstretch wall with no tire. I was looking around to try to find the tire and all of a sudden it's bouncing straight at our car. It ended up bouncing off our right rear tire. Luckily it didn't do any damage."
Starks avoided trouble in the closing laps to claim his first win of the season.
The team then hauled to Grays Harbor Raceway for Saturday's event, which began with Starks timing in sixth quickest during qualifying. He then placed fourth in a heat race, which started him on the outside of the third row for the 25-lap main event.
"We got into third a couple of laps in and we rode there for a real long time," he said. "There were a few restarts and we were there, we just couldn't make the pass. The track was really, really fast because of all the rain they got. We got to lapped traffic and the top two ended up getting held up. We barely squeezed through."
Starks maneuvered from third to first in turns one and two approximately two-thirds of the way through the main event.
"We had a few restarts at the end and we handled them pretty well," he said. "Once I got out in clean air our car handled a little better. We felt real comfortable, especially after we got the lead. I guess you can say we learned how to win this weekend."
Starks will take his two-race winning streak to Skagit Speedway in Alger, Wash., on Saturday for the next Summer Thunder Sprint Series. He placed fifth during the opening round of the series.