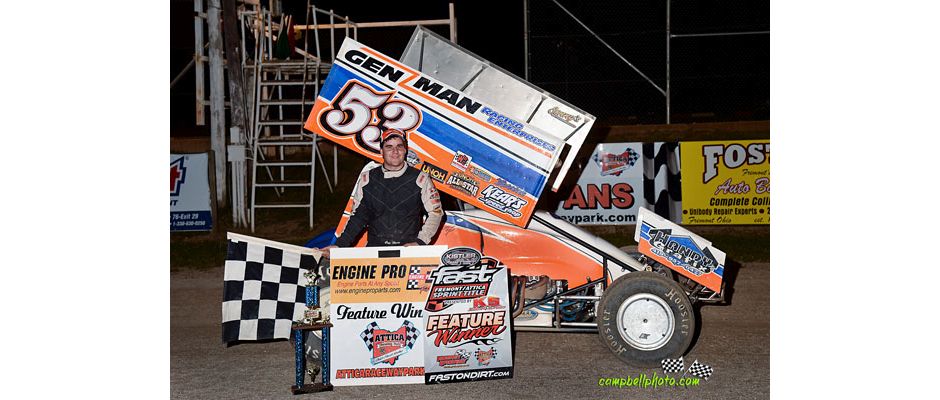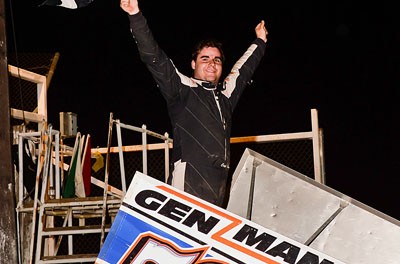 From Brian Liskai
Attica, OH — (May 15, 2015) — Cap Henry has had a fast sprint car all season. For one reason or another – bad qualifying run or bad pill draw or some other little problem saw him have to pass a lot of cars during a night of racing only to be kept from victory lane.
That all changed Friday on American Powersports Night at Attica Raceway Park. The Bellevue, Ohio driver blasted under Dale Blaney on the second lap of the feature and then held off a late race challenge to capture the win in the O'Reilly Auto Parts 410 sprint feature. It was his third career win at Attica.
And in terms of the big picture, it gave Henry valuable points towards the $10,000 Attica point championship and the $10,000 Kistler Racing Products Fremont Attica Sprint Title (FAST) Championship Series payday. Henry came into the night sixth in the Attica points and fourth in the FAST standings.
"I could hear Dale up top on the straight-aways and I actually did it (move to the top) once before we got to traffic and I saw him kind of tuck up under there but he couldn't get enough drive to pass me. So I was like well if we have to go up there we can. It came down to traffic and I kind of had to make things happen there stopping guys into one. But hey, it worked out," said Henry beside his Genzman Racing/Level Performance/Ludwig Propane/Kear's Speed Shop/Handy Grafix/J&J Auto Racing backed machine.
"It's hard to win races starting 20th but these guys…Jamie, Guy, Ryan….they all have been working hard all year and gave me great cars from the get-go. We had to finally just capitalize on it," continued Henry.
"On that last restart I could feel Dale shoving me so I just jammed on the brake and then matted it and figured we were okay," concluded Henry.
Fremont, Ohio's Jamie Miller has been knocking on the door all season in the Foster's Auto Body 305 Sprints. And he nearly gave another win away Friday. Miller, a former track champion, battled defending track champion Jordan Ryan the last six laps and slipped off the high side of turn two with five laps to go as Ryan drove to the lead. But, Miller regained his composure and blasted to the cushion and drive back by Ryan on the white flag lap and went on to record his 10th career win at Attica.
The win will also tighten up the point race for the JLH General Contractor FAST 305 Sprint Series title.
"That happens when you get a little old and rusty. Luckily he left me enough room…he left it open and I was faster than he (Ryan) was for a change and able to pull it out," said Miller beside his Advanced Industrial Services/Fostoria Mod Shop/Quarterback Transportation/Western Lake Erie Insulation Industry/Pioneer Quick Lube/Scott's Lawn Care backed machine.
"It's not easy running up there. It's bitten me in the butt more than once. There's no where to go when you screw up up there. We got fortunate tonight and had a good run and thank God. We put this deal together over the winter and we've been fast every night and finally to get a win is great," said Miller adding thanks to car owner Tim Merrill.
Max Stambaugh and Dale Blaney would bring the field to green for the 30-lap $3,000-to-win 410 sprint feature. Before a lap could be completed Broc Martin would spin. On the second green Blaney would bolt into the lead with fourth starter Henry grabbing second while rookie Tyler Gunn, Stambaugh, Stuart Brubaker, Rob Chaney and Dean Jacobs gave chase.
Henry would drive to the bottom of turns three and four on lap two to take the lead. By lap six Brubaker would drive into third and with a tremendous battle for fourth involving Gunn, Jacobs and Chaney. On lap 10 the only other caution of the feature would fly when Caleb Griffith stopped on the back stretch.
On the ensuing restart Blaney challenged Henry with Brubaker no locked in a tremendous battle for third with Chaney and Jacobs. Once Henry got his momentum rolling he pulled away slightly from Blaney as Brubaker and Chaney swapped the third position lap after lap.
As Henry began to close on the back of the pack, Blaney closed and Henry decided to move to the top of the track and it worked out. The leaders raced into traffic with seven laps to go with the running order Henry, Blaney, Brubaker, Chaney, Jacobs, Byron Reed and Tim Shaffer.
With five laps to go Henry had a two car length lead over Blaney who now had his hands full with Brubaker. Henry made some daring moves in traffic and drove to the win over Blaney, Brubaker, Chaney and Reed.
the upper hand when the green flew. McCarron would challenge while Miller ran third followed by Tyler Street, Alvin Roepke and Jordan Ryan.
McCarron would take the lead on lap three with Miller driving to his outside to challenge with Capodice also involved. Miller would blast away at the top cushion to take the lad on lap four with McCarron, Capodice, Ryan, Street, Steve Rando, Bobby Clark and Roepke giving chase.
The caution would fly on lap seven for a Kyle Farmer spin. On the ensuing restart Paul Weaver would spin. When the green flew again Miller drove away from McCarron with Ryan moving into third. Ryan would drive under McCarron for second on lap 13 just before the caution flew for another Farmer spin.
When the green flew Ryan drove to Miller's inside with Rando grabbing third from McCarron with Clark, Capodice, John Ivy and Seth Schneider in pursuit. By lap 19 Ryan was mounting a challenge for the lead when the final caution flew for a stalled Brian Gibbs.
On the restart Miller blasted away to the top again with Ryan racing to his inside. Miller would slip off the banking exiting turn two allowing Ryan to drive into the lead on lap 21. Ryan would lead the next three circuits before Miller regained his momentum and drove back around the outside for the lead as the white flag flew.
Miller would take the checkers over Ryan, Rando, Clark and McCarron.
Racing will resume at Attica Raceway Park on Friday, May 29 when the World of Outlaw Sprint Series comes to town for the $10,000-to-win Kistler Engines Classic. Reserve seats are still available by going to www.atticaracewaypark.com or calling 419-680-5606.
Attica Raceway Park
American Powersports Night
Friday, May 15, 2015
Starting position [*]
O'Reilly Auto Parts 410 Sprints (29 cars)
Nitro Black Performance by Engine Pro Heat 1 – (8 Laps, top 4 to A)
1. 97-Dean Jacobs[3] ; 2. 53-Cap Henry[5] ; 3. 68G-Tyler Gunn[1] ; 4. 45-Tim Shaffer[2] ; 5. 09-Craig Mintz[8] ; 6. 19-Chris Andrews[7] ; 7. 60-Jody Keegan[6] ; 8. 8M-TJ Michael[4]
Summit Racing Equipment Heat 2 – (8 Laps, top 4 to A)
1. 1st-Gary Taylor[1] ; 2. 16-Stuart Brubaker[2] ; 3. 5R-Byron Reed[5] ; 4. 33M-Caleb Griffith[4] ; 5. 9-Jimmy Colvin[3] ; 6. 10X-Dustin Stroup[6] ; 7. 49-Shawn Dancer[7]
Ultra Shield Race Products Heat 3 – (8 Laps, top 4 to A)
1. 45L-Brian Lay[1] ; 2. 6M-Max Stambaugh[4] ; 3. 83M-Broc Martin[7] ; 4. 3J-Trey Jacobs[6] ; 5. 23-Jimmy Light[2] ; 6. 71H-Brian Lambersom[3] ; 7. 73-Joe Armbruster[5]
Rock Auto.com Heat 4 – (8 Laps, top 4 to A)
1. 9x-Rob Chaney[2] ; 2. 1-Dale Blaney[5] ; 3. 40DD-Nate Dussel[1] ; 4. 21-DJ Foos[3] ; 5. 10H-Chad Kemenah[6] ; 6. 9Z-Duane Zablocki[4] ; 7. 40-Caleb Helms[7]
Computer Man B-Main 1 – (10 Laps, top 4 to A)
1. 10H-Chad Kemenah[4] ; 2. 09-Craig Mintz[1] ; 3. 19-Chris Andrews[5] ; 4. 60-Jody Keegan[9] ; 5. 9-Jimmy Colvin[2] ; 6. 8M-TJ Michael[13] ; 7. 23-Jimmy Light[3] ; 8. 40-Caleb Helms[12] ; 9. 10X-Dustin Stroup[6] ; 10. 9Z-Duane Zablocki[8] ; 11. 49-Shawn Dancer[10] ; 12. 73-Joe Armbruster[11] ; 13. 71H-Brian Lambersom[7]
A-Main 1 – (30 Laps)
1. 53-Cap Henry[4] ; 2. 1-Dale Blaney[2] ; 3. 16-Stuart Brubaker[6] ; 4. 9x-Rob Chaney[8] ; 5. 5R-Byron Reed[12] ; 6. 45-Tim Shaffer[13] ; 7. 97-Dean Jacobs[9] ; 8. 6M-Max Stambaugh[1] ; 9. 1st-Gary Taylor[10] ; 10. 10H-Chad Kemenah[17] ; 11. 68G-Tyler Gunn[5] ; 12. 09-Craig Mintz[18] ; 13. 45L-Brian Lay[7] ; 14. 21-DJ Foos[16] ; 15. 33M-Caleb Griffith[14] ; 16. 83M-Broc Martin[3] ; 17. 40DD-Nate Dussel[11] ; 18. 3J-Trey Jacobs[15] ; 19. 19-Chris Andrews[19] ; 20. 60-Jody Keegan[20]
Hard Charger: Byron Reed +7
Foster's Auto Body 305 Sprints (24 cars)
Nitro Black Performance by Engine Pro Heat 1 – (8 Laps, top 5 to A)
1. 5R-Jordan Ryan[2] ; 2. 22M-Dan McCarron[1] ; 3. 77I-John Ivy[7] ; 4. 2-Ricky Peterson[4] ; 5. 1W-Paul Weaver[6] ; 6. 11G-Luke Griffith[8] ; 7. 7S-Thomas Schinderle[3] ; 8. 20I-Kelsey Ivy[5]
Summit Racing Equipment Heat 2 – (8 Laps, top 5 to A)
1. 12-Kyle Capodice[2] ; 2. 8-Bobby Clark[5] ; 3. 99-Alvin Roepke[7] ; 4. 4*-Tyler Street[6] ; 5. 87-Brian Gibbs[3] ; 6. 14-Rick Daugherty[8] ; 7. 44-Kyle Farmer[4] ; 8. 1X-Jeremy Dickerson[1]
Ultra Shield Race Products Heat 3 – (8 Laps, top 5 to A)
1. 25-Jason Keckler[2] ; 2. 19R-Steve Rando[7] ; 3. 36-Seth Schneider[3] ; 4. 39-Jamie Miller[8] ; 5. 18N-Frank Neill[1] ; 6. 75-Jerry Dahms[6] ; 7. 94K-Kurt Huber[5] ; 8. 32H-Dan Hennig[4]
Computer Man B-Main 1 – (10 Laps, top 5 to A)
1. 11G-Luke Griffith[1] ; 2. 14-Rick Daugherty[2] ; 3. 75-Jerry Dahms[3] ; 4. 44-Kyle Farmer[5] ; 5. 1X-Jeremy Dickerson[8] ; 6. 7S-Thomas Schinderle[4] ; 7. 94K-Kurt Huber[6]
A-Main 1 – (25 Laps)
1. 39-Jamie Miller[6] ; 2. 5R-Jordan Ryan[8] ; 3. 19R-Steve Rando[7] ; 4. 8-Bobby Clark[12] ; 5. 22M-Dan McCarron[2] ; 6. 12-Kyle Capodice[1] ; 7. 77I-John Ivy[10] ; 8. 2-Ricky Peterson[11] ; 9. 36-Seth Schneider[9] ; 10. 1W-Paul Weaver[13] ; 11. 99-Alvin Roepke[4] ; 12. 25-Jason Keckler[5] ; 13. 4*-Tyler Street[3] ; 14. 11G-Luke Griffith[16] ; 15. 18N-Frank Neill[15] ; 16. 14-Rick Daugherty[17] ; 17. 75-Jerry Dahms[18] ; 18. 87-Brian Gibbs[14] ; 19. 44-Kyle Farmer[19] ; 20. 1X-Jeremy Dickerson[20]