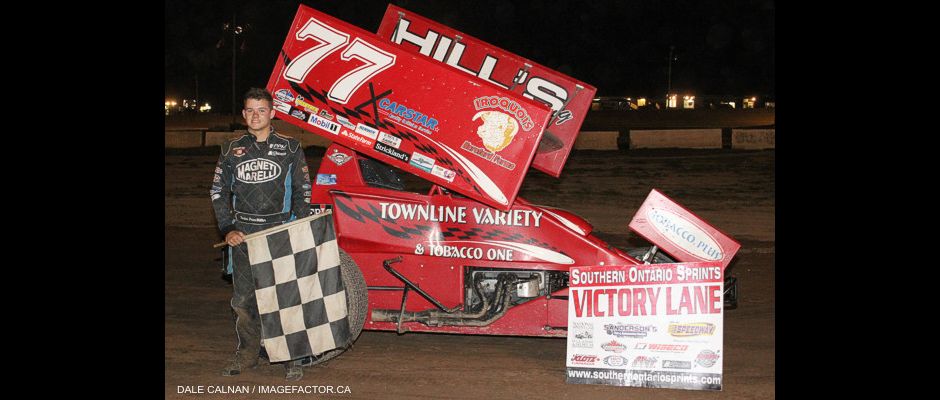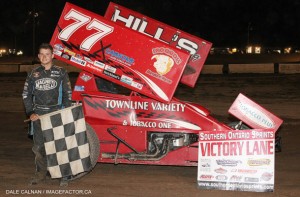 By Greg Calnan
Port Colborne, ON — (May 17, 2015) — In his first three races in Canada, Parker Price-Miller of Kokomo, Indiana left a lasting impression. The youngster won the 20 lap Southern Ontario Sprints A-Main at Humberstone Speedway after claiming a second place finish the night before at Brighton Speedway with the SOS and a win at Ohsweken Speedway on Friday night with the Corr/Pak Merchandising Sprint cars.
Jim Huppunen and Price-Miller led the 23 car field to the green flag in round two of the 2015 season.
The race was quickly halted as Scott Sherk spun his car in the second turn. When the race got back underway Dain Naida moved past Huppunen for the top spot while teammate Price-Miller also got by to take the second position.
On lap 6 Price-Miller got by Naida for the race lead and stretched his advantage through the middle portions of the event. The best action on the track was the battle for second between Naida and Huppunen who went back and forth for the runner-up position. 2014 Champion Glenn Styres and point leader Mitch Brown also put on an entertaining duel for the fourth position until Styres ran high and off the track in turn two late in the race.
At the front a pair of late race cautions gave Naida a chance to catch the leader, however his attempts came up short and Price-Miller claimed his first SOS victory. Naida finished a close second while Mitch Brown capped a solid weekend finishing third.
The Southern Ontario Sprints return to action on Saturday, June 6, 2015 at South Buxton Raceway in Merlin, ON.
HEAT 1 (8 Laps – Top 3 Redraw): 1. 77 Dain Naida, 2. 25 Warren Mahoney, 3. 94z Stan Zanchin, 4. 10 Bob Crawford, 5. 91 Ryan Turner, 6. 11z Darren Zumpe, DNS 22 James Thompson
HEAT 2 (8 Laps – Top 3 Redraw): 1. 10B Mitch Brown, 2. 00 Dane Lorenc, 3. 5 Keith Dempster, 4. 19 Cory Turner, 5. 2w Lee Winger, 6. 67 Chris Durand DNF
HEAT 3 (8 Laps – Top 3 Redraw): 1. 0 Glenn Styres, 2. 14H Jim Huppunen, 3. 71s Shawn Sliter, 4. 66 Frank Baranowski, 5. 11T Jamie Turner, 6. 38 Tyler Hendricks
HEAT 4 (8 Laps – Top 3 Redraw): 1. 77P Parker Price-Miller, 2. 11J Chris Jones, 3. 77x Alex Hill, 4. 49 Todd Hoddick, 5. 43 Scott Sherk, DNS 15 Mike Ferrell
FEATURE (20 Laps) [Starting Position]: 1. 77P Parker Price-Miller, 2. 77 Dain Naida, 3. 10B Mitch Brown, 4. 14H Jim Huppunen, 5. 5 Keith Dempster, 6. 49 Todd Hoddick, 7. 0 Glenn Styres, 8. 11J Chris Jones, 9. 25 Warren Mahoney, 10. 00 Dane Lorenc, 11. 19 Cory Turner, 12. 91 Ryan Turner, 13. 94z Stan Zanchin, 14. 77x Alex Hill, 15. 10 Bob Crawford, 16. 71s Shawn Sliter, 17. 38 Tyler Hendricks, 18. 66 Frank Baranowski, 19. 22 James Thompson, 20. 11z Darren Zumpe, 21. 2w Lee Winger, 22. 11T Jamie Turner, 23. 43 Scott Sherk