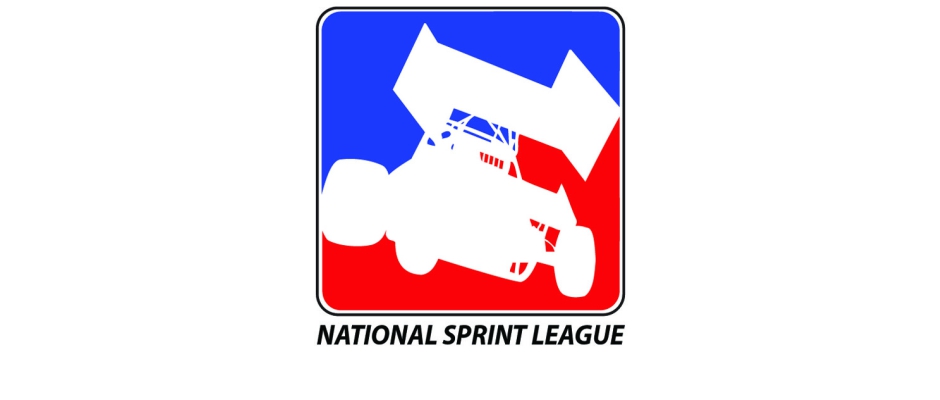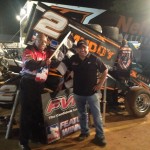 From Bill Wright
Farmington, MO — (May 28, 2015) — Fortune smiled a bit on Dover, Missouri's Danny Lasoski Thursday night at the Saint Francois County Raceway in Farmington, Missouri. After shattering the track record in time trials, it looked like he may not get out of his heat race until Bryan Clauson spun, giving him the final transfer spot. Jerrod Hull broke a Jacob's ladder while leading the feature when he tagged a spun lapped car. Nonetheless, Lasoski did what he had to do in putting himself in position to become the first repeat FVP National Sprint League winner this season.
Forty-one cars assembled at the unique bullring, with a good mix of regulars and NSL competitors. The local contingent were hoping for a victory, and it seemed an even match until the very end. Two locals won heat races (Joey Boyd and Tommy Worley Jr.), and two NSL drivers (Paul Nienhiser and Tim Kaeding) did the same. Four of each made the top eight redraw as well.
Lasoski started the night by shattering the track record with a lap of 10.794 seconds (the old mark was set last September by Jason Keith at 11.097 seconds). Tasker Phillips flipped in qualifying, but made it back out for his heat. Brad Loyet (NSL) and Jerrod Hull (SFCR regular), who was fortunate in his own right to make it through his heat after spinning, comprised the front row of the feature after the redraw.
Hull shot to the lead in the 30-lap main event immediately, ahead of Joe B. Miller and Lasoski. Two laps in, a four-car melee involving Lynton Jeffrey, Kent Buckley, Joey Montgomery and Ryan Kempin slowed things. Hull led Miller, Lasoski, Loyet and Worley back to green flag racing.
Four laps were in when Terry McCarl spun in turn three, and three more laps were complete when Ryan Kempin spun. Hull, who had pulled away from the field on each occasion was in the wrong place at the wrong time, and hammered Kempin with his right rear. The contact broke his Jacob's ladder and been his right rear wheel. Nonetheless, he shot out again.
Hull's issues were evident when he reached lapped traffic, however. Lasoski pounced after Miller exited with steering issues, taking the lead on lap 18. Lasoski led Hull, Loyet, and a charging Clauson and Mark Dobmeier in a group of cars that could have had a blanket thrown over them.
Unfortunately, trouble found Dobmeier, who came to a stop on lap 22. Clauson too, had to visit the work area. The restart with eight laps left saw Lasoski leading Hull, Loyet, Worley and Ian Madsen. Lasoski would pull away for the $3,000 payday, while Hull held onto second. Loyet was third, ahead of Worley and Madsen. Bill Balog, Jimmy Hurley, Brian Brown, Kaeding and Terry McCarl rounded out the top ten. Dusty Zomer won the B. Austin McCarl took a tumble in the B, but was uninjured. Kempin also turned over after finishing fourth in the B. He made repairs and started the feature.
The FVP National Sprint League goes north from Farmington to complete their "March through Missouri" at the Randolph County Raceway near Moberly Friday night, May 29. For more information on the FVP National Sprint League, visit www.NationalSprintLeague.com!
FVP National Sprint League Results from Saint Francois County Raceway
FVP National Sprint League A Main (started), 30 Laps: 1. 2, Danny Lasoski, Dover, MO [4]; 2. 12H, Jerrod Hull, Sikeston, MO [2]; 3. o5, Brad Loyet, Sunset Hills, MO [1]; 4. 97, Tommy Worley Jr., Farmington, MO [5]; 5. 18, Ian Madsen, St. Mary's, NSW, Aust. [8]; 6. 17B, Bill Balog, Brookfield, WI [12]; 7. 35H, Jimmy Hurley, Springfield, IL [15]; 8. 21, Brian Brown, Grain Valley, MO [14]; 9. 3, Tim Kaeding, San Jose, CA [16]; 10. 24, Terry McCarl, Altoona, IA [6]; 11. 9, Paul Nienhiser, Chapin, IL [21]; 12. 2B, A.J. Bruns, Athens, IL [7]; 13. 13, Mark Dobmeier, Grand Forks, ND [11]; 14. 82, Dusty Zomer, Sioux Falls, SD [10]; 15. 55, Brooke Tatnell, Sans Souci, NSW, Aust. [23]; 16. 17w, Bryan Clauson, Noblesville, IN [9]; 17. 56, Davey Heskin, St. Michael, MN [20]; 18. 09, Matt Juhl, Sioux Falls, SD [22]; 19. 67, Joey Boyd, Farmington, MO [18]; 20. 51B, Joe B. Miller, Millersville, MO [3]; 21. 87, Kent Buckley, Farmington, MO [19]; 22. 2K, Ryan Kempin, House Springs, MO [24]; 23. 12, Lynton Jeffrey, Prairie City, IA [17]; 24. 32, Joey Montgomery, Fredericktown, MO [13]. Lap Leaders: Hull 1-17, Lasoski 18-30. KSE Hard-charger: Nienhiser.
B Feature (started), 14 laps: 1. Dusty Zomer [2]; 2. Bryan Clauson [1]; 3. Brooke Tatnell [4]; 4. Ryan Kempin [3] / 5. 5, Kory Bales, Fredericktown, MO [6]; 6. 14T, Jimmy Bridgeman, Farmington, MO [10]; 7. 17J, Josh Baughman, Odessa, TX [8]; 8. 7TAZ, Tasker Phillips, Pleasantville, IA [7]; 9. 5H, Dakota Hendrickson, Omaha, NE [9]; 10. 88, Jeff Wurst, Bonne Terre, MO [12]; 11. 17, James Scott, Jackson, MO [19]; 12. 44, Chris Martin, Ankeny, IA [13]; 13. 99, Tim Taylor, Charleston, MO [14]; 14. 21P, Adam Parmeley, Cadet, MO [17]; 15. 55x, Andy Phillips, Bonne Terre, MO [18]; 16. 3A, Dustin Adams, Crystal City, MO [11]; 17. 8, Jeff Wingate, California, MO [16]; 18. 35, Tyler Settlemoir, Fredericktown, MO [15]; 19. 17A, Austin McCarl, Altoona, IA [5] DNS – 2L, Logan Forler, Boise, ID, 72, Kevin Petty, Farmington, MO
Fuel Safe Heat one (started), 10 laps: 1. Joey Boyd [2]; 2. Terry McCarl [4]; 3. Jimmy Hurley [3]; 4. Matt Juhl [1]; 5. Ian Madsen [6] / 6. Brooke Tatnell [5]; 7. Logan Forler [8]; 8. Josh Baughman [7]; 9. Andy Phillips [10]; 10. Tim Taylor[9]
DMI Heat two (started), 10 laps: 1. Paul Nienhiser [1]; 2. Brian Brown [3]; 3. Lynton Jeffrey [2]; 4. Jerrod Hull [6]; 5. Bill Balog [4] / 6. Tasker Phillips [7]; 7. James Scott [8]; 8. Tyler Settlemoir [9]; 9. Ryan Kempin [5] DNS – Dustin Adams
Kaeding Performance Heat three (started), 10 laps: 1. Tim Kaeding [2]; 2. Joey Montgomery [3]; 3. Davey Heskin [1]; 4. Mark Dobmeier [4]; 5. Brad Loyet [6] / 6. Dusty Zomer [5]; 7. Jimmy Bridgeman [8]; 8. Kory Bales [7]; 9. Jeff Wurst [9]; 10. Jeff Wingate [10]
Maxim Heat four (started), 10 laps: 1. Tommy Worley Jr. [2]; 2. Joe B. Miller [3]; 3. Kent Buckley [1]; 4. A.J. Bruns [4]; 5. Danny Lasoski [6] / 6. Austin McCarl [7]; 7. Dakota Hendrickson [8]; 8. Bryan Clauson [5]; 9. Chris Martin [9]; 10. Adam Parmeley[10]
Minnesota Mafia Qualifying (Qualifying Order), 2 laps: 1. Danny Lasoski, 10.794 [1]; 2. Brad Loyet, 11.043 [11]; 3. Jerrod Hull, 11.045 [8]; 4. Ian Madsen, 11.051 [9]; 5. Bryan Clauson, 11.217 [35]; 6. Dusty Zomer, 11.311 [2]; 7. Ryan Kempin, 11.330 [5]; 8. Brooke Tatnell, 11.347 [6]; 9. A.J. Bruns, 11.378 [21]; 10. Mark Dobmeier, 11.386 [13]; 11. Bill Balog, 11.394 [22]; 12. Terry McCarl, 11.397 [31]; 13. Joe B. Miller, 11.400 [10]; 14. Joey Montgomery, 11.426 [39]; 15. Brian Brown, 11.431 [3]; 16. Jimmy Hurley, 11.501 [24]; 17. Tommy Worley Jr, 11.512 [40]; 18. Tim Kaeding, 11.530 [17]; 19. Lynton Jeffrey, 11.560 [16]; 20. Joey Boyd, 11.650 [41]; 21. Kent Buckley, 11.674 [4]; 22. Davey Heskin, 11.772 [20]; 23. Paul Nienhiser, 11.800 [36]; 24. Matt Juhl, 11.827 [12]; 25. Austin McCarl, 11.836 [26]; 26. Kory Bales, 11.851 [7]; 27. Tasker Phillips, 11.924 [15]; 28. Josh Baughman, 11.935 [18]; 29. Dakota Hendrickson, 11.963 [23]; 30. Jimmy Bridgeman, 11.979 [38]; 31. Dustin Adams, 12.023 [27]; 32. Logan Forler, 12.121 [32]; 33. Chris Martin, 12.144 [33]; 34. Jeff Wurst, 12.177 [25]; 35. Tyler Settlemoir, 12.201 [14]; 36. Tim Taylor, 12.631 [28]; 37. Adam Parmeley, 12.776 [34]; 38. Jeff Wingate, 12.851 [29]; 39. James Scott, 13.175 [37]; 40. Andy Phillips, 13.753 [30]; 41. Kevin Petty, NT [19]
Contingencies
Minnesota Mafia Quick Time – Danny Lasoski
Fuel Safe Heat – Terry McCarl
DMI Heat – Paul Nienhiser
Kaeding Performance Heat – Tim Kaeding
Maxim Heat – Danny Lasoski
Hooker Harness "Locked In Award" – Dusty Zomer
Speedway Graphics "From the Tail Award" – Brooke Tatnell
KSE Hard-charger Award – Paul Nienhiser
Bell Helmets "Hard Luck Award" – Bryan Clauson