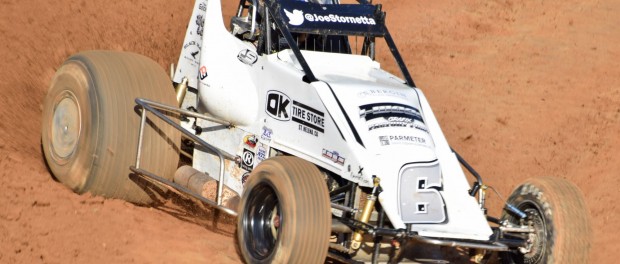 From Peterson Media
With weather and other factors keeping Joe Stornetta off the track more than he would like in 2015, he continues to be very strong when he does race as he picked up his second win of the season on Saturday night at the Placerville Speedway with the Wingless Series Presented By Hunt Magnetos.
"I fell in love with the high-banks of Placerville Speedway when I was a little kid, and to win at the track is really special," Joe Stornetta would say in victory lane.
With 20 cars making the trip to the track for the third round of Wingless Series action, Stornetta would get his night started off by timing the Geide Family/OK Tire Store/iWear Motorsports No. 6 machine in fifth fastest in qualifying time trials.
Lining up in the third row of his heat race, Stornetta avoided disaster with the back stretch hill on a couple of occasions, and was able to finish in the third spot and stay in the feature event inversion.
By luck of the draw the six pill was pulled, putting the Napa, CA driver on the front row for the 30-lap feature event. When the green flag dropped, Stornetta would actually slip back to the fourth spot as he chased after Colton Slack and Shane Myhre.
On the fourth lap, Stornetta made a big move to surge into the second spot where he began his chase on race long leader, Bill Macedo. The extremely slick track saw many drivers using the bottom of the speedway where a little moisture still existed, but following a lap seven yellow Stornetta moved to the top.
Making up ground on the high, scary side of the speedway, Stornetta would make the pass on the ninth lap as he then began distancing himself from the field. Though lapped traffic would slow Stornetta's pace late in the race, he would never be challenged for the top spot as he stretched his point lead with the series by earning his second win in just the third Wingless Series event of the year.
"We had an awesome car, and were really good on top in the main," Stornetta said. "I got off to a slow start, but was able to settle down and get to the front. It's awesome to have some many people behind me supporting me, and I really thank them for everything they do."
Joe Stornetta would like to thank JPS Trucking, The Geide Family, OK Tire Store, iWear Motorsports, Parmeter General Engineering Service, X Winery, Bergin Glass, LJ's Speed & Machine Shop, Rick Lawley Trucking, Black Hawk Body Shop, and The Holman Family for their support.