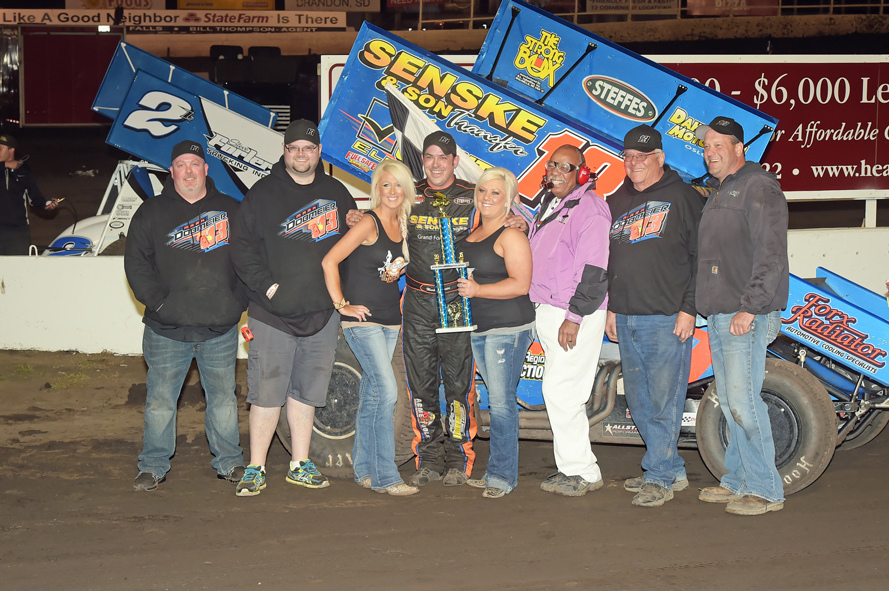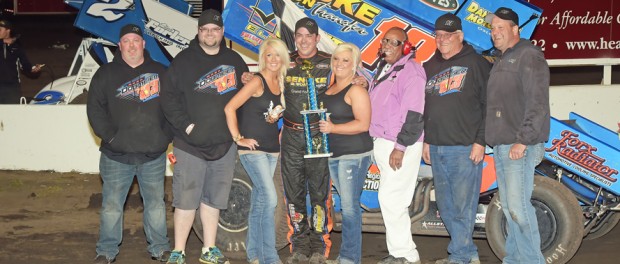 From Bill Wright
June 1, 2015 – It was Mother Nature two and the Jimco Racing #13 team and driver Mark Dobmeier two last weekend. After a strong charge from 11th to challenge for third, the Grand Forks, North Dakota driver got sideways at St. Francois County Raceway near Farmington, Missouri on Thursday. He would battle back to finish 13th. After two rainouts at Moberly, Missouri and Knoxville, Iowa, the team recorded their first win of the season in the opener for 410's at Huset's Speedway near Brandon, South Dakota Sunday. Other than competing in weekly competition on Friday at River Cities Speedway in Grand Forks, the team is undecided on the rest of their schedule.
A sixteen hour tow last Thursday saw the team at SFCR with the FVP National Sprint League. "It was an interesting and fun racetrack," says Mark. "It threw everyone a curveball. Turns three and four were normal. One and two was tight, and then there was a dogleg down the backstretch. It was an odd-shaped track, and by the end of the day we think we found the setup for it for next time."
The track suited Mark's style, but it took some laps. "We qualified o.k. (10th quick), but we missed it in the heat," he says. "We struggled a little bit, but we ended up fourth. We made the right adjustments for the feature though."
Starting 11th, he started picking his way forward. "It took a little rhythm to run the track, but once I found it, I was having a blast!" says Mark. "We were ripping the top of three and four and gaining a lot of speed there. In one and two, it was dry coming in, but heavy coming out. You had to kind of slow it down to park around the corner to get off on the good stuff."
Mark would eventually challenge for a podium spot. "We trucked her from 11th," he says. "We were battling for third and fourth with (Brad) Loyet and (Bryan) Clauson. I had a good run coming out of four running the top. Loyet kind of missed the bottom on the frontstretch. I was going for it, and got underneath him. He did the tomahawk chop, and I had to spin the car to avoid him. It was a racing deal. We went to the back and we passed a lot of cars. We got back to 13th."
After two nights of chasing rain, it was evident that they had their share at Huset's on Sunday. "It was a pretty heavy racetrack," says Mark. "They actually brought the grader out after they'd been packing with the street stocks. They took a layer off and tried it again before we even warmed the engines."
The five-time track champ timed in sixth quick before moving from fifth to third in his feature. That set him up inside row three for the main event. "The track was heavy, but it started to loosen up and get a couple of lanes for the feature," says Mark. "It was a good racy track. We started fifth beside Tim Kaeding and we knew it would be a good battle. He got the good line on the outside and got up to the front first. It took me a couple laps to work past some guys."
Once Mark cleared traffic, he took off. "We tried some things going in, and they worked," he says. "I could just throw it in on the top and fly around the cushion. Tim's motor must have been laying down, because I was reeling him in fast, and then he pulled in. I think they busted a rocker or something. From there, we were clear sailing out front. I don't know if anyone had anything for us at that point."
Other than the rainouts, things went well last weekend. "It was definitely a good weekend for the team," says Mark. "We're still jelling, but we're definitely finding speed. We've been towards the front the majority of the time and we're definitely getting faster."
Jimco Motorsports would like to thank Senske & Son Transfer, Big Trucks by Jimco, Right Choice Electric, Acme Tools, X-treme Polishing, Interstate Towing & Recovery, B/L Strong Box, Steffes, Dahlstrom Motors, GLB Transport, Tireboss, Forx Radiator, Anderson Auto Body, Gary Gruhot Farms, Willow Ridge, Rose Creek, Great Plains Plumbing & Heating, Ironman Welding, DAV, Rendezvous Region Construction, High Mark Snowmobile Rentals, Boss Signs & Graphics and Dobmeier Bonding for all their help!