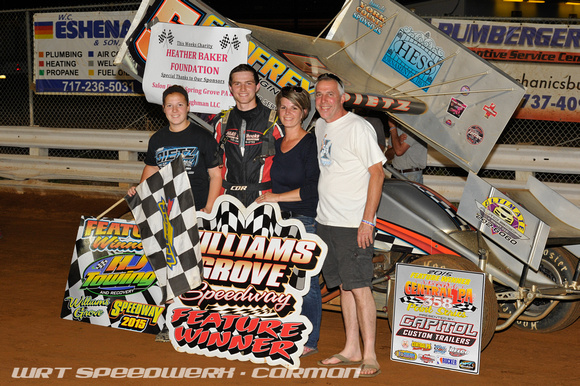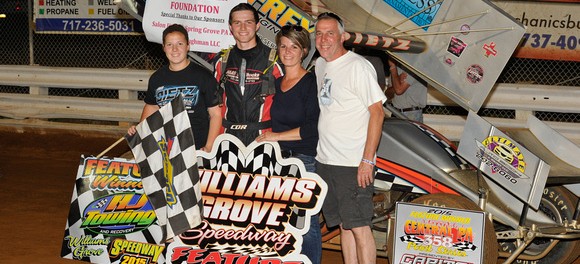 Fully Injected Motorsports
York, PA – (June 1st, 2015) – Chase Dietz earned his first '358' sprint car victory of the 2015 season on Friday evening, May 29th at the Williams Grove Speedway in Mechanicsburg, Pennsylvania. Dietz, who pilots the Troy Godfrey owned, Godfrey Racing Engines, no. 5 '358' sprinter, swept the competition on Friday night; earning a victory during his respective heat race before rallying from the eighth starting position to score the feature win. Continuing his charity tradition in 2015, Dietz and Troy Godfrey took advantage of the feature victory and donated over $1,000 towards the Heather Baker Foundation. The team also received donations from Salon Utopia and Kevin S. Laughman, LLC.
"It was a great night for us" said Chase Dietz, "Feels great to get a win and I can't thank Troy Godfrey and the entire team enough for this opportunity…we've been on a pretty good roll lately and it feels good… we are confident and hopefully we can take advantage of that and get a few more of these…I also want to thank Salon Utopia and Kevin Laughman…they were our sponsors for the night on May 29th and helped us donate towards the Heather Baker Foundation."
Although '358' competition continues at Williams Grove Speedway this Friday evening, June 5th, Chase Dietz will be unable to attend. High school graduation will keep the third generation racer away from the speedway.
Also during the recent weekend, Chase Dietz piloted the Scott Gobrecht owned no. 44 '410' sprint car at the Lincoln Speedway in Abbottstown, Pennsylvania. The '410' sprint car rookie finished 15th during feature competition on Saturday evening, May 30th; earning his way into the main event by rallying from last to finish fifth during heat race competition. Dietz and the Golf Cart Services, Bad Boy Buggies, Servicemaster Clean Janitorial Service of York and Lancaster, Gettysburg Rental Company, '44' team will return to the Lincoln Speedway this Saturday evening, June 6th for the 'Dirt Classic Qualifier.' 'The 'Dirt Classic Qualifier' will not only award $7,000 to the main event winner, but it will also guarantee a starting position in the $20,000-to-win Second Annual 'Dirt Classic' on Saturday, September 26th at Lincoln Speedway.
"I am really excited for this Saturday" said Chase Dietz, "It's a big event with a lot on the line…you can bet the best in Pennsylvania will be there and we are anxious to be a part of it…I am really starting to get the hang of '410' racing…our confidence is higher than ever and that is a great feeling heading into the big part of the season…we'll keep working hard and try to earn our best finish yet."
Chase Dietz has one top-ten feature finish during '410' competition in 2015. The York, Pennsylvania native finished ninth at the Lincoln Speedway back on Saturday, May 23rd.
Race fans can keep up with Chase Dietz during his entire 2015 racing campaign at the official online home of Fully Injected Motorsports – www.FullyInjected.com. Follow Chase on all of the available social networks including Facebook: Chase Dietz Racing and Twitter: Chase Dietz Racing.