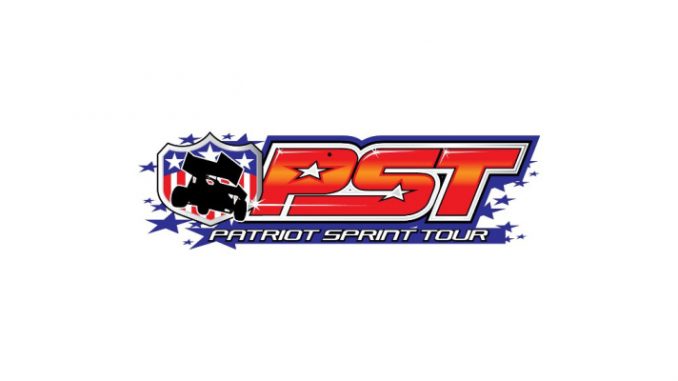 From Rich Vleck
Fulton, NY — (June 6, 2015)– Larry Wight was a favorite to win entering the night. After winning his heat race, he remained a favorite to win. Before a restart with six laps to go though, he seemingly had become just another competitor. After the restart and the ensuing sprint to the finish, however, he had cemented a lasting imprint on everyone in attendance at Fulton on Saturday Night.
Wight, 22, of Phoenix, NY, passed Steve Poirier with just over three laps remaining and drove away to claim his first Patriot Sprint Tour win and score his first sprint car victory at his home track of Fulton Speedway.
In a race that featured an incredible seven lead changes, Wight was an afterthought for much of the race as Sammy Reakes IV and Steve Poirier officially swapped the lead five times. Reakes had built up a lead of over three seconds when the second and final caution flag of the race flew on lap 19, bunching up the field and throwing the race in to the turn cycle.
After starting in seventh, Wight had found himself mired in a terrific battle inside the top five. He would restart on lap 19 in fourth but wasted no time moving forward. He quickly made a three-wide maneuver on the restart to get to third and as Poirier looked to get by Reakes for the lead, Wight stayed in the throttle and rim-rode his No. 99L to the front.
"I knew I had a good enough car to get the win. Before that last caution came out I was chasing down Poirier and Jason (Barney). I knew I could get them but wasn't sure I had enough for Sammy," reflected Wight in Victory Lane. "As soon as Poirier got the lead he went to bottom for some reason and left (the top groove) wide open for me."
The surface Saturday Night at Fulton Speedway provided two incredibly equal grooves for racing and thus some terrific back-and-forth action. At times, the top groove was supreme, particularly in the first five laps after a restart, while the bottom was also dominant, as it was through the middle of the race when Reakes checked out from the pack. In the closing laps though, it became clear the top had become the better line.
"The track consistently went away and the top had so much bite; you could keep your momentum up versus the bottom where it was stop and go," noted Wight afterwards.
In five prior 360 sprint starts at Fulton, Wight had always finished in the top 10 but was able to have all the cards fall his way this time around. To add to his great night, "Lightning Larry" immediately jumped in to his modified after Victory Lane and charged from deep in the pack to win and sweep the night, once again utilizing the cushion.
As Wight drove to the win, a mad scramble was on for the next six spots. Despite being in fifth on lap 22, Shawn Donath worked around Sammy Reakes at the line to finish in the runner-up position for the second year in a row. Donath was happy about the raciness of the track but felt like it could have just as easily been his night to win.
Donath's last-lap pass would slide Reakes back to the third position. The PST America point leader had a bittersweet smile on his face after the race, realizing what a great run he had, but feeling so dejected that the win he wanted the most was in his grasp if not for the late-race caution. It was still a great point night for "The Honeybadger".
The charge on the night had to go to Chuck Hebing. On the first lap of heat race action, Hebing flipped his No. 45 and barely made it back out to run the B-Main. After winning the last-chance race, "Cobra" came from 22nd position to inside the top 10 before lap 10, but then settled in to eighth place before the final caution. After the restart, Hebing would march forward to finish in fourth.
Four-time Patriot Champion Bryan Howland won his heat and recorded the fastest lap of the night, turning a 13.986 second lap. Howland moved up two spots on the final lap to round out the top five.
Amazingly, Steve Poirier slid back to sixth place in the closing three laps after holding the lead just over a mile from the finish. Poirier led on three different occasions and while he used the top groove much of the night, switched to the inside to block on lap 21 and got freight-trained.
As Poirier hugged the bottom, it blocked off the line for Jason Barney, who is no stranger to that groove. After suffering damage in the Chuck Hebing heat race wreck, the two-time Fulton winner in 2014 charged up to as high as third before finishing in seventh.
Steve Collins won the Evingham Site Excavation Four Laps of Fame Dash4Cash and followed it up with an eighth place showing, his career-best at Fulton. Scott Just faded back early in the race as far as 15th place but rebounded late to finish in ninth, a huge boost to he and his team after swapping out just about everything on his No. 54JR in the 24 hours leading up to the race. Paul Habeck completed the top 10 with a steady move forward for his second-consecutive top 10 at Fulton.
An impressive field of 27 sprints helped to pack the pits on a nearly cloudless night in Oswego County. In addition to Hebing's flip, Zach Weigand and Kory Gurney also tipped and while each were alright, both cars were unable to qualify for the feature.
For more information, visit www.PatriotSprintTour.com.
Patriot Sprint Tour America Series Results: 6/6/15, Fulton Speedway, Fulton, NY.
A-Main (25 Laps)- 1. Larry Wight (99L), 2. Shawn Donath (53), 3. Sammy Reakes IV (17), 4. Chuck Hebing (45), 5. Bryan Howland (51), 6. Steve Poirier (28FM), 7. Jason Barney (87*), 8. Steve Collins (67), 9. Scott Just (54JR), 10. Paul Habeck (25H), 11. Steven Hutchinson Jr. (2), 12. George Suprick (87), 13. Joe Trenca (98), 14. Gordy Button (10B), 15. Chris Durand (67D), 16. Paulie Colagiovanni (10), 17. Steve Glover (121), 18. Kyle Drum (47), 19. Joe Kata (10k), 20. Danny Varin (00), 21. Dave Just (54J), 22. Will Glover (21).
Lap Leaders- Reakes 1-3, Poirier 4-6, Reakes 7-9, Poirier 10, Reakes 11-20, Poirier 21, Wight 22-25.
Did Not Qualify: Thomas Radivey, Kory Gurney, Dave Wickham, Pete Richardson, Zach Weigand.
B-Main (8 Laps, Top 4 Transfer to A-Main)- 1. Chuck Hebing (45), 2. Will Glover (21), 3. Joe Kata (10k), 4. Dave Just (54J), 5. Thomas Radivey (1Q), 6. Kory Gurney (69k), 7. Dave Wickham (80), 8. Pete Richardson (67R), 9. Zach Weigand (20).
Evingham Site Excavation Four Laps of Fame Dash4Cash (4 Laps)- 1. Steve Collins (67), 2. Jason Barney (87*), 3. Chris Durand (67D), 4. Kyle Drum (47), 5. Paul Habeck (25H), 6. Steve Glover (121).
Heats (8 Laps Each, Top 6 Qualify to A-Main)-
Race 1: Poirier, Donath, Drum, Trenca, Barney, Button, W. Glover, Weigand, Hebing.
Race 2: Wight, Varin, Durand, Habeck, S. Glover, Suprick, D. Just, Kata, D. Wickham.
Race 3: Howland, S. Just, Collins, Reakes, Colagiovanni, Hutchinson, Radivey, Richardson, Gurney.
Hoosier Tire Canada/ Mike Emhof Motorsports Recipient: S. Just.
Pole Position Raceway Pole Winner: Reakes.
Patriot Sprint Tour America Series Point Standings (Top 10)- Reakes 1105, Drum 1015, Collins 934, D. Just 916, Hutchinson 911, S. Just 898, Suprick 873, S. Glover 870, Zimbardi 856, Howland 717.
Evingham Site Excavation Four Laps of Fame Dash Series Standings (Top Five)- Kreutter 16, Collins 13, Zimbardi 12, Brown 11, Drum 10.
Patriot Tank Lines Hard Charger of the Season Standings (Top Five)- Zimbardi 48, D. Just and Suprick 25, T. Wickham 24, Reakes 23.
Danny Willmes Enterprises Lap Leader Standings (Top Five)- Zimbardi 40, Reakes 37, Howland 19, S. Just 19, Barney and Stillwaggon 16.