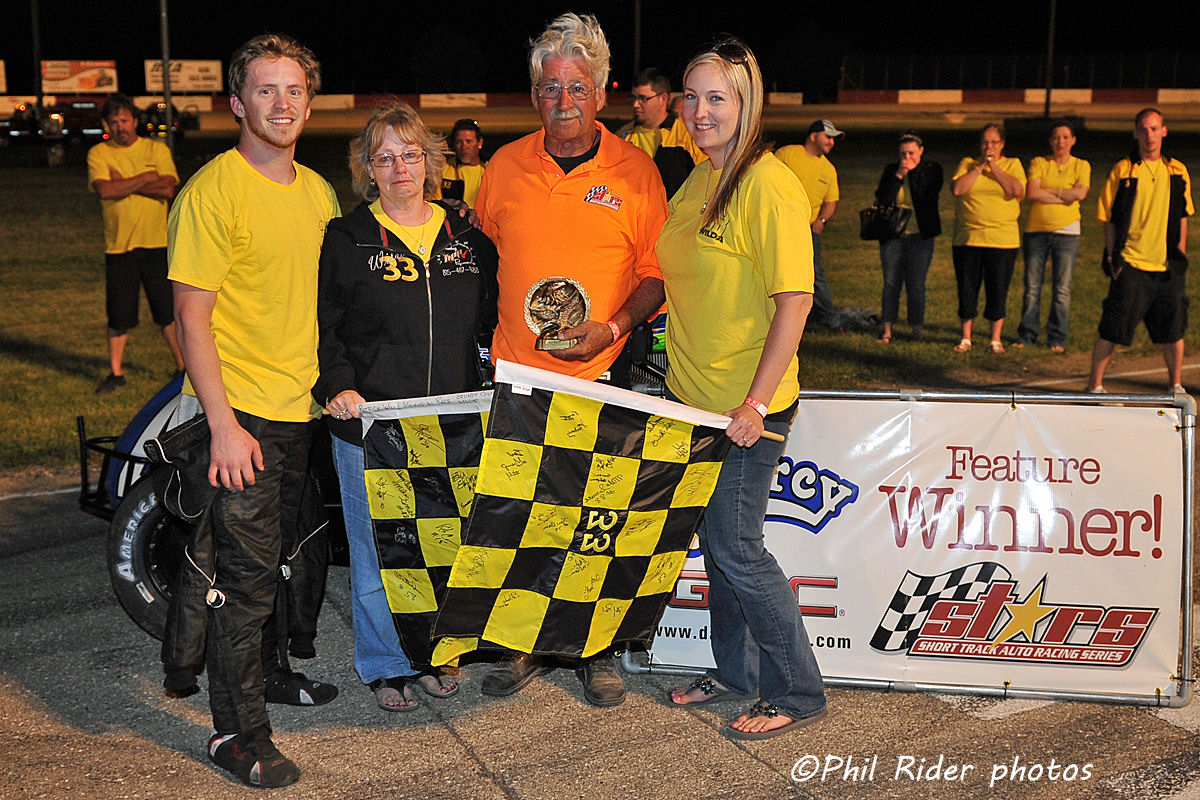 By Kale Fisher
(MORRIS, IL – June 6, 2015)—The Short Track Auto Racing Series (STARS) season opener was all about honoring the late Patrick Wilda Jr., who lost his life in an industrial accident in January. The D'Arcy GMC National Midgets named this race the Patrick Wilda Memorial Race. The night allowed everyone to remember a great man, friend, and competitor.
Early on in the National Midget feature it looked as if the #36 of Jimmy Anderson was going to run away with the win. However with fourteen laps to go he broke coming down the front stretch. This led to a battle to the end with #4 Brad Greenup and #88 Billy Hulbert. With 5 laps to go the yellow came out and Greenup took off on the restart and took his QRock100.7, Window World midget for Greenup Motorsports to victory lane. In second was Billy Hubert in the Troutman Escavating midget for Hulbert racing. Rounding out the top 3 was the #11 of Tyler Baran.
The night was topped off when winning driver Brad Greenup gave his feature winning trophy to Patrick Wilda Jr's parents. The Wilda's were also presented with the feature checkered flags. Before the race began the flags were signed by all the drivers racing, and any race officials, crew or team members that had participated with Wilda. The Wilda's were also presented with a race helmet honoring their late son which all the National Midget and Illini Racing Series (IRS) drivers signed along with STARS Race Director Everett Holt and the flagmen.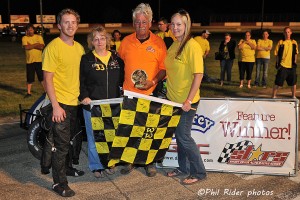 Race winner Greenup had these things to say about the race and the late Patrick Wilda Jr. "This race means a lot to me. Patrick's driving style was always fun to watch. At all times he gave it his all and that is what I really admire about him and that's kind of what I was thinking about in my helmet during this race, I got to win this one for Patrick".
Race runner up Hulbert said, "Finishing second means a lot to me, to my dad, and to the pit crew. We were doing this for the Wilda family. Whether we won, finished second, third, fourth, or fifth it still means a lot."
Other winners on the night included; Nathan Bertino (Legacy) and Ed Enser (Modified). Next Saturday June 13, 2015, STARS will have all five divisions competing.
Stay connected with STARS on their website, www.shorttrackauto.com and Facebook page, www.facebook.com/shorttrackauto, to see what will be happening this racing season.