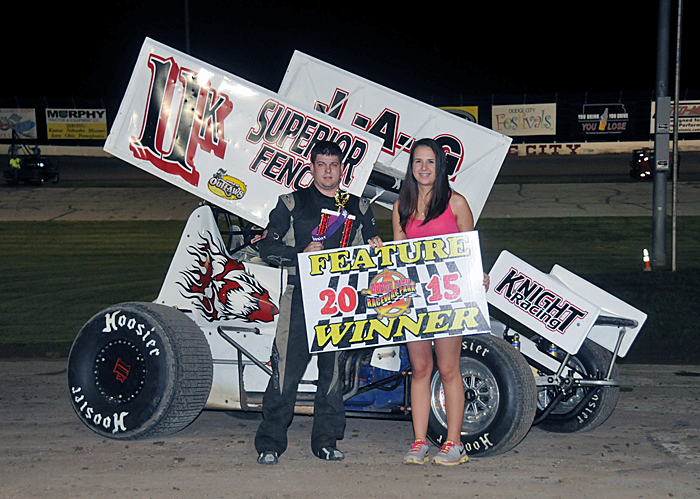 From Lonnie Wheatley
Dodge City, KS — (June 13, 2015) — Tyler Knight picked up his first hometown win at Dodge City Raceway Park by racing to victory lane in Saturday night's 20-lap Precise Racing Products DCRP Sprint Car feature atop the 3/8-mile clay oval.
Starting from the pole position, Knight gunned into the lead at the outset of the Precise Racing Products DCRP Sprint Car feature and led throughout in the Superior Fence/Scott Knight Racing Engines No. 11k.
"It's been a long year so far, maybe it's starting to turn around now," Knight said in victory lane.
While Knight was out front, sixth-starter Cranston was fourth by the time the first of two cautions flew after seven laps. Cranston raced by Zach Blurton for fourth on the restart then took second from Taylor Velasquez one lap later.
As Knight began working traffic, Cranston began closing the gap in pursuit of a second DCRP score. Within a pair of car-lengths, Cranston tagged the wall exiting turn two and lost ground as he somehow averted disaster.
One final caution with four laps to go after a Cody Lampe spin put Cranston on Knight's tailtank, but Knight was up to the task as he took the win. Cranston settled for second with Velasquez filing out the podium in third.
Ty Williams slipped around Blurton in the final rounds for fourth with Blurton rounding out the top five. Koby Walters, Darren Bowman, Kris Moore, Brian Herbert and Connor Atkinson completed the top ten.