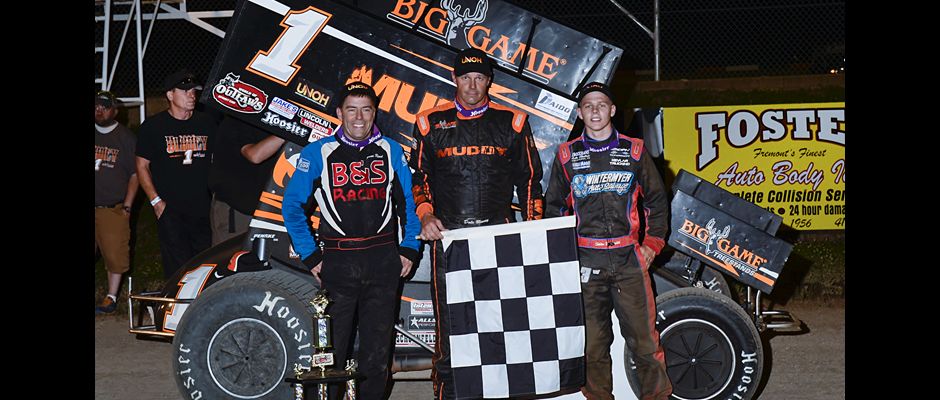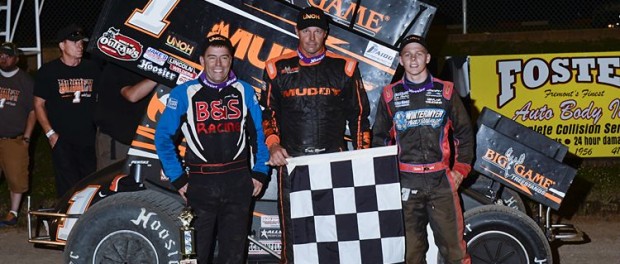 From MudclodBob
Attica, OH — (June 19, 2015) — Dale Blaney won the opening night of 33rd Annual Ohio Sprint Speedweek Friday at Attica Raceway Park. Byron Reed, Sheldon Haudenschild, Parker Price-Miller, and Kasey Kahne rounded out the top five.
Parker Price-Miller who started on the pole was able to stay close to Blaney until late in the race and in the early stages the duo ran side by side several laps. Even before the half way mark, Haudenschild was making a charge through the field working his way up to 6th by lap 19.
Kasey Kahne made things interesting with a nice run getting up to 2nd after passing Price-Miller and looked very fast. About lap 34 Byron Reed passed Kahne and took the runner up spot. Haudenschild had the crowd cheering as he made it up to 3rd at the end. But in the end, it was again Dale Blaney  reigning as nobody could take away his lead tonight.
It was a great night of racing with a terrific field of 58 sprint cars. Heats went to Caleb Helms, Jamie Veal, Chris Andrews, Dale Blaney and Parker Price-Miller. The D main went to Shawn Zemunik, the C was won by Duane Zablocki, the B went to Kenny Jacobs. The dash was picked up by Price-MIller.
Attica Raceway Park
Friday, June 19, 2015
UBS Financial/Ohio CAT Night
Starting position [*]
58 UNOH 410 Sprints
Qualifying
1.53-Cap Henry, 12.372; 2.5T-Travis Philo, 12.416; 3.40-Caleb Helms, 12.518; 4.99-Brady Bacon, 12.537; 5.1st-Gary Taylor, 12.540; 6.60-Jody Keegan, 12.542; 7.9x-Rob Chaney, 12.581; 8.21-DJ Foos, 12.586; 9.93-Sheldon Haudenschild, 12.588; 10.22-Cole Duncan, 12.613; 11.89-Cody Darrah, 12.622; 12.35AU-Jamie Veal, 12.626; 13.6H-Kenny Jacobs, 12.626; 14.19-Chris Andrews, 12.630; 15.70-Roger Crockett, 12.634; 16.6M-Max Stambaugh, 12.648; 17.1-Dale Blaney, 12.659; 18.W20-Greg Wilson, 12.664; 19.33M-Caleb Griffith, 12.664; 20.59-Danny Holtgraver, 12.669; 21.45L-Brian Lay, 12.757; 22.15H-Mitch Harble, 12.804; 23.91-Cale Thomas, 12.805; 24.5AU-Danny Reidy, 12.833; 25.16-Stuart Brubaker, 12.835; 26.9P-Parker Price-Miller, 12.843; 27.5-Byron Reed, 12.862; 28.O5-Brad Loyet, 12.869; 29.49-Kasey Kahne, 12.883; 30.16X-Ryan Ruhl, 12.888; 31.81-Lee Jacobs, 12.897; 32.59N-Bryan Nuckles, 12.899; 33.40DD-Nate Dussel, 12.914; 34.11N-Randy Hannagan, 12.932; 35.57X-Andrew Palker, 12.964; 36.17-Josh Baughman, 12.970; 37.3G-James McFadden, 12.987; 38.9C-Jimmy Colvin, 12.994; 39.10H-Chad Kemenah, 13.001; 40.9Z-Duane Zablocki, 13.091; 41.7C-Caleb Armstrong, 13.098; 42.94-Ryan Smith, 13.104; 43.17W-Bryan Clauson, 13.112; 44.71H-Brad Lamberson, 13.120; 45.78-Todd Kane, 13.156; 46.8M-TJ Michael, 13.200; 47.68G-Tyler Gunn, 13.213; 48.45-Tim Shaffer, 13.224; 49.16M-Danny Mumaw, 13.273; 50.4-Danny Smith, 13.429; 51.27Z-Sean Zemunik, 13.474; 52.9-Jordan Ryan, 13.489; 53.55F-Taylor Ferns, 13.528; 54.25M-Ken Mackey, 13.547; 55.96AU-Bruce White, 13.763; 56.38-Jared Horstman, 13.885; 57.8-Kevin Shelbo, 14.086; 58.97-Dean Jacobs, 99.000;
Heat 1, Group A – (10 Laps, top 4 to A)
1. 40-Caleb Helms[2] ; 2. 5T-Travis Philo[3] ; 3. 53-Cap Henry[4] ; 4. 60-Jody Keegan[1] ; 5. 89-Cody Darrah[6] ; 6. 22-Cole Duncan[5] ; 7. 70-Roger Crockett[7] ; 8. 94-Ryan Smith[10] ; 9. 45L-Brian Lay[8] ; 10. 40DD-Nate Dussel[9] ; 11. 71H-Brad Lamberson[11] ; 12. 8-Kevin Shelbo[12]
Heat 2, Group B – (10 Laps, top 4 to A)
1. 35AU-Jamie Veal[2] ; 2. 9x-Rob Chaney[4] ; 3. 33M-Caleb Griffith[5] ; 4. 17-Josh Baughman[9] ; 5. 6M-Max Stambaugh[1] ; 6. 5AU-Danny Reidy[7] ; 7. 7C-Caleb Armstrong[10] ; 8. 25M-Ken Mackey[11] ; 9. 15H-Mitch Harble[6] ; 10. 59N-Bryan Nuckles[8] ; 11. 96AU-Bruce White[12] ; 12. 21-DJ Foos[3]
Heat 3, Group C – (10 Laps, top 4 to A)
1. 19-Chris Andrews[4] ; 2. 49-Kasey Kahne[1] ; 3. 16-Stuart Brubaker[3] ; 4. 81-Lee Jacobs[5] ; 5. 68G-Tyler Gunn[9] ; 6. 11N-Randy Hannagan[6] ; 7. 8M-TJ Michael[8] ; 8. 27Z-Sean Zemunik[12] ; 9. 16M-Danny Mumaw[10] ; 10. 78-Todd Kane[7] ; 11. O5-Brad Loyet[2] ; 12. 4-Danny Smith[11]
Heat 4, Group D – (10 Laps, top 4 to A)
1. 1-Dale Blaney[2] ; 2. W20-Greg Wilson[1] ; 3. 1st-Gary Taylor[4] ; 4. 93-Sheldon Haudenschild[3] ; 5. 59-Danny Holtgraver[5] ; 6. 17W-Bryan Clauson[9] ; 7. 10H-Chad Kemenah[7] ; 8. 9Z-Duane Zablocki[8] ; 9. 9-Jordan Ryan[10] ; 10. 16X-Ryan Ruhl[6]
Heat 5, Group E – (10 Laps, top 4 to A)
1. 9P-Parker Price-Miller[1] ; 2. 5-Byron Reed[5] ; 3. 91-Cale Thomas[2] ; 4. 99-Brady Bacon[4] ; 5. 57X-Andrew Palker[6] ; 6. 9C-Jimmy Colvin[8] ; 7. 55F-Taylor Ferns[10] ; 8. 45-Tim Shaffer[9] ; 9. 38-Jared Horstman[11] ; 10. 3G-James McFadden[7] ; 11. 6H-Kenny Jacobs[3]
Dash 1 – (8 Laps, determines top 12 starting positions in A)
1. 9P-Parker Price-Miller[1] ; 2. 1-Dale Blaney[3] ; 3. 49-Kasey Kahne[4] ; 4. 5-Byron Reed[5] ; 5. 40-Caleb Helms[2] ; 6. 35AU-Jamie Veal[8] ; 7. W20-Greg Wilson[7] ; 8. 53-Cap Henry[10] ; 9. 5T-Travis Philo[9] ; 10. 99-Brady Bacon[12] ; 11. 9x-Rob Chaney[11] ; 12. 19-Chris Andrews[6]
D-Main 1 – (8 Laps, top 2 to C)
1. 27Z-Sean Zemunik[3] ; 2. 9-Jordan Ryan[4] ; 3. 55F-Taylor Ferns[5] ; 4. 25M-Ken Mackey[6] ; 5. 38-Jared Horstman[8] ; 6. 8-Kevin Shelbo[9] ; 7. 96AU-Bruce White[7] ; 8. 4-Danny Smith[2] ; 9. 16M-Danny Mumaw[1] ; 10. 97-Dean Jacobs[10]
C-Main 1 – (10 Laps, top 2 to B)
1. 9Z-Duane Zablocki[4] ; 2. 17W-Bryan Clauson[7] ; 3. 9C-Jimmy Colvin[2] ; 4. 8M-TJ Michael[10] ; 5. 94-Ryan Smith[6] ; 6. 68G-Tyler Gunn[11] ; 7. 9-Jordan Ryan[14] ; 8. 27Z-Sean Zemunik[13] ; 9. 71H-Brad Lamberson[8] ; 10. 7C-Caleb Armstrong[5] ; 11. 78-Todd Kane[9] ; 12. 3G-James McFadden[1] ; 13. 10H-Chad Kemenah[3] ; 14. 45-Tim Shaffer[12]
B-Main 1 – (12 Laps, top 4 to A)
1. 6H-Kenny Jacobs[4] ; 2. 21-DJ Foos[1] ; 3. 89-Cody Darrah[3] ; 4. 22-Cole Duncan[2] ; 5. 6M-Max Stambaugh[6] ; 6. 70-Roger Crockett[5] ; 7. 59-Danny Holtgraver[7] ; 8. 45L-Brian Lay[8] ; 9. 5AU-Danny Reidy[10] ; 10. 17W-Bryan Clauson[18] ; 11. 15H-Mitch Harble[9] ; 12. 11N-Randy Hannagan[15] ; 13. 40DD-Nate Dussel[14] ; 14. 16X-Ryan Ruhl[12] ; 15. O5-Brad Loyet[11] ; 16. 57X-Andrew Palker[16] ; 17. 59N-Bryan Nuckles[13] ; 18. 9Z-Duane Zablocki[17]
A-Main 1 – (40 Laps)
1. 1-Dale Blaney[2] ; 2. 5-Byron Reed[4] ; 3. 93-Sheldon Haudenschild[20] ; 4. 9P-Parker Price-Miller[1] ; 5. 49-Kasey Kahne[3] ; 6. 53-Cap Henry[8] ; 7. 35AU-Jamie Veal[6] ; 8. 99-Brady Bacon[10] ; 9. W20-Greg Wilson[7] ; 10. 40-Caleb Helms[5] ; 11. 5T-Travis Philo[9] ; 12. 1st-Gary Taylor[15] ; 13. 89-Cody Darrah[23] ; 14. 6H-Kenny Jacobs[21] ; 15. 16-Stuart Brubaker[14] ; 16. 21-DJ Foos[22] ; 17. 10H-Chad Kemenah[25] ; 18. 94-Ryan Smith[26] ; 19. 17-Josh Baughman[18] ; 20. 91-Cale Thomas[16] ; 21. 60-Jody Keegan[17] ; 22. 22-Cole Duncan[24] ; 23. 33M-Caleb Griffith[13] ; 24. 81-Lee Jacobs[19] ; 25. 9x-Rob Chaney[11] ; 26. 19-Chris Andrews[12]