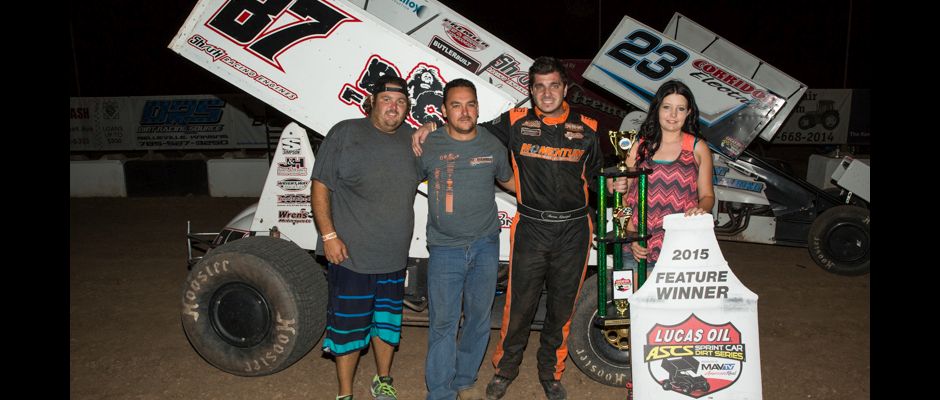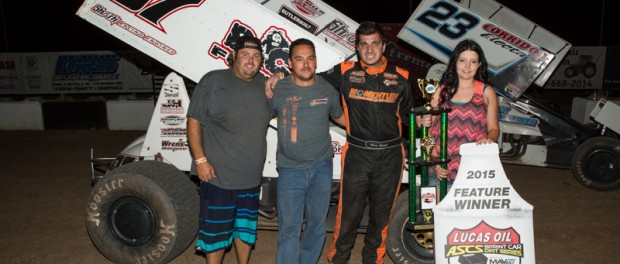 From Bryan Hulbert
Salina, KS — (June 19, 2015) — To say Aaron Reutzel's victory at the Salina Speedway was an emotional one would be an understatement as the B.C Funds No. 87 grabbed season win No 3 with the Lucas Oil American Sprint Car Series presented by MAVTV American Real, and in doing so reclaimed the series points lead.
Working past Seth Bergman on a Lap 23 restart, the Clute, Texas driver was in tears in Victory Lane as he dedicated his victory to his fallen friend, Bob Miller, in the National Tour's 800th A-Feature.
"I don't even know what to say. I'm just so happy to be able to win this one for Bob," commented Aaron. "I'm sure he'd be proud of me; I just can't describe how much I miss him and can't thank him and Christie for everything they did for me. It was definitely good to come out and get a win and try to shake off the tragedy we had, and all the heavy hearts so to come out here and win like this is pretty special. I just love that whole family and I didn't just lose a sponsor, I lost a best friend, I lost a mentor, and I lost a guy who believed in me so we're definitely going to miss him."
Avoiding a pile-up on the initial start, seventh starting Reutzel worked through the field patiently on the restart, sliding into third on a Lap 5 restart with Seth Bergman and Kevin Ramey in sight. Dicing through slower traffic, Ramey kept the pair of Bergman and Reutzel and bay until Lap 12 when Seth took over the top spot with Aaron taking over second on Lap 16. Looking to be in command, the caution displayed on Lap 23 for Johnny Herrera whose night ended with a broken front axle.
Getting the restart on point, Reutzel dove the low line of the first turn, sliding across the nose of Seth Bergman to take over the top spot exiting turn-two.
Trying several times to reclaim the lead, the Oil Field Equipment and Manufacturing No. 23 had several runs, but could never overtake the No. 87.
"We were really good. Just the way that race played out at the end when you get to racing with a guy like Aaron; he's smart so I had a couple decisions to make on that restart, and obviously, looking back on them, I maybe should have done a fake slide myself and made him go to the top, but I did what I thought I had to do at the time, and Aaron took advantage of it," commented Seth. "I'm happy for Aaron. He's my friend, and having that big loss, I'm glad he was able get the win."
Coming home on the final podium step, Jeff Swindell put the H&H Container Services No. 94 in the top-five for the second time in 2015.
"You have to really get position on a guy here to make the move and just be that much faster," said Jeff when asked about how tricky the track was. "We're all just so equal, it slows you down when you get in the wrong spot and I just couldn't get off of two at all. I was really good everywhere else, but we had a great racecar and I think with a little luck, we could have had a shot because we all seemed pretty equal once we got stretched out there but it just is what it is."
Coming from 18th, C.J. Johnson did the Kansas crowd proud with a fourth place finish with Kevin Ramey settling for fifth after leading early on.
Battling inside the top-five most of the race, Tony Bruce, Jr. slipped back to finish sixth with Blake Hahn from 14th to grab seventh. Bouncing around the top-ten for most of the race, Brian Brown crossed eighth with Tyler Thomas from 17th to ninth. Starting 19th, Wayne Johnson completed the top-ten.
Three Heat Races for 26 drivers saw Tony Bruce, Jr., Seth Bergman, and Kevin Ramey taking wins. The B-Feature went to Tyler Thomas. Brandon Hanks utilized a provisional to start the night's feature event.
The Lucas Oil American Sprint Car Series presented by MAVTV American Real competes next with the Speedway Motors ASCS Warrior Region at the Lucas Oil Speedway in Wheatland, Mo. on Saturday, June 20.
For continued updates, log onto http://www.ascsracing.com.
Race Results:
Lucas Oil ASCS National Tour
Salina Speedway – Salina, Kan.
Friday, June 19, 2015
Car Count: 26
Heat Races: 8 Laps, taking the winner plus the next the next 13 highest in passing points to the A-Feature.
Heat 1 (8 Laps): 1. 18-Tony Bruce Jr[3]; 2. 85-Forrest Sutherland[1]; 3. 21-Brian Brown[6]; 4. 20-Luke Cranston[2]; 5. 95-Matt Covington[5]; 6. 45-C.J. Johnson[7]; 7. 77X-Wayne Johnson[9]; 8. 14K-Kyle Bellm[4]; 9. 7M-Chance Morton[8]
Heat 2 (8 Laps): 1. 23-Seth Bergman[4]; 2. 92-Jordan Weaver[1]; 3. 45X-Johnny Herrera[3]; 4. 10C-Jeremy Campbell[5]; 5. 1M-Danny Lasoski[7]; 6. 52-Blake Hahn[8]; 7. 8M-Kade Morton[2]; 8. 33-Kris Miller[9]; 9. 81-Jon Freeman[6]
Heat 3 (8 Laps): 1. 1A-Kevin Ramey[2]; 2. 87-Aaron Reutzel[7]; 3. 94-Jeff Swindell[6]; 4. 8-Alex Sewell[3]; 5. 86-Tyler Thomas[5]; 6. 2L-Logan Forler[8]; 7. 84-Brandon Hanks[4]; 8. (DNF) 42-Andy McElhannon[1]
B-Feature(s): 12 laps, taking the top 6 to the tail of the A-Feature.
B Feature (12 Laps): 1. 86-Tyler Thomas[1]; 2. 45-C.J. Johnson[2]; 3. 77X-Wayne Johnson[3]; 4. 33-Kris Miller[4]; 5. 42-Andy McElhannon[9]; 6. 81-Jon Freeman[10]; 7. 14K-Kyle Bellm[7]; 8. 8M-Kade Morton[6]; 9. (DNF) 84-Brandon Hanks[5]; 10. (DNF) 7M-Chance Morton[8]
A-Feature: 30 Laps
A Feature (30 Laps): 1. 87-Aaron Reutzel[7]; 2. 23-Seth Bergman[2]; 3. 94-Jeff Swindell[5]; 4. 45-C.J. Johnson[18]; 5. 1A-Kevin Ramey[1]; 6. 18-Tony Bruce Jr[3]; 7. 52-Blake Hahn[14]; 8. 21-Brian Brown[6]; 9. 86-Tyler Thomas[17]; 10. 77X-Wayne Johnson[19]; 11. 95-Matt Covington[16]; 12. 2L-Logan Forler[15]; 13. 10C-Jeremy Campbell[10]; 14. 20-Luke Cranston[13]; 15. 84-Brandon Hanks[23]; 16. 33-Kris Miller[20]; 17. 45X-Johnny Herrera[9]; 18. 42-Andy McElhannon[21]; 19. (DNF) 1M-Danny Lasoski[11]; 20. (DNF) 81-Jon Freeman[22]; 21. (DNF) 92-Jordan Weaver[8]; 22. (DNF) 85-Forrest Sutherland[4]; 23. (DNF) 8-Alex Sewell[12]
Lap Leader(s): Kevin Ramey 1-11; Seth Bergman 12-23; Aaron Reutzel 24-30
KSE Hard Charger: C.J. Johnson +14
FSR High Point: Aaron Reutzel
Provisional(s): Brandon Hanks (P1)