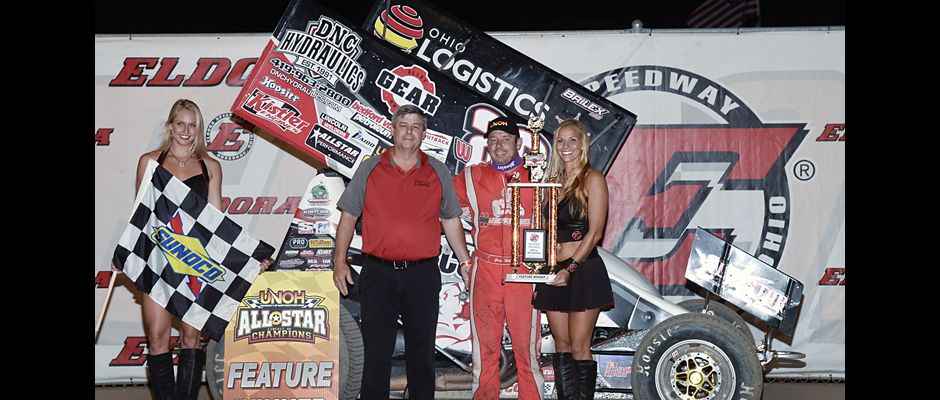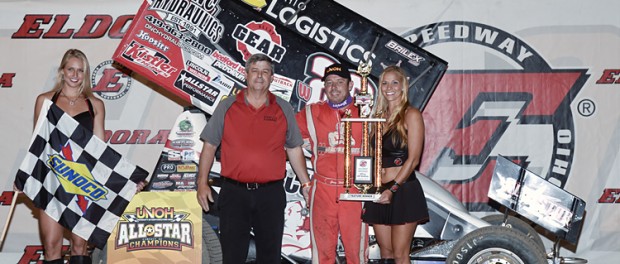 By T.J. Buffenbarger
Rossburg, OH – (June 20, 2015) – Greg Wilson won the second night of the 33rd Annual Ohio Sprint Speedway Saturday night at Eldora Speedway with the UNOH All Star Circuit of Champions. The win was Wilson's second victory of the season after a seven year winless drought in All Star competition. For Wilson it was an emotional victory for the team as owner and driver.
"This is as tough as it gets, 50-60 cars a night. I'm about choked up in tears, I'm a blessed dude," said Wilson. "I told (track owner Tony Stewart) I was going to win tonight so my kids could be on this stage. I'm blessed. I couldn't do this without all of the help from Hercules Tire, DNC Hydraulics, Ohio Logistics, Verl Warnimont, Brian West, Bedford Valley Petroleum. We're so tight on money I'd sell the windshield to Wonderbread like in Talladega Nights."
Wilson used the low side of the speedway to take the lead from Danny Holtgraver and hold off Steve Kinser during a late race restart for the victory.
"I knew (Kinser) would have some clean air on the outside, and I was giving the outside away. I actually moved up and pulled the wing back and just got lucky. I watched that man in his prime and he is the baddest son of a gun that ever drove a sprint car. To race with him, Haud, I idolized him. I cried when Haudenschild won the Kings Royal when I was a little kid. It's awesome to win here at Eldora and during Speedweek, hopefully we can keep the ball rolling."
Kinser finished second during his appearance during this year's edition of Ohio Sprint Speedweek.
"I had to bounce through the holes because I knew (Wilson) wasn't coming off the bottom, said Kinser. "I was surprised when he saw me that he pulled up a little more than I thought, and if I had known he was going to do that I would have let him go and went to the bottom. I just overworked my tires those last few laps, and before that I was just flat wore out."
After coming from 20th starting position Sheldon Haudenschild started closer to the front and parlayed that into his second podium finish of Speedweek.
"Bonzi Burns has the car hooked up and makes my job way easier. We have a good motor in, and that's half the battle. Then it's just positioning yourself for the rest of the night. We finally started up front and I held my own the first half and tried to stay consistent, came home third, so we're definitely happy.
Danny Holtgraver and Kasey Kahne started on the front row with Holtgraver getting the jump with Steve Kinser shooting into second. Behind Holtgraver and Kinser the race for third heated up with Kahne and Sheldon Haudenschild racing side by side with trying slide by on the bottom of the track, but Kahne used his momentum on the top side of the speedway to maintain the position.
On lap four the red flag appeared for Cale Thomas getting upside down in turn two. Thomas emerged from his car under his own power.
Holtgraver ende dup with a great restart and opened up a three car length lead. Two laps later Kinser began putting pressure on Holtgraver on the bottom of the race track. Kinser continued to stalk Holtgraver on the bottom of the track as they approached slower traffic on lap 11.
Greg Wilson started to move through the field, passing Kinser on lap 12 on the bottom of the track. Then on lap 13 Wilson and Kinser split a lapped car three wide. Kinser maintained second and used his momentum to get under Holtgraver, but could not make the pass. Wilson then slipped under Kinser on lap 14 and then took the lead from Holtgraver on the bottom on lap 15.
While Wilson negotiated slower traffic Dale Blaney started making his move. Blaney took over third on lap 17 from Kinser. Blaney then passed Holtgraver and Kinser for second off turn tow on lap 23.
Blaney quickly started to close in on Wilson for the lead when Blaney's left rear wheel came off, causing him to hit the wall and flip hard between turns one and two to bring out the red flag on lap 25. Blaney exited the car under his own power.
Wilson went to the bottom with Kinser going to the high side after the restart. Wilson and Kinser raced side by side for the lead until Wilson was able to open up a car length lead on lap 25. Behind them Sheldon Haudenschild and Bryan Clauson exchanged side jobs for third. Up front though it was all Wilson up front taking the victory over Kinser, Haudenschild, Clauson, and Tim Shaffer rounding out the top five.
Cole Duncan, Bryan Clauson, Roger Crockett, Kahne, and Holtgraver won heat race events, Holtgraver won the Dash, and Thomas won the B-Main.
UNOH All Star Circuit of Champions
33rd Annual Ohio Sprint Speedweek
Eldora Speedway – Rossburg, OH
Saturday June 20, 2015
Unofficial feature finish: 1. W20 – Greg Wilson, 2. 11 – Steve Kinser, 3. 93 – Sheldon Hadenschild, 4. 17W – Bryan Clauson, 5. 45 – Tim Shaffer, 6. 89 – Cody Darrah, 7. 3G – James McFadden, 8. 59 – Danny Holtgraver, 9. 49K – Kasey Kahne, 10. 10H – Chad Kemenah, 11. 48 – Danny Dietrich, 12. 70 – Roger Crockett, 13. 71M – Paul May, 14. 9P – Parker Price-Miller, 15. 16X – Ryan Ruhl, 16. 49 – Cole Duncan, 17. 16 – Stuart Brubaker, 18. 17 – Josh Baughman, 19. 40 – Caleb Helms, 20. 1ST – Gary Taylor, 21. 35AU – Jamie Veal, 22. 1 – Dale Blaney, 23. 2M – Dustin Daggett, 24. 94 – Ryan Smith, 25. 91 – Cale Thomas.