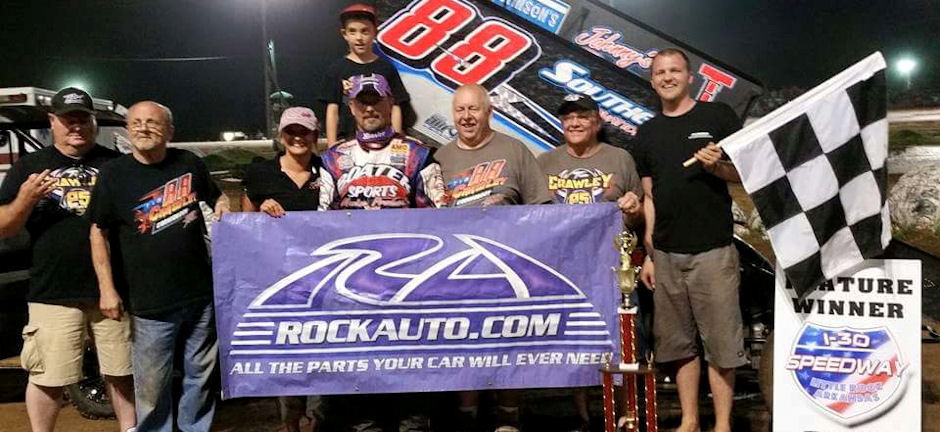 By Pete Walton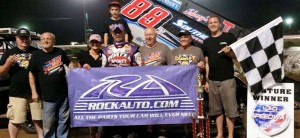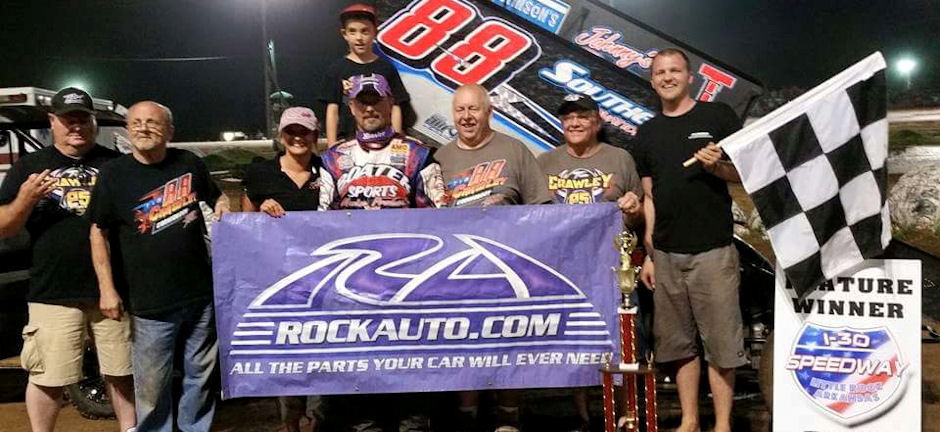 BENTON, AR – June 27, 2015 – 2012 USCS National Champion Tim Crawley from Benton, Arkansas won his third  United Sprint Car Series Outlaw Thunder Tour presented  by K&N Filters main event in as many races on Saturday night before his hometown fans.  Crawley held off Bryant, Arkansas driver Zach Pringle the entire 30-lap distance for his third straight visit to the www.rockauto.com USCS Victory Lane in the 2nd annual USCS "Hammer Down at Hammer Hill" at the famed I-30 Speedway. It was Crawley's third series win over just a two weekend stretch. The win at Crawley's "home track" was his 75th career USCS win. That total is only topped by retired USCS competitor, Kenny Adams with 100 and the defending and eleven time series Champion, Terry Gray with 89 victories.
Zack Pringle took the lead on the initial start from K&N Filters Pole Position and led the first nine laps before Crawley who started next to him in the front row could overhaul him on the backstretch and made a pass in turn four coming to the flag stand on lap ten. From that point on Crawley had to hold off Pringle and third starting 2013 USCS National Champion, Derek Hagar from Marion, Arkansas for the rest of the distance. Both Pringle and Hagar put on quite the "wheelie show" for race fans as they charged off turn four and down the "hooked up" front stretch in pursuit of Crawley as the trio charged through lapped traffic at a torrid pace.
There were only two caution periods during the main event. One on lap three for Blake Jenkins spin. The second one when former track Champion, Justin Sturch looped on lap eighteen giving Pringle and Hagar  a re-start opportunity to deny Crawley the parking spot in victory lane. Their efforts were to no avail as Crawley charged away to his seventy-fifth series win
Behind Crawley at the finish were Zack Pringle in the runner-up spot, Hagar in third place followed by Brandon Hanks from Burleson, Tennessee in fourth place. Former track Champion A.G. Rains rounded out the top five drivers.
Past USCS Champion, Marshall Skinner was the next driver to cross under the checkers; the Marion, Arkansas driver ended the night in sixth. Current USCS National point's leader, Morgan Turpen from Cordova, Tennessee notched a seventh-place finish after starting eighth. Young gun Howard Moore from Memphis, Tennessee grabbed an eighth place finish on the evening. Ninth place went to Dalton Davis from Millington, Tennessee who scored a USCS feature win back in 2013. Defending series Champion, Terry Gray completed the top ten finishers.
Anthony Nicholson kicked off the evening's racing action with a win in the Hoosier Speed Dash, Brandon Hanks notched the win in the Engler Machine and Tool First Heat, and Tim Crawley drove to victory in the Butlerbuilt Second Heat. A.G. Rains drove to victory in the Schoenfeld Headers Third Heat triumph, and Marshall Skinner collected the checkers in the JE Pistons Fourth Heat.
Marshall Skinner was the provisional pole starter after scoring the most passing points in heat race action, but after first heat winner Brandon Hanks drew a four in the K&N Filters Inversion Draw, Zack Pringle garnered the K&N Filters Pole Award.
Ernie Ainsworth from Bartlett, Tennessee won the 15-lap Brown and Miller Racing Solutions B-Main. Anthony Nicholson from Millington, Tennessee advanced the most positions in the A-main (seven) to collect the Wilwood Disc Brakes Hard Charger Award.
The United Sprint Car Series is back in action next weekend with a three-day Independence Day weekend schedule. Action kicks off on Thursday night at Crowley's Ridge Raceway in Paragould, Arkansas for the 4th annual USCS "Rumble at the Ridge". Tthe K&N Filters USCS Outlaw Modified Series and the track's Late Model division.are on rthe card as well.  On Friday night, July 3rd the series makes a return visit to Batesville Motor Speedway in Batesville, Arkansas, as headliners of the track's annual "Freedom Blast" event that also features the Arkansas based Outlaw Late Model Series. Also on the racing program IMCA Modified, Hobby and Factory Stock classes. The fans will also be treated to one of the state's biggest Fireworks celebrations.
The weekend's action concludes with the USCS "Sprint Speedweek 2015" Finale on Saturday, July 4th, at historic Riverside International Speedway for the re-scheduled event, Rain forced postponement of the race at the end of May.
For rules, schedules and more information on the USCS Sprint Car Series, please visit www.uscsracing.com or call 770-460-7223 or 770-865-6097.
RESULTS: United Sprint Car Series presented by K&N Filters at I-30 Speedway; June 27, 2015.
Hoosier Tire Speed Dash: Anthony Nicholson, Morgan Turpen, Tim Crawley, Blake Jenkins, Nick Snyder, and Robert Richardson.
Engler Machine and Tool First Heat: Brandon Hanks,  Charlie Loudon, Zach Pringle, Howard Moore, Anthony Nicholson, Matthew Bauldwin and Robert Richardson,
Butlerbuilt Second Heat: Tim Crawley, Jeremy Middleton, Terry Gray Blake Jenkins,, Dalton Davis, Justin Webb, and Cody Gardner.
Schoenfeld Headers Third Heat: A.G. Rains, Derek Hagar, Ernie Ainsworth, Nick Snyder, Tommy Snellgrove, Jeff  Willingham and Mike Pack.
JE Pistons Fourth Heat:, Marshall Skinner, Rick Pringle, Morgan Turpen, Taylor Tidmore, Justin Sturch, Kenneth Jackson and Kevin Hinkle.
Brown and Miller Racing Solutions B-Main #1:  15-laps (6 transfer)
#91A – Ernie Ainsworth, Bartlett, TN
#9  – Justin Sturch, Benton, AR
#12 – Dalton Davis, Millington, TN
#32B – Taylor Tidmore, Hernando, MS
#16 – Anthony Nicholson, Millington, TN
#43-  Matthew Bauldwin, Little Rock, AR
#17 – Mike Pack, Batesville, AR
#4 – Tommy Snellgrove, Little Rock, AR
#31 –  Justin Webb,  Drummonds, TN
#21 – Kevin Hinkle, Cabot, AR
#28 – Jeff Willingham, Ripley, MS
#8 – Kenneth Jackson, Searcy, AR
#32X  – Robert Richardson, Searcy, AR
#2j – Cody Gardner, Benton, AR (DNS)
USCS Sprint Car Series presented by K&N Filters
"Hammerdown at Hammer Hill" Main Event: 30-laps;
#88 – Tim Crawley, Benton, AR
#8Z – Zach Pringle, Bryant, AR
#9Jr. – Derek Hagar, Marion, AR
#84 – Brandon Hanks, Burleson, TN
#3 – A.G. Rains, West Memphis, AR
#26 – Marshall Skinner, Marion, AR
#10M –  Morgan Turpen, Cordova, TN
#40 –  Howard Moore, Memphis, TN
#12 – Dalton Davis, Millington, TN
#10 – Terry Gray, Bartlett, TN
#91A – Ernie Ainsworth, Bartlett, TN
#16 –  Anthony Nicholson, Bartlett, TN
#9 – Justin Sturch, Benton, AR
#116  – Nick Sntder, Marco Island, FL
#99 – Blake Jenkins, Benton, AR
#31 – Justin Webb, Drummonds, TN
#43 –  Matthew Bauldwin, Little Rock, AR
15J – Jeremy Middleton, North Little Rock, AR
#28 – Jeff Willingham, Ripley, MS
#32B – Taylor Tidmore, Hernando, MS
#38  – Rick Pringle, Benton, AR
#4 – Tommy Snellgrove, Little Rock, AR
X – Charlie Loudon, Camden, AR
#32x  Mike Pack, Batesville, AR
Did Not Start A-Main:
#21 – Kevin Hinkle, Cabot, AR
#8 – Kenneth Jackson, Searcy, AR
32x – Robert Richardson, Searcy, AR
#2j – Cody Gardner, Benton, AR
USCS Sprint Car Series Race Awards:
Hoosier Tire Speed Dash: #16 – Anthony Nicholson
Engler Machine and Tool First Heat: #Brandon Hanks
Butlerbuilt Second Heat: #88 Tim Crawley
Schoenfeld Headers Third Heat: #3 – A.G. Rains
JE Pistons Fourth Heat:  #26 Marshall Skinner
K&N Filters Pole Award: #8z – Zack Pringle
JE Pistons Top Guns Award: #88 Tim Crawley  (1st  place)
K&N Filters Podium (3rd place) Award: #9Jr. Derek Hagar
Wilwood Disc Brakes Hard Charger Award: #16 Anthony Nicholson
Keizer Aluminum Wheels Top Five Award: #3 A.G. Rains
Saldana Racing Products Super Sixth Award: #26 Marshall Skinner
Pyrotect Racing Cells Lucky Seven Award: #10m Morgan Turpen
DMI/Bulldog Rear Ends Top Ten Award: #10 Terry Gray