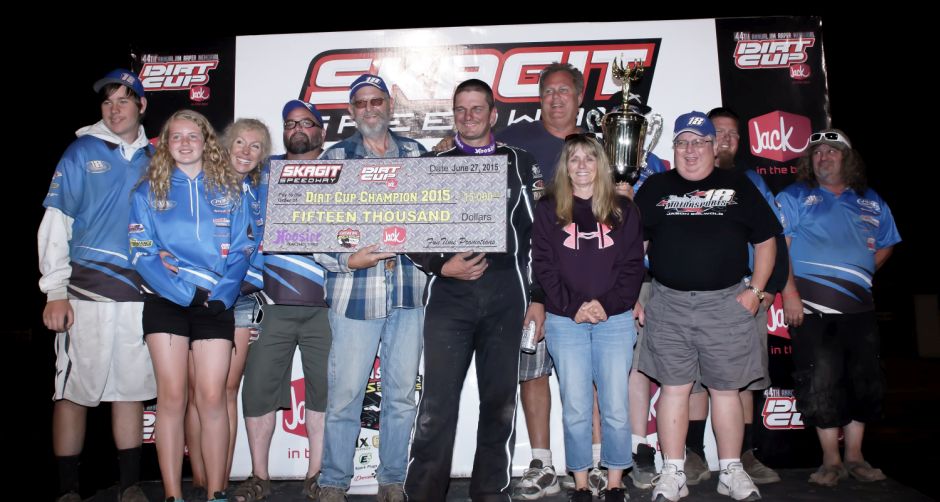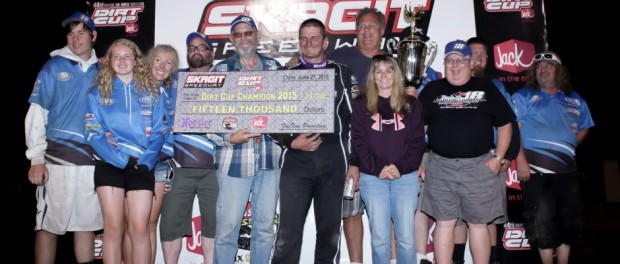 From Bryan Hulbert
Alger, WA — (June 27, 2015) — It has been a long time coming for Jason Solwold to stand in Victory Lane at the Jim Raper Memorial Dirt Cup presented by Jack in the Box, and in 2015 the Burlington, Wash. driver added his name to the history books as the winner of the 44th annual event, leading all 40 laps against the Lucas Oil American Sprint Car Series presented by the MAVTV Motorsports Network to claim the night's $15,000 bounty.
Asked how winning Dirt Cup stacks up against all his success at the Skagit Speedway, the driver the Anderson Motorsports No, 18 replied, "I don't know, I think it's going to sink in tomorrow. I've watched a lot of Dirt Cups. I won my first 360cid show on the bottom and I didn't hear anyone next to me so I just kept to myself and stuck low. I had an awesome car thanks to Mel [Roberts], and I just have to say thank you to Mike Anderson and my Dad for putting this thing together."
Jumping to the lead from the pole, Solwold held on through a pair of cautions on the start. Finding the tail of the field by the 10th round, the bottom served well as Jason only ever pulled high to negotiate a slower car.
Putting three lapped cars between himself and second running, Willie Croft, the California shoe had to contend with Seth Bergman and Aaron Reutzel following a Lap 29 restart. Keeping the pair at bay, Croft finally cleared traffic as the red flew on Lap 34 for Skylar Gee. The driver of the No. 99 was okay.
Shuffling the top-five a bit on the restart, Johnny Herrera worked in the mix with the pass for fourth as the red lights blinked on again for Wayne Johnson. He was okay after going upside down in turn-four.
Leaving four laps on the board, Croft gave it his all for the lead, but would watch as the No. 18 began to pull away. Challenged for the silver position by Aaron Reutzel, the B.C. Funds No. 87 completed the pass on Lap 38.
"We definitely had a car to win this deal, we just started too far back. Hats off to Jason Solwold though. It takes luck to win these things, and we just didn't have luck on our side after last night's little gremlins," commented Reutzel. "I really need to thank Mark at Shark Racing Engines. We wouldn't be here tonight if it wasn't for him. He builds a killer engine, and all our successes have been thanks to his engines and I can't thank all my guys. This track had me clued all week, and Don [Grable] gave me a great car."
Able to keep pace with Aaron at the finish, California's Willie Croft settled for the bronze step, "Disappointing to run third two years in a row. I'll take it, but I really want that Dirt Cup win," were the words of Croft on the front straight-a-way. "Hats off to Jason and Aaron, they ran a great race. I felt we were really good. Maybe not as strong as Jason, but I felt if we'd been in traffic maybe a little bit longer, there would have been more chances, but it went the way it went. I'll take third and hang my head high."
Coming from 15th, Johnny Herrera crossed fourth in the MVT No. 45x with Travis Rilat rounding out the top-five.
Riding as high as third, Seth Bergman slipped back to a sixth place finish with Colton Heath seventh. Trey Starks moved from 12th to eighth with Tayler Malsam ninth. Running into the top-ten from the tail, then losing the handle, Robbie Price came back to complete the top-ten.
The only qualifying races contested were a pair of B-Features with Marc Duperron and Skylar Gee earning wins.
The Lucas Oil American Sprint Car Series presented by the MAVTV Motorsports Network returns to the Grays Harbor Raceway on Friday, July 3 and Saturday, July 4 for the Fred Brownfield Classic. For continued updates on the American Sprint Car Series, log onto http://www.ascsracing.com.
Race Results:
Lucas Oil ASCS National Tour
44th Jim Raper Memorial Dirt Cup – Night 3
Skagit Speedway – Alger, Wash.
Saturday, June 27, 2015
Event Car Count: 51
B-Feature(s): 20 laps, taking the top 3 to the tail of the A-Feature.
B Feature (20 Laps): 1. 11-Marc Duperron[1]; 2. 17-Cameron (Cam) Smith[2]; 3. 96-Greg Hamilton[4]; 4. 79K-Kelsey Carpenter[3]; 5. 56-Justin Youngquist[5]; 6. 2-Kelly Miller[6]; 7. 33-Kris Miller[8]; 8. 42-Derek Roberts[7]; 9. 14-Kyle Vanulden[13]; 10. 5-Michael Bollinger[12]; 11. 62-Lawrance Kirkham[16]; 12. N8-Nate Vaughn[9]; 13. (DNF) 52-Blake Hahn[11]; 14. (DNF) 15-Dan Dunlap[14]; DNS 72-Phil Dietz; DNS 38-Trevor Turnbull; DNS 1NZ-Jamie Duff; DNS 81-Darren Smith
B Feature 2 (20 Laps): 1. 99-Skylar Gee[2]; 2. 95-Matt Covington[4]; 3. 94-Robbie Price[3]; 4. 44H-Travis Jacobson[6]; 5. 23N-J.J. Hickle[8]; 6. 91-Chase Goetz[7]; 7. 14K-Kyle Bellm[10]; 8. 22-Sean Macdonell[5]; 9. 9A-Luke Didiuk[1]; 10. 51X-Kyle Miller[13]; 11. 57-Bud Ashe[14]; 12. 16-David Miller[11]; 13. 4B-Cale Brooke[17]; 14. (DNF) 0J-Jay Cole[12]; 15. (DNF) 22C-Trevor Cook[16]; DNS 5R-Steve Reeves; DNS 44NZ-Daniel Anderson
A-Feature: 40 Laps
A Feature (40 Laps): 1. 18-Jason Solwold[1]; 2. 87-Aaron Reutzel[10]; 3. 29-Willie Croft[4]; 4. 45X-Johnny Herrera[15]; 5. 39C-Travis Rilat[6]; 6. 23-Seth Bergman[5]; 7. 33X-Colton Heath[7]; 8. 55-Trey Starks[12]; 9. 26-Tayler Malsam[2]; 10. 94-Robbie Price[22]; 11. 59-Eric Fisher[11]; 12. 17-Cameron (Cam) Smith[19]; 13. 37-Trever Kirkland[16]; 14. 11-Marc Duperron[17]; 15. (DNF) 77X-Wayne Johnson[9]; 16. (DNF) 99-Skylar Gee[18]; 17. (DNF) 92-Jordan Weaver[8]; 18. (DNF) 9R-Reece Goetz[14]; 19. (DNF) 51-Jared Peterson[13]; 20. (DNF) 22B-Brock Lemley[3]; 21. (DNF) 95-Matt Covington[20]; 22. (DNF) 96-Greg Hamilton[21]
Lap Leader(s): Jason Solwold 1-40
KSE Hard Charger: Robbie Price +12
FSR High Point: N/A
Provisional(s): N/A
2015 Lucas Oil ASCS Winners: Aaron Reutzel 3; Seth Bergman 3; Jason Solwold 1; Jason Sides 1; Mark Smith 1; Brian Brown 1; Blake Hahn 1; Wayne Johnson 1; Tony Bruce, Jr. 1;
Lucas Oil ASCS Driver Points (Top 10): 1. Aaron Reutzel 1,742; 2. Seth Bergman 1,671; 3. Johnny Herrera 1,639; 4. Wayne Johnson 1,601; 5. Matt Covington 1,431; 6. Blake Hahn 1,333; 7. Kyle Bellm 1,266; 8. Jeff Swindell 1,263; 9. Tony Bruce, Jr. 1,241; 9. 10. Jordan Weaver 1,164;