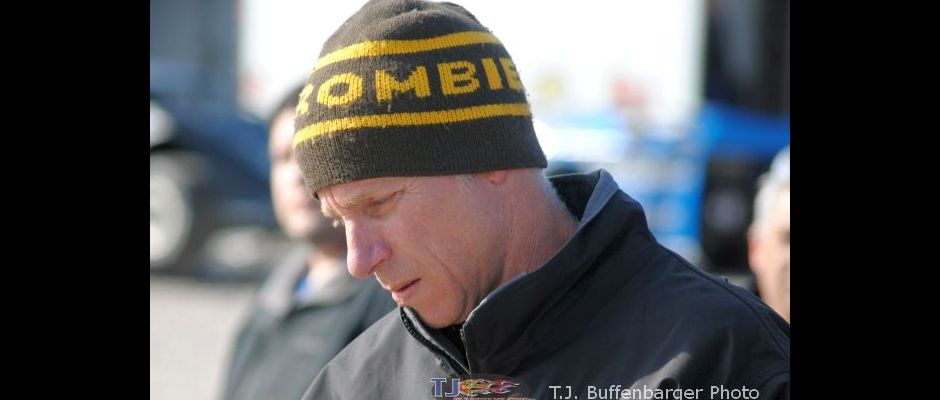 From Jay Dugan
Spring Run, PA — (June 28, 2015) – It was a party of one Sunday Night at Fred Rahmer Promotion's 'Party at the Path' event — at the Path Valley Speedway — as Broken Arrow, Oklahoma's Stevie Smith battled through heavy amounts of lapped traffic to claim his second-straight Pennsylvania Speed Week victory.
"I had a feeling that lapped cars were going to make or break my night here," Smith stated in victory lane. "I had a really great race car and we were able to move well and make good decisions."
Smith started on the front row of the 40 lap main event, alongside Perkasie, PA's Ryan Taylor. Taylor darted into the lead through turn 1 on the initial start, but Smith shot by on the low side exiting Turn 2 and pulled a full straightaway lead in the first few circuits.
The action slowed on the third lap for the No. 33 of Curt Stroup.
Smith pulled away quickly on the restart while Taylor battled back-and-forth with Brady Bacon, exchanging the second position three times in just two laps, with Bacon and Greg Hodnett getting the best of Taylor.
By lap 8 Smith held a comfortable lead with Bacon and Hodnett setting chase.
As the lap 14 mark passed, all eyes were on Gettysburg, PA's Danny Dietrich. After starting 11th on the field, Dietrich slid passed Lucas Wolfe to claim the fourth position and quickly closed on Hodnett, using the outside line to power passed the fast timer just two laps later.
Smith maintained a near half-track advantage just passed the half-way point, while Dietrich used the outside line to move around Bacon and into the second position.
While running in the fifth position, Hodnett spun on the 28th circuit bringing out the yellow and closing the gap between Smith and Dietrich. With lapped cars holding back Dietrich, Smith was able to quickly muscle a straightaway lead on the restart.
The final caution fell on lap 38 for Denver, PA's Alan Krimes, setting up a 3 lap shootout for the checkered and the $5,000 top prize.
Smith powered away on the restart while Dietrich drove between lapped cars, hoping to offer a challenge but would have no such luck as Stevie Smith claimed his 8th career Speed Week win and his second win of 2015 Speed Week.
Dietrich fought his way to a well-earned runner-up position, with last year's winner Brady Bacon in third, TJ Stutts in fourth and Lance Dewease rounding out the top 5.
Smith maintains his PA Speed Week point lead, with Danny Dietrich in second and Greg Hodnett in third. With sponsorship support from Wayback Burgers and associate sponsorship from Trone Outdoor Advertising a $25,000 point fund will be offered with $10,000 going to the series champion.
Greg Hodnett won $500 for setting fast time courtesy of Emory Transmissions. Ryan Taylor, Brent Marks, Stevie Smith, and Alan Krimes all collected $200 for their heat race victories. Aaron Ott won $200 as Graver's Garage Hard Charger. The 410 B-Main was won by Kyle Moody.
Bradley Howard of Lewisberry, PA won the Lawrence Chevrolet Non-Qualifiers event, picking up $1,700 for his efforts.
26-year-old Tyler Walton of Mifflintown, PA picked up his second win of the weekend – after claiming Friday Night's Path Valley Speedway event — in the 600cc Micro Sprint division. Aaron Spar and Steve Whary led the 24 car field on the drag race into turn 1, with Spar holding the advantage. Walton charged into 3rd from the 7th starting position on the initial circuit. A lap 6 restart allowed Walton to slide under the 44 of Whary into the second position and overtake Spar, for the lead, at the mid-way point. A slew of late race cautions, and a red flag for Garret Burd's wild ride slowed the field and closed the gap, but it was all Walton at the checkered flag.
"You have no idea how awesome it is to race in front of this many people," an over elated Walton said of the Path Valley crowd. "We've gone 3 for 3 in [Fred Rahmer Promotions] races and I can't tell you how cool that is."
Aaron Spar came home in second, Mike Dicely in third, Heath Hehnly in fourth and AJ Blast in fifth.
Prior to the evening's activities race fans, pit crew members and drivers partied at Hammond's Grove, enjoying live music, games and give-a-ways. Over 400 hotdogs and 400 hamburgers were given out as part of the pre-race 'Party at the Path' all free of charge as a 'Thank You' from Fred Rahmer Promotions.
It was standing room only for fans, with Path Valley Speedway packed to the brim. Christopher Strongfellow of Lewistown, PA claimed the $1,700 50/50 jackpot.
Hoosier Racing Tires helped lucky fans present Lucas Wolfe, Brock Zearfoss, Lance Dewease, Danny Dietrich, Billy Dietrich and Greg Hodnett with brand new right rear tires – allowing the fans to 'sponsor' each driver for the night.
The next Fred Rahmer Promotions event is Wednesday, August 26 (raindate: Thursday, August 27) for 'Legends at Lincoln' featuring some of sprint car racing's greatest drivers, both current and retired competing at Lincoln Speedway. The legends will compete in their own event in modern versions of the cars they once made famous. But it doesn't stop there, the Legends at Lincoln Invitational Challenge will see six of the best 410 Sprint Car drivers compete in six five-lap races in a $10,000 winner takes all event. Details for the event will be released in the next few weeks.
Fred Rahmer Promotions sponsors include: Metzler's Trailer Sales, J&S Fabrication, Buck Rubs Gentlemen's Club, Emory Transmissions, CnB Chubby, Aran Trading, Lawrence Chevrolet of Mechanicsburg, Eagle Evergreens, Graver's Garage and Hoosier Racing Tire
Fred Rahmer Promotions can be found online at www.fredrahmerpromotions.com, on Facebook by visiting www.facebook.com/fredrahmerpromotions, and on Twitter @RahmerRacing
2015 Pennsylvania Sprint Speedweeks Dates:
Friday, June 26 – Williams Grove Speedway, $5,000 to Win
Sunday, June 28 – Path Valley Speedway, $5,000 to Win
Monday, June 29 – Lincoln Speedway, $5,000 to Win
Tuesday, June 30 – Grandview Speedway, $5,000 to Win
Wednesday, July 1 – Hagerstown Speedway, $5,000 to Win
Thursday, July 2 – Lincoln Speedway, $7,000 to Win
Friday, July 3 – Williams Grove Speedway, $10,000 to Win
Saturday, July 4 – Port Royal Speedway, $5,000 to Win
Sunday, July 5 – Selinsgrove Speedway, $5,000 to Win
410 Sprint Car A-Main – (40 Laps) 1. Stevie Smith 2. Danny Dietrich 3. Brady Bacon 4. TJ Stutts 5. Lance Dewease 6. Brent Marks 7. Aaron Ott 8. Lucas Wolfe 9. Ryan Taylor 10. Greg Hodnett 11. Alan Krimes 12. Mike Wagner 13. Doug Esh 14. Kyle Moody 15. Brian Carber 16. Brock Zearfoss 17. Ryan Wilson 18. Brian Montieth 19. Billy Dietrich 20. Tim Wagaman 21. Cole Duncan 22. Corey Haas 23. Brad Franks 24. Curt Stroup
Graver's Garage Hard Charger: Aaron Ott (+13)
Emory Transmissions Quick Time: Greg Hodnett 10.291
Buck Rubs Heat Race Winner: Ryan Taylor; Metzler Auto Truck & Trailer Heat Race Winner: Brent Marks; CnB Chubby Heat Race Winner: Stevie Smith; Eagle Evergreens Heat Race Winner: Alan Krimes
Lawrence Chevrolet Non Qualifier — (10 Laps) – 1. Brad Howard 2. Joey Hershey 3. Robbie Stillwaggon 4. Tyler Ross 5. Glenndon Forsythe 6. Troy Fraker 7. Joe Kata 8. Sean Fitzpatrick
600cc Winged Micro Sprint A-Main – (25 Laps) 1. Tyler Walton 2. Aaron Spar 3. Mike Dicely 4. Heath Hehnly 5. AJ Blast 6. Jason Sechrist 7. Steve Whary 8. Bruiser Lawton 9. Jeff Hartman 10. Kyle Lick 11. Chris Gerhart 12. Bradley Weber 13. Nick Macri 14. Aaron Bollinger 15. Zachary Light 16. Jared Esh 17. Hannah Riser 18. Anthony Macri 19. Matt Carr 20. Danny Brown 21. Garrett Bard 22. Christian Reed 23. Kenny Miller 24. Travis Scott