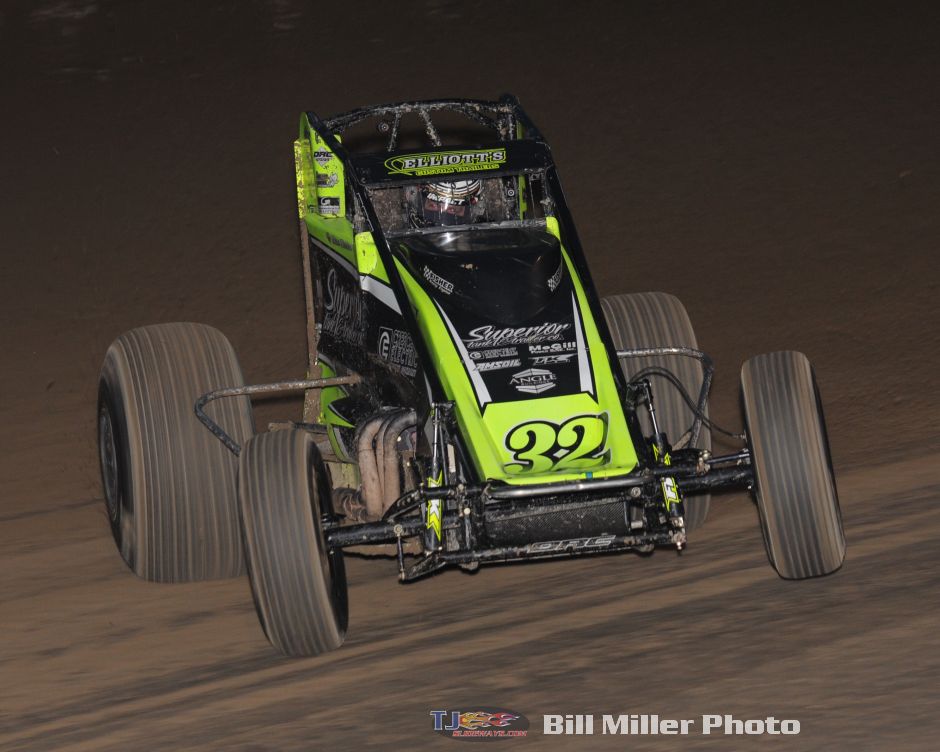 From Eldon Butcher
Haubstadt, IN — (June 27, 2015) — Chase Stockon led the last 19 laps to win the non-wing portion of the Southern Indiana Sprint Car Stampede held at Tri-State Speedway Saturday night. The Elizabethtown, IN, driver started inside of row two and used a restart after a caution period on lap 6 to outgun leader Kevin Thomas Jr. and capture the lead. From that point it was show time for Stockon. His car was bad fast and he dealt with lapped traffic with expertise. He threaded the needle on one occasion in turn three when two cars about to be lapped left very little space to maneuver.
Stockon was behind the wheel of his own number 32 TBI Racing sprint for this race. It was the eighth career victory for Stockon in Hoosier Tire Midwest Sprint Car Series competition. His DRC sprint car is sponsored by Cresent Electric, Angle Buildings, FK Shocks, and Ted Brown's Quality Paint. The victory was worth $2,000 and an opportunity to prepare for next month's Indiana Sprint Week finale at the track. "I think that we have gotten things figured out down here! Hopefully we also put on a great show for the fans."
The race for second continued behind Stockon. Carson Short also passed Kevin Thomas Jr. Thomas however regained the runner-up spot to finish second with Carson Short taking third.. Thomas expressed disappointment, "I was disappointed with myself. I lost the race on a restart." Short noted. "My car was a little free the whole race." Dealing with lapped traffic added to the challenge. The leaders were lapping the ninth place car as the race concluded.
Robert Ballou and Kyle Cummins rounded out the top five for the feature. The two drivers gained the most spots for drivers starting in the top half of the field. Aaron Farney would lead a second five that included MSCS points leader Brady Short, Dakota Jackson, Josh Hodges, and James Lyerla. Short was running fourth early in the feature but had to pit to replace a tire after contacting one of the lapped cars. Jackson and Hodges were making their first appearances with MSCS this season. Lyerla had the misfortune to roll his car in turn one during hot laps. But he had it repaired in time for the heat.