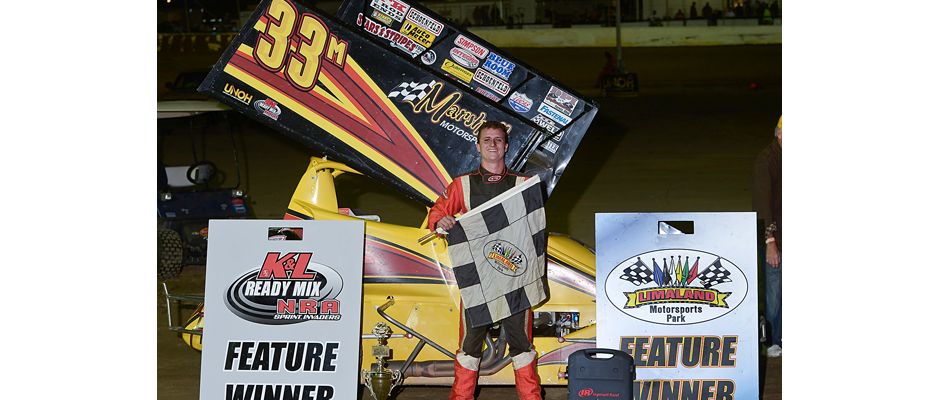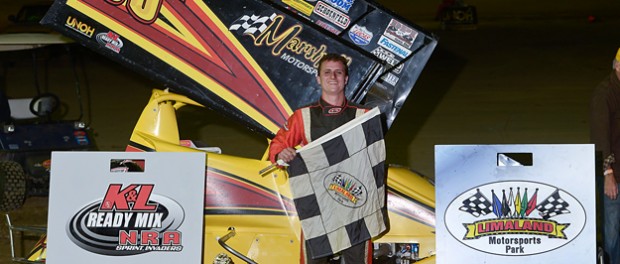 Lima, OH — (July 3, 2015) —
The eve of Independence Day for America saw the return of racing to Limaland Motorsports Park following the wettest month in history during June. Full fields of race cars converged including the much anticipated Sprint car show on The Night Before the Bob Reynolds Memorial.
Twenty competitors came together for the start of the Firecracker Friday Sprint car feature. Although Michigan's Caleb Griffith would proceed to make it his personal playground, the driver of the yellow #33M entry would have to earn the eventual triumph.
Griffith benefited from winning the pole starting position following his heat race success and he made the most of the preferred front row perch. A red flag condition following the opening lap was the only delay for Griffith as he led the field for the remaining 24 circuits of the 25 lap feature.
Griffith took his machine to the top of the dry and slick racing surface and went largely unchallenged for the first half of the event. At about the middle of the race, the leaders encountered lapped traffic and that's when Griffith had to earn his $2,000 prize. He carved out a masterful driving effort by using every inch of the ¼-mile oval while at the same time holding off an equally spirited challenge from Gary Taylor.
"I must have not drunk enough water today as I haven't felt the best since we got here today," revealed Griffith on the front straight winner's circle. "The lapped cars were tough tonight and Gary (Taylor) was hungry. Getting through traffic was real tough and at the same time Gary was closing on me. I sort of got lucky and just kept rolling." It was Griffith's first win of the season at the track and only his second all-time. The result qualifies him for the season ending Reineke King of the Quarter Mile races.
K&L Ready Mix NRA Sprints
Heat 1 – (8 Laps – Top 4 Transfer)
23-Devon Dobie 2. 27-Brad Lamberson 3. 11-Tim Allison
2M-Dustin Daggett 5. 17-Jared Horstman 6. 31N-Rod Henning
11R-Chase Ridenour 8. 51-Jay Dumham
Heat 2 – (8 Laps – Top 4 Transfer)
33M-Caleb Griffith 2. 28H-Hud Horton 3. 6S-Jr Stewart
12J-Tyler Moore 5. 15-Brandonj Ferguson 6. 7K-Kyle Pitts
8J-Jess Stiger 8. 49-Shawn Dancer
Heat 3 – (8 Laps – Top 4 Transfer)
1ST-Gary Taylor 2. 6M-Max Stambaugh 3. 10X-Dustin Stroup
49T-Gregg Dalman 5. 35-Ron Blair 6. 87-Paul Dues
11N-Ed Neumeister 8. 5W-Jeff Williams
Heat 4 – (8 Laps – Top 4 Transfer)
B20-Butch Schroeder 2. 83-Kyle Sauder 3. 22R-Kevin Roberts
22H-Randy Hannagon 5. 10J-Jarrod Delong 6. 57-Mike Dunlap
12R-Nick Roberts
B-Main #1 – (10 Laps – Top 2 Transfer)
17-Jared Horstman 2. 15-Brandonj Ferguson 3. 31N-Rod Henning
49-Shawn Dancer 5. 7K-Kyle Pitts 6. 11R-Chase Ridenour
8J-Jess Stiger 8. 51-Jay Dumham
B-Main #2 – (10 Laps – Top 2 Transfer)
35-Ron Blair 2. 10J-Jarrod Delong 3. 12R-Nick Roberts
87-Paul Dues 5. 5W-Jeff Williams 6. 11N-Ed Neumeister
57-Mike Dunlap
A-Main – (25 Laps) [#]-Starting Position
33M-Caleb Griffith[1] 2. 1ST-Gary Taylor[3] 3. 6M-Max Stambaugh[7]
B20-Butch Schroeder[4] 5. 11-Tim Allison[9] 6. 6S-Jr Stewart[10]
83-Kyle Sauder[8] 8. 2M-Dustin Daggett[13] 9. 17-Jared Horstman[17]
28H-Hud Horton[6] 11. 10X-Dustin Stroup[11]
22H-Randy Hannagon[16] 13. 49T-Gregg Dalman[15]
27-Brad Lamberson[5] 15. 15-Brandonj Ferguson[19]
22R-Kevin Roberts[12] 17. 23-Devon Dobie[2] 18. 10J-Jarrod Delong[20]
35-Ron Blair[18] 20. 12J-Tyler Moore[14]