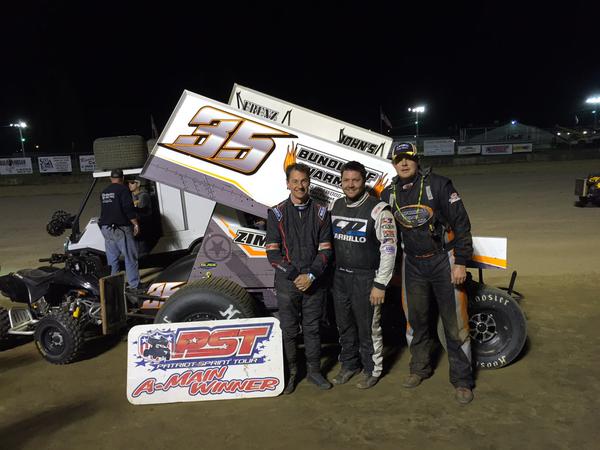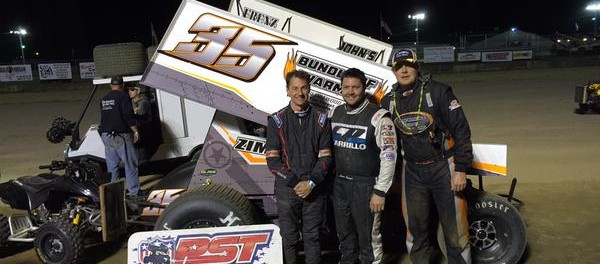 Rich Vleck, LITTLE VALLEY, NY, (July 3, 2015)- In the four years since the Patriot Sprint Tour had been at Little Valley Speedway, Jared Zimbardi has won 16 PST features and 3 series championships, but it was a trip to Little Valley Victory Lane on Friday Night that helped to bringing all of his accomplishments together.
Zimbardi, 28, led the caution-free 25-lap Patriot Sprint Tour A-Main from start to finish on Friday Night to win at his hometown Little Valley Speedway.  Even though he now resides in Bradford, PA, the big half mile has always been home to "The Juice".
"It's a storybook ending," declared Zimbardi in Victory Lane.  "I've got quite a fan crowd here and finally here we are."
Zimbardi was one of the driving forces in bringing sprint cars back to Little Valley, and early in the night proved whey he was one of the favorites as he dominated heat race one.  When he drew the Pole Position Raceway Pole it became clear this could be his night.  He drove away in the opening laps but on lap eight, his nose wing collapsed and it looked like he was a sitting duck.
"I was thinking this thing is going to be a handful," reflected Zimbardi.  "It was wheelieing halfway down the straightaway but I think it was actually taking air off the nose and hammering it back down entering the corner.  It was a handful and definitely didn't help me."
2011 Little Valley winner Justin Barger had moved up to second and appeared that he would reel in Zimbardi, but as the race moved along, the defending PST Champion built his lead to nearly three seconds.  With six laps remaining though, Barger quickly cut the gap in half after finding a new fast line while Zimbardi was in lapped traffic.
"I was able to look left and see and caught a glimpse of (Barger's) wing and figured I had to get going," noted Zimbardi.  "I had trouble with some lapped cars and had to get my butt in gear to get by him to hang on."
Zimbardi would hang on by less than a second but that didn't matter after the race, as he was swarmed by dozens of friends, family and fans on the frontstretch.
The win was Zimbardi's 23rd career PST win, his fourth of the year.  Interestingly, all of Zimbardi's win in 2015 have come on Friday Nights.
After starting in fifth, Justin Barger knew starting position could be an issue and without the aid of a caution flag, did not have a chance to reel in a tough Zimbardi.  Barger's runner-up finish helped to solidify Barger's affinity for the paperclip oval.
Steve Collins made a swift move at the drop of the initial green flag to move to second and after Barger got by on lap five held the third spot for his best PST finish of the year.
George Suprick showed off his new car and engine in style, driving forward in the closing laps to claim his best finish of the year in fourth.
In the final few laps, heat winner Kyle Drum developed a mechanical issue which dropped him from the fourth spot.  Scott Just was one of the drivers to capitalize, using the high-line to drive from seventh up to fifth despite losing his breaks.
Point leader Sammy Reakes IV had a tumultuous time getting to Little Valley after an accident with his truck and trailer put his night in peril.  Reakes was able to move forward in his first appearance at Little Valley to finish in sixth, getting by Drum at the finish line, who was seventh.
Darryl Ruggles scored the Mike Emhof Motorsports/ Hoosier Tire Canada giveaway with an eighth place finish, while C.J. Jones slipped back to ninth in the closing stages.  Tyler Graves rounded out the top 10 for the third-straight time in a PST event.
Canadian Chris Durand scored the win in the Evingham Site Excavation Dash4Cash.  A record 22 sprints helped to jam the pits of the Cattaraugus County Fairgrounds.  The lone stoppage of the night was a red flag in heat race two when Steven Hutchinson Jr. and Paul Habeck came together with Habeck flipping.  Amazingly Habeck would continue that heat race and actually finish in fourth.
Patriot Sprint Tour America Series Results: 7/3/2015, Little Valley Speedway, Little Valley, NY.
A-Main (25 Laps)- 1. Jared Zimbardi (35), 2. Justin Barger (5), 3. Steve Collins (67), 4. George Suprick (87), 5. Scott Just (54JR), 6. Sammy Reakes IV (17), 7. Kyle Drum (47), 8. Darryl Ruggles (48JR), 9. C.J. Jones (10J), 10. Tyler Graves (25G), 11. Dave Just (54J), 12. Chris Durand (67D), 13. Steven Hutchinson Jr. (2), 14. Paul Habeck (25H), 15. Mike Stelter (36), 16. Jim Porter (22), 17. Nick Cooper (35n), 18. Alysha Ruggles (48A), 19. Josh Azzi (17z), 20. Dave Wickham (80), 21. Will Glover (21), DNS: Shawn Mott (5m).
Lap Leaders- Zimbardi 1-25.
Evingham Site Excavation Four Laps of Fame (4 Laps)- 1. Chris Durand (67D), 2. Paul Habeck (25H), 3. Sammy Reakes IV (17), 4. Dave Just (54J), 5. Darryl Ruggles (48JR), 6. Jim Porter (22).
Heats (8 Laps Each)-
Race 1: Zimbardi, Collins, Jones, Reakes, D. Just, A. Ruggles, Cooper, Wickham.
Race 2: Barger, Graves, Durand, Habeck, Porter, Mott, Hutchinson.
Race 3: Drum, S. Just, Suprick, D. Ruggles, Stelter, Azzi, Glover.
Hoosier Tire Canada/ Mike Emhof Motorsports Recipient: D. Ruggles
Pole Position Raceway Pole Winner: Zimbardi
Patriot Sprint Tour America Series Point Standings (Top 10)- Reakes 1372, Drum 1289, Collins 1195, D. Just 1172, Hutchinson 1166, Suprick 1161, S. Just 1159, Zimbardi 1138, Graves 949, S. Glover 870.
Evingham Site Excavation Four Laps of Fame Dash Series Standings (Top Five)- Collins 19, Kreutter 16, Zimbardi and Habeck 12, Brown 11.
Patriot Tank Lines Hard Charger of the Season Standings (Top Five)- Zimbardi 50, Reakes 28, Suprick 27, Barney and D. Just 26.
Danny Willmes Enterprises Lap Leader Standings (Top Five)- Zimbardi 79, Reakes 37, Howland 28, S. Just 19, Barney and Stillwaggon 16.