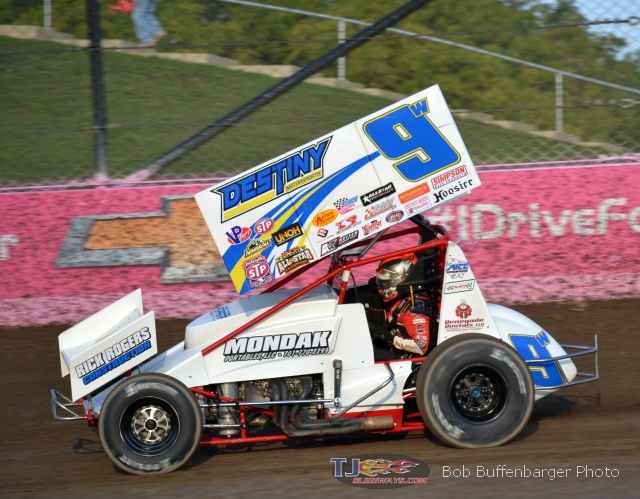 Inside Line Promotions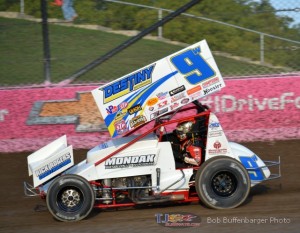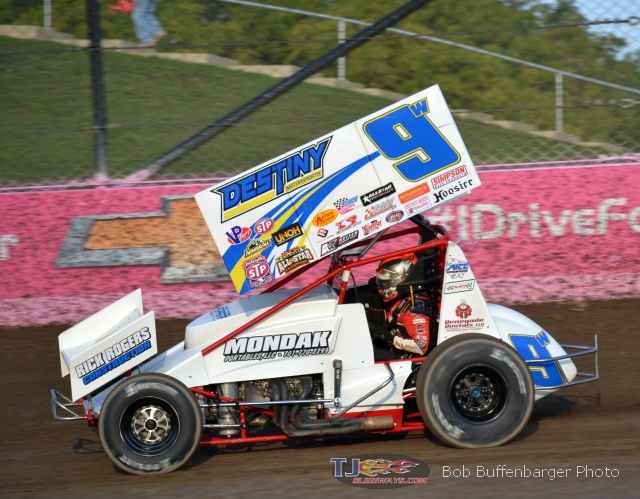 – LITTLE ROCK, Ark. (July 14, 2015) – Derek Hagar pocketed a pair of USCS victories last weekend to give him five wins in his last 16 races.
In fact, he has finished in the top eight during each of those 16 races and has placed outside the top five only twice during the streak.
"I think we have some good momentum built," he said. "We've had good cars. We had a good weekend."
The weekend began last Thursday at Crowley's Ridge Raceway in Paragould, Ark., where Hagar won the dash after starting on the outside of the front row. He then claimed a heat race from his fifth starting position, which made him the high-points driver. Since the feature inversion was a zero Hagar started on the pole.
"I backed it up to second on the start and ran second for four or five laps," he said. "Then (Tim) Crawley got by me. We were all right there running together pretty hard. Crawley end up having a mishap. We had a couple of restarts and I finally got back to the lead after I moved my line. I had a guy behind me who kept showing me his nose on the bottom. I moved down on a restart and I raced slide jobs with the leader for about a lap and a half before I finally got the edge. I went back to the top and the track starting taking rubber coming off the corners so I used that to my advantage."
Hagar took the lead on Lap 14 en route to his 32nd career USCS triumph.
The team tackled Batesville Motor Speedway in Locust Grove, Ark., the ensuing night, which began with Hagar driving from sixth to second place during the dash before winning his heat race from the pole position. That ranked Hagar third in overall points, which lined him up on the outside of the second row following the six-car feature inversion.
"Morgan Turpen took off on the start and I got up to third coming off turn four and got caught behind the guy running second," he said. "She put a straightaway on us pretty quick. After I got to second I was playing catchup. She got to lapped traffic and bobbled a couple of times. I think she was having power steering problems and ended up off the track in turns three and four and that's when we took the lead. We had a restart a couple of laps later and I took off and never had a challenge for the lead."
Hagar maintained the top spot to post his second straight victory and his fifth of the season.
The weekend concluded on Saturday at I-30 Speedway, where Hagar advanced from sixth to fourth place during a heat race on the challenging track.
"The sun was out and the wind was blowing so they doused the track with some water," he said. "They just overwatered the track. It wasn't suitable for us being in the first heat race. There was slime everywhere and it was hard to pass cars."
That started Hagar 12th in the main event.
"It got real good on the bottom, which made it a patience game unless you could get real good momentum on the top," he said. "We probably got up to fifth or sixth fairly quick and rode there for a little bit. We picked one car off around halfway and on the last lap the leader spun coming off turn four and that ended up giving us fourth place."
Hagar is set for a USCS tripleheader this weekend with races on Thursday at Smoky Mountain Speedway in Maryville, Tenn., Friday at Boyd's Speedway in Ringgold, Ga., and Saturday at Dixie Speedway in Woodstock, Ga.
QUICK RESULTS –
July 9 – Crowley's Ridge Raceway in Paragould, Ark. – Dash: 1 (2); Heat race: 1 (5); Feature: 1 (1).
July 10 – Batesville Motor Speedway in Locust Grove, Ark. – Dash: 2 (6); Heat race: 1 (1); Feature: 1 (4).
July 11 – I-30 Speedway in Little Rock, Ark. – Heat race: 4 (6); Feature: 4 (12).
SEASON STATS –
24 races, 5 wins, 15 top fives, 18 top 10s, 18 top 15s, 21 top 20s
UP NEXT –
Thursday at Smoky Mountain Speedway in Maryville, Tenn., Friday at Boyd's Speedway in Ringgold, Ga., and Saturday at Dixie Speedway in Woodstock, Ga., with the USCS Series
MEDIA LINKS –
Website: http://www.DerekHagarRacing.com
Twitter: https://twitter.com/HagarDerek
SPONSOR SPOTLIGHT – J&J Auto Racing
Located in McKenzie, Tenn., J&J Auto Racing has manufactured sprint car chassis and racing parts for more than 40 years. For more information, visit http://www.JandJAutoRacing.com.
"They've been in the family since J&J Auto Racing started building cars," Hagar said. "My stepdad's dad owned race cars back in the Riverside days. They are good, safe, dependable race cars and great people to deal with."
Hagar would also like to thank Dynotech Performance, DHR Suspension, Xtreme Race Graphics, FSR Radiators, Fragola Performance Systems, ButlerBuilt Professional Seat Systems, Hinchman Racewear, Wings Unlimited, FK Rod Ends, R.E. Enterprises, Ti64 and B&D Towing for their continued support.
INSIDE LINE PROMOTIONS –
Inside Line Promotions specializes in affordable public relations and media management for motor sports drivers, teams, sponsors, tracks, series, events, organizations and manufacturers. ILP Founder Shawn Miller leverages professional journalism with new media technologies and social networking to improve your exposure and the return on investment for your sponsors.