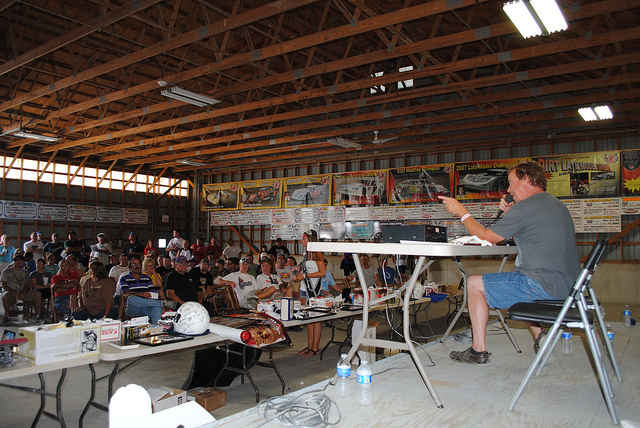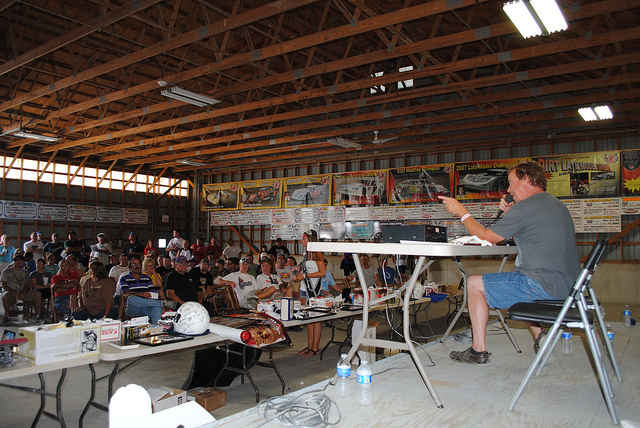 Rossburg, OH — (July 16, 2015) — Race fans are always on the look out for a unique or good deal on a souvenir to take home during their trip to Eldora Speedway for the Kings Royal.  One of the best places to get both is the National Sprint Car Hall of Fame and Museum auction on Saturday in the multi-purpose building outside of turn three at 2:30 p.m.
Sometimes people associate the term auction with things being expensive.  While there are a few high dollar items available every year, most of the things that are sold are of a reasonable price.  From die casts, pictures, and other items (often autographed) the Hall of Fame auction is a great opportunity to find a unique piece for your racing collection.
Every year I am amazed at some of the autographed items that go for relatively low prices.
In addition to the auction the Hall of Fame is setup all weekend selling tickets for their next raffle car debuting at the Kings Royal.  The 11th car to be given away by the Hall of Fame will be a new, state-of-the-art GF1 chassis with a Ron Shaver engine.   Buying the ticket that could earn you a brand new sprint car in 2016 could be one of the best souvenir buys in the history of motorsports.
If you are more like me and do not way additional clutter but want to help the National Sprint Car Hall of Fame and Museum this weekend is to buy a membership.  The membership gets you free admission to the Hall of Fame, the Hallmarks newsletter, 10% off museum store purchases, and access to other members only offers and benefits.   Memberships start at only $25.00.
Click here for a list of available items at Saturday's auction.