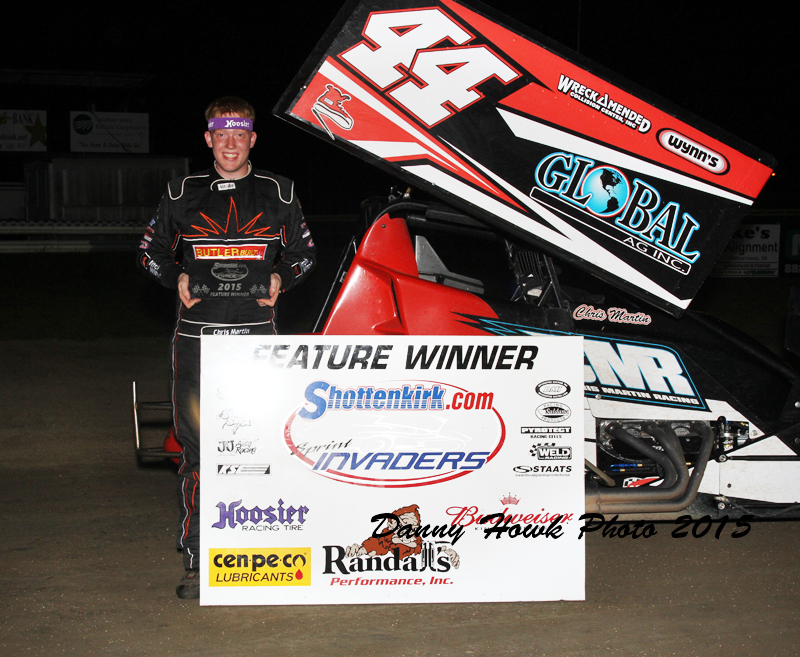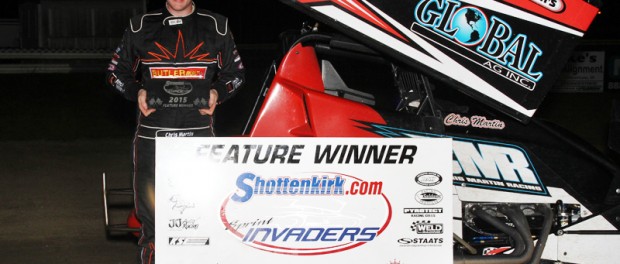 From Bill Wright
Des Moines, IA — (July 17, 2015) — Chris Martin drove to his first career win with the Shottenkirk.com Sprint Invaders at Bloomfield Speedway in Bloomfield, Iowa Friday night. Though the Ankeny, Iowa driver claimed a victory at Antioch Speedway in California early in his career, it had been over two years since he tasted victory in the Chris Martin Racing #44.
Before a lap could be completed in the 20-lap feature event, Harold Pohren got upside down on the backstretch. He was uninjured. Nate Van Haaften, who had driven from eighth into the top five, and Corey Nelson suffered cut tires and exited as well.
Agan led from outside row one at the outset, ahead of Martin and Jarrod Schneiderman. Two laps were in the books when Jacob Glasgow slowed and entered the infield after his car was hit with debris. Meanwhile the leader Agan lost a pick-up bolt for the birdcage and retired on the hook.
Martin led Jarrod Schneiderman, Josh Schneiderman, Russ Hall and Evan Martin back to green flag racing. On lap four, Hall used the low side of one and two to pass Josh Schneiderman for third. On the next lap, Tim Moore made contact with the frontstretch wall and tipped over. He was uninjured.
Hall used the same move on the low side of one and two to grab second from Jarrod Schneiderman on the restart. One last caution flag flew for Mike Dapra who stopped with six laps to go. Hall had challenged Martin, but the leader chose Hall's low line in one and two and held him off for the win. Jarrod Schneiderman was third, ahead of his brother Josh and Evan Martin. Dakota Hendrickson, Tony Shilling, hard-charger Jamie Ball, Dustin Clark and Dave Getchell rounded out the top five.
Agan, Evan Martin and Jarrod Schneiderman won heat races, while Jarrod also won the Dash. It was a busy night for Jarrod's team as he got into the wall in hot laps to avoid a spinning Hall.
"The car was working all night," said Martin in Victory Lane. "We started a little tight, but the track came to us. I'm really excited! I started on the bottom, but once I got to lapped traffic, I went to the top. I think (Hall) really closed the gap, and he showed me the low side was the ideal line in one and two. I went down there and the car stuck really well. Racing with the NSL brings such great drivers to the racetrack. There are 30 or 40 cars some nights. It's hard racing. They kick my butt a lot of nights, but that all paid off tonight."
"This stack-tube Schnee likes to run around the bottom," said Hall. "It was good early and it kind of went away. We were able to get into second. Chris Martin really manhandled this car and drove away from me. We were a top three car at the fairgrounds and blew a tire with a lap to go. Dirty Red and the team took the car to Brian Schnee and he had to weld the car. We got some Factory Kahne shocks from Wayne Priddy this week and everything seemed to work well."
"I've got to thank my crew, Matt (Rogerson) and Kelly (Behnken)," said Jarrod Schneiderman of the work needed after hot laps. "My brother's crew was here too helping us change parts and get ready for the heat race. I was actually ready to call it a night, but they fought hard. A lot of the feature was about track position. Russ was running the bottom well, and we left the car a little free. We just couldn't come off the corners like they could. We'll take third and go on to the next one!"
The Shottenkirk.com Sprint Invaders next event will be at the Dubuque Speedway in Dubuque, Iowa on Thursday, July 30. For more information on the Shottenkirk.com Sprint Invaders, visit www.SprintInvaders.com!
Results
Shottenkirk.com A main (started), 20 laps: 1. 44, Chris Martin, Ankeny, IA (1) 2. 29, Russ Hall, Pleasant Hill, IA (9) 3. 3G, Jarrod Schneiderman, West Burlington, IA (4) 4. 49, Josh Schneiderman, West Burlington, IA (6) 5. 4H, Evan Martin, California, MO (3) 6. 5H, Dakota Hendrickson, Omaha, NE (13) 7. 22, Tony Shilling, Knoxville, IA (5) 8. 5J, Jamie Ball, Knoxville, IA (18) 9. 16, Dustin Clark, Agency, IA (12) 10. 83, Dave Getchell, Sperry, IA (14) 11. 58, Andy Krieger, Burlington, IA (19) 12. 88, J Kinder, Holt's Summit, MO (20) 13. 85, Chase Wanner, Agency, IA (17) 14. 12G, Kelly Graham, Hedrick, IA (15) 15. 38, Mike Dapra, Gillette, WY (22) 16. 10T, Tim Moore, Rock Island, IL (11) 17. 4, Jon Agan, Knoxville, IA (2) 18. 126, Stacey Alexander, Lacona, IA (16) 19. 59, Jacob Glasgow, West Burlington, IA (10) 20. 34, Corey Nelson, Eugene, MO (7) 21. 3, Nate Van Haaften, Otley, IA (8) 22. 50P, Harold Pohren, Lowell, IA (21) DNS – 99, John Schulz, West Burlington, IA. Lap Leaders: Agan 1-2, C. Martin 3-20. KSE Hard-charger: Ball.
CenPeCo Heat one (started), 8 laps, top two to Dash: 1. Jon Agan (1) 2. Josh Schneiderman (4) 3. Corey Nelson (3) 4. Jacob Glasgow (2) 5. Dakota Hendrickson (8) 6. Stacey Alexander (6) 7. Jamie Ball (5) 8. Harold Pohren (7)
Budweiser – Golden Eagle Distributors Heat two (started), 8 laps, top two to Dash: 1. Evan Martin (3) 2. Tony Shilling (4) 3. Nate Van Haaften (7) 4. Tim Moore (2) 5. Dave Getchell (5) 6. Chase Wanner (8) 7. Andy Krieger (6) 8. Mike Dapra (1)
Heat three (started), 8 laps, top two to Dash: 1. Jarrod Schneiderman (2) 2. Chris Martin (4) 3. Russ Hall (6) 4. Dustin Clark (3) 5. Kelly Graham (5) 6. John Schulz (1) 7. J Kinder (7)
Randall's Performance Shake-up Dash (started), 6 laps: 1. Jarrod Schneiderman (2) 2. Tony Shilling (5) 3. Josh Schneiderman (6) 4. Chris Martin (1) 5. Jon Agan (2) 6. Evan Martin (3)
Contingencies
Saldana Racing Products – Dave Getchell
Pyrotec – Tim Moore