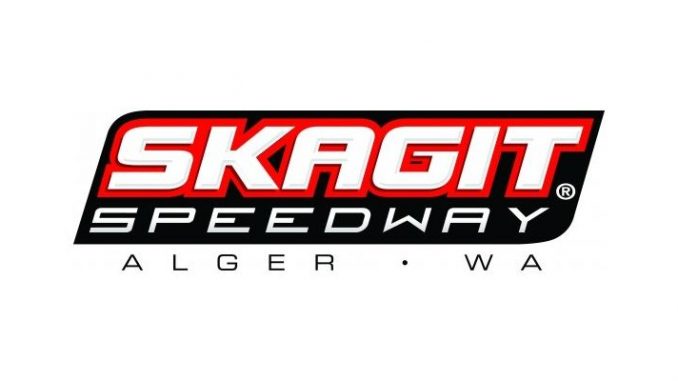 From Kaleb Hart
Alger, WA — (July 24, 2015) — The self proclaimed "Mr. Prelim Night" earned his moniker once again, as Travis Rilat took the preliminary night feature win at the Bob's Burgers & Brew Summer Nationals at Skagit Speedway. Rilat came from 12th to take the feature win. Brandon Berg joined Rilat in victory lane with a win in the Outlaw Tuner division.
"Winning these prelim nights is fun, especially from 12th, but it's that final night win we want" said a joyous Rilat in victory lane. The Forney, TX native methodically worked his way forward in the field to secure the fourth position when he caught the break he'd need to contest for the win. Tayler Malsam slowed at the back of the field, necessitating a caution on lap 20, and in the aftermath, second and third place running JJ Hickle collided, causing Hickle to flip wildly and drawing a red flag. On the subsequent restart, Rilat dismissed the two slower cars between him and race long leader Justin Youngquist, but looked to be running out of time when a spinning Robbie Price drew a caution flag on lap 26 and bunched Travis up behind Justin. The first restart didn't stick, as Jayme Barnes spun out, but on the second restart, Rilat measured Youngquist and used the outside groove to drive around him on lap 28 to take the lead and eventual win. Youngquist settled for second with Cam Smith taking third. Seth Bergman was the fast qualifier. Heat wins went to Colton Heath, Evan Margeson, Austen Wheatley, JJ Hickle and Youngquist. Kelsey Carpenter won the B Feature. Rilat and Bergman will sit on the pole of the A Scramble for Saturday night. Bergman will look to become a repeat winner of the Summer Nationals if he can win the 40 lap, $10,000 to win A Main. A full points run down can be found beneath the race results.
Brandon Berg went wire to wire in the Outlaw Tuner class to win the main. Berg threaded the needle between the front row cars of Clint Meins and Howard Vos to take the lead coming out of turn two and ran away from the field to score the win. Matt Powers and Travis Meins rounded out the podium with Meins winning the heat.
360 Sprint Cars
Fast Time – Seth Bergman 12.166
Heat 1 – Colton Heath, Cam Smith, Seth Bergman, Michael Bollinger, Steve James, Bud Ashe
Heat 2 – Evan Margeson, Eric Fisher, Travis Rilat, Kelsey Carpenter, Reece Goetz, Nate Vaughn, Skylar Gee
Heat 3 – Austen Wheatley, Chase Goetz, Trey Starks, Matt Jensen, Luke Didiuk, Kenny Rutz, Kyle Van Ulden
Heat 4 – JJ Hickle, Greg Hamilton, David Miller, Jayme Barnes, Robbie Price, Jeff Dunlap, Cale Brooke
Heat 5 – Justin Youngquist, Sean MacDonell, Steve Reeves, Derek Roberts, Steve Parker, Lawrance Kirkham, Travis Jacobson
B Main – Kelsey Carpenter, Matt Jensen, Robbie Price, Derek Roberts, Jayme Barnes, Tayler Malsam, Nate Vaughn, Luke Didiuk, Reece Goetz, Skylar Gee, Michael Bollinger, Jeff Dunlap, Kyle Van Ulden, Steve Parker, Cale Brooke, Kenny Rutz, Steve James, Lawrance Kirkham, Travis Jacobson
A Main – Travis Rilat, Justin Youngquist, Cam Smith, Trey Starks, Seth Bergman, Sean MacDonell, Colton Heath, David Miller, Chase Goetz, Eric Fisher, Greg Hamilton, Matt Jensen, Robbie Price, Evan Margeson, Jayme Barnes, Austen Wheatley, Derek Roberts, Steve Reeves, JJ Hickle, Tayler Malsam, Kelsey Carpenter
Lap Leaders – Youngquist 1-27 Rilat 28-30
Outlaw Tuners
Heat – Travis Meins, Matt Powers, Clint Meins, Brandon Berg, Jack Desrosier, Howard Vos, Pascal Warner, Terra Arnett
Main – Brandon Berg, Powers, T Meins, C Meins, Desrosier, Warner, Vos, Freddie Vela, Arnett
Lap Leaders – Berg 1-15
POINTS
Top 16 Locked Into A Main – Top 6 Make A Scramble – Ties Broken by Fastest Qualifying Lap
1. Travis Rilat – 562
2. Seth Bergman – 555
3. Trey Starks – 544
4. Cam Smith – 544
5. Colton Heath – 539
6. Sean MacDonnell – 533
7. Justin Youngquist – 528
8. Greg Hamilton – 523
9. Matt Jensen – 519
10. Eric Fisher – 510
11. Robbie Price – 508
12. Chase Goetz – 507
13. David Miller – 507
14. Derek Roberts – 496
15. Evan Margeson – 495
16. Austen Wheatley – 494
Cars 17 – 30 Locked Into B Main – Top 6 Make Scramble
17. Jayme Barnes – 486
18. JJ Hickle – 484
19. Kelsey Carpenter – 483
20. Steve Reeves – 481
21. Nate Vaughn – 456
22. Luke Didiuk – 450
23. Michael Bollinger – 449
24. Reece Goetz – 448
25. Jeff Dunlap – 439
26. Skylar Gee – 435
27. Kenny Rutz – 428
28. Steve Parker – 426
29. Steve James – 425
30. Kyle Van Ulden – 425
Cars 31 -37 and Any Additional Cars Run C Main
31. Cale Brooke – 418
32. Travis Jacobson – 415
33. Lawrance Kirkham – 415
34. Tayler Malsam – 245
35. Bud Ashe – 210
36. Jason Solwold – 185
37. Brock Lemley – 0