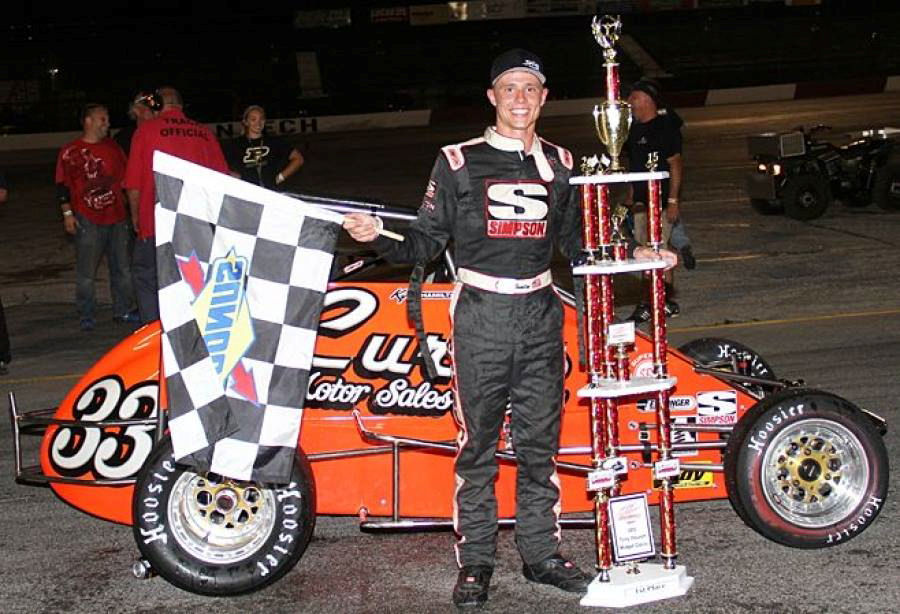 Saturday night July 25 saw the Inaugural running of the Tony Stewart Midget Classic at the Lincoln Tech Indianapolis Speedrome. The 1/5 mile paved oval on the southeast side of Indianapolis would be the setting for the biggest and most prestigious pavement midget race of 2015. A strong field of 27 national midgets from across the country were on hand and ready to do battle on a hot summer night. Many legends in the sport were on hand as USAC was having its annual hall of fame induction ceremony.
    One driver who has had this race circled on his calendar since it was announced many months ago is pavement midget ace, known as "The Professor" Kyle Hamilton. The winner of multiple USAC Honda National Midget Races would be making his first midget start of the 2015 season after multiple races in the USAC Silver Crown Series.  The Danville, Indiana native took advantage of Fridays open practice session to get the car dialed in along with Saturday afternoon's practice session. Eyes were set on breaking Kyle Larson's track record of 11.622 seconds set in 2011 but the speeds in qualifying would slow down from practice as time trials were held in the middle of the day when the track was hottest and lost grip. Hamilton would set a time of 11.959 seconds, good enough for 4th position.
    This would put the Professor in the trophy dash. The dash took the top 6 qualifiers and put them in a 6 lap shootout. Hamilton would start in 3rd position and have a great start passing Jimmy Anderson on the run into turn 1 for the runner up spot. The winner of the 2014 Darcy pavement summer nationals then would try to track down race leader Teddy Beach who controlled most of the race in front. On the final lap, Hamilton closed up and got a great run going into turn 3. Beach shut the door, but it was too late as contact was made sending Beach spinning and Hamilton to victory lane." I made a little bit of a risky last lap pass on the trophy dash that I maybe wouldn't have made if I was thinking a little straighter, but I just got in there as he slipped up a little bit. I shot in there and we kind of made a little contact but we were fast all night and I just wanted to see what it would do in traffic and the car was great. "
    Up next was the 10 lap heat race, both Hamilton brothers would line up in heat race number 4. Kyle Hamilton would start deep in the field in 5th position and have to quickly make up positions. Younger brother Nick Hamilton would be starting ahead of him in 3rd. Nick had a dynamite start and would quickly take the lead on the opening lap. Kyle had picked his way through traffic with ease and by halfway was on the tail tank of his younger brother. Going into turn 3 Kyle saw an opening and pounced to the inside to take the lead and not look back making it a Hamilton 1-2 finish in the heat race.
    The 100 lap feature would be next on the agenda, split into two segments of 75 and 25 laps. The professor would start in 4th position. It wouldn't take long for him to make up ground and by lap 14 he had wrestled the lead away from leader Billy Wease.  On lap 23 he turned a lap of 11.593 seconds, the fastest lap ever completed by a midget in the 70 plus year history of the track. Hamilton would cut through lapped traffic at will and open up a straightaway advantage over 2nd position at times. On lap 75 when the end of the first segment brought out the red flag, Hamilton was offered the Shepherd Insurance Tail Gunner Bonus. If he would go to the back of the field and then come back to win after 25 laps he would receive an additional $10,000 on top of his prize money. The former USSA Kenyon Midget Series driver at the Indianapolis Speedrome believed this was too risky  and decided against it to the shock of many race fans, saying into the tracks public address microphone "I race for wins, not money." Looking back the Purdue University grad feels he made the right decision. "It would have been cool for like 10 minutes after the race and everyone would have said yeah you almost made it but I don't think I could have gotten back past a guy like Jim Anderson or Grant Galloway with 25 laps straight green, I would have needed some yellows. The bottom line is there just wasn't any yellows. I wanted to be the winner of that inaugural race no matter what it took and we racked up some money and lap leading bonuses so I'm really not concerned about losing the $10,000. I don't think it would have been possible to be honest."
    The last 25 laps would go yellow flag free and Hamilton would have to hold off a fierce challenge from Grant Galloway the last few laps as Galloway was all over the tail tank of the bright Day-Glo Orange #33 but could never get alongside him. The driver of the #33 Curtis Motor Sales Special/Advanced Racing Suspensions Spike/Esslinger was overjoyed in victory lane knowing the magnitude of the accomplishment he had just achieved "I would say this is probably the biggest one of my career. We have worked really hard over the past couple years to have a really fast pavement midget and to win in front of Tony Stewart and Roger Penske and guys like that was really cool for me. It was cool because all my friends and family were able to be here because it's so close to home and everybody that I always tell about my racing was able to be there so that was really awesome. We worked really hard all weekend because we kind of struggled Friday and Saturday morning during practice. I was about 4th or 5th quickest every time and just couldn't get the thing to bite the center of the corner and we made some adjustments and we never gave up and finally around race time it finally came together and it all clicked and that car was on a rail."
    Hamilton is hoping this annual event will grow each and every year and become a staple of Brickyard 400 weekend.  "I really hope it does, like I said the Speedrome is in our back yard. There was lots of support from the Indy media here so I hope this race can continue to grow strong over the years. Larry Curry and the Speedrome did a great job of helping out pavement midget racing and I'm hoping they continue to do that in the future. "
    Younger brother Nick Hamilton was hoping to have a similar run to Kyles and dice it out with him for the win in the feature. After qualifying 12th with a lap of 12.130 seconds and finishing 2nd in his heat, the 2014 STARS National Midget rookie of the year had high hopes. However just 2 laps into the 100 lap event and fuel pump failure relegated him to the sidelines, a bitter end to what was a promising start to the night. The driver of the #32 Curtis Motor Sales/Advanced Racing Suspensions Spike/Esslinger is already looking forward to his next chance of getting back on track "After running good all night I was super excited going into the feature. Running behind Kyle taught me some stuff that I was excited to use in the feature. I think I had a car that could be battling up front, but we will have to get back at it later."
    For information on the next race events for the Hamilton brothers and live updates from every race, like Kyle Hamilton Racing on Facebook.