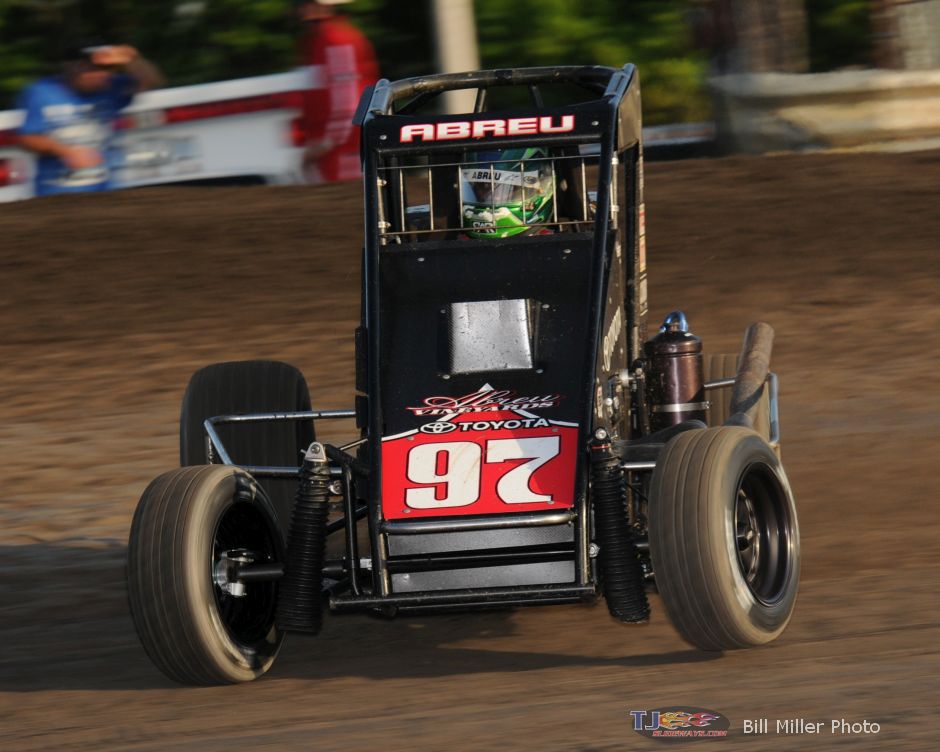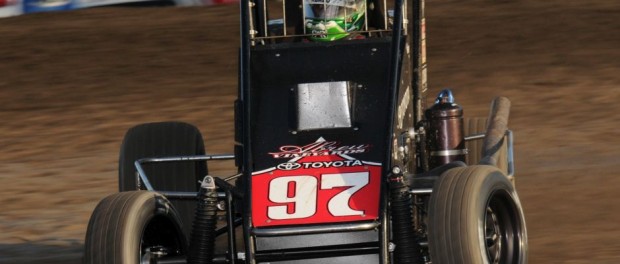 From USAC
Belleville, KS — (July 30, 2015) — Defending "Belleville Midget Nationals" champion Rico Abreu picked up right where he left off around the famed Belleville High Banks as he stormed from eighth to win Thursday's 25-lap preliminary feature. The defending Honda Midget National Champion made it three wins on the year and eleven for his career aboard the Keith Kunz/Curb-Agajanian Motorsports – Toyota TRD #97 Bullet/Speedway Toyota.
"This is one of my favorite tracks and I've had some success here. Saturday night is what counts, so we'll have to be ready to do this again. I was able to search around some running behind them and find something that worked. They do a great job preparing these cars, and that's the key to come to a place like this," Abreu said.
Belleville rookie Kevin Thomas, Jr. jumped to the lead from outside the front row and led his teammates, who started on the outside of the first four rows as they completed the first lap running 1-4. On lap two, polesitter Steve Buckwalter got up into the turn-three guardrail, spinning sideways as cars scattered to miss him. Both Tyler Nelson and Chett Gehrke flipped, while Chad Frewaldt was also collected. All drivers were unhurt.
After another quick yellow two laps later, Abreu used the restart to get a run on Thorson for third, and the caution reappeared a few laps later as Dave Darland caught the cushion in turn-one and jumped sideways before slowing to a stop. Under the yellow, Zach Daum visited the work area for a packed right-front wheel, but he returned to the action.
On this restart, Abreu went after Bell for second and slid him into turn-three for the runner-up spot and began to carve away at Thomas, Jr.'s lead. It fell into Abreu's hands, however, on lap 12 as Thomas went up in smoke at the start finish line and brought out another yellow as he stopped.
From there, Abreu was in command, although Bell began to reel him back in on the longer green-flag run. He could never get within striking distance, though, and had to settle for second in the Keith Kunz/Curb-Agajanian Motorsports – Toyota TRD #71 Bullet/Speedway Toyota. Bell also set the night's Pro Source "Fast Time Award."
"He did a great job on the restarts, and tonight it was important to get positions as quickly as you could after those. Rico did a great job on those, and after we ran that first lap or two, we kinda had what we had. I packed a wheel with mud fairly early, and that made it pretty tough to see," Bell said.
Thorson rounded out the podium in the Toyota TRD – Abreu Vineyards #67 Bullet/Speedway Toyota.
"I was feeling around and thought maybe some rubber would come, and I knew my only chance at them would be if it came in and I could find it first. Hats off to those guys, and this team is so strong right now. All the laps you can get around this place are great and will help even more heading to Saturday," Thorson said.
Tracy Hines came home fourth in the Parker Machinery – Turbines, Inc. #24 Spike/Stanton Toyota and took the point lead by one over Thomas, Jr. heading into Saturday's Belleville finale. Daum recovered to drive back up to fifth aboard the Daum Crop Insurance – Weld Wheels #5D Eagle/Stanton Toyota.
——————
USAC HONDA MIDGET NATIONAL CHAMPIONSHIP RACE RESULTS: July 30, 2015 – Belleville, Kansas – Belleville High Banks -"Belleville Midget Nationals"
QUALIFICATIONS: 1. Christopher Bell, 71, Kunz/Curb-Agajanian-17.603; 2. Tracy Hines, 24, Parker-17.628; 3. Tanner Thorson, 67, Kunz/Curb-Agajanian-17.652; 4. Zach Daum, 5D, Daum-17.652; 5. Kevin Thomas Jr., 67k, Kunz/Curb-Agajanian-17.679; 6. Steve Buckwalter, 25, Buckwalter-17.747; 7. Cody Brewer, 96, Central Motorsports-17.765; 8. Rico Abreu, 97, Kunz/Curb-Agajanian-17.772; 9. C.J. Johnson, 45x, Martin-17.939; 10. Dave Darland, 63, RKR/Curb-Agajanian-17.956; 11. Jerry Coons Jr., 27, Heffner-17.956; 12. Spencer Bayston, 39, Clauson-18.165; 13. Matt Johnson, 85, Central Motorsports-18.189; 14. Tyler Thomas, 91T, Thomas-18.190; 15. Isaac Chapple, 52, Chapple-18.251; 16. Michelle Decker, 4M, Meents-18.284; 17. Tyler Nelson, 88, Nelson-18.439; 18. Chad Frewaldt, 75, Frewaldt-18.474; 19. Kyle Jones, 69x, Hefler-18.508; 20. Chett Gehrke, 11c, Matteson-18.548; 21. Jeff Stasa, 91, SBR-18.583; 22. Patrick Stasa, 19s, SBR-18.769; 23. Hunter Fischer, 24F, Fischer-18.839; 24. Warren Johnson, 313, Frewaldt-19.293; 25. Aaron Schuck, 53, SET-19.299; 26. Johnny Murdock, 0, Zero-20.328; 27. Patrick Lawson, 0B, Zero-20.557; 28. Robert Bell, 71B, Bell-20.771; 29. Blake McMillan, 727, McMillan-21.191; 30. Tyler Dunkle, 0D, Zero-NT; 31. Morgan Frewaldt, 926, Frewaldt-NT.
FIRST HEAT : (8 laps) 1. C.J. Johnson, 2. Bell, 3. K.Thomas, 4. J.Stasa, 5. Nelson, 6. M.Johnson, 7. Schuck, 8. McMillan. 2:22.13
SECOND HEAT : (8 laps) 1. Hines, 2. T.Thomas, 3. Buckwalter, 4. Darland, 5. C.Frewaldt, 6. Dunkle, 7. P.Stasa, 8. Murdock. 2:22.68
THIRD HEAT : (8 laps) 1. Thorson, 2. Coons, 3. Brewer, 4. Chapple, 5. Jones, 6. Fischer, 7. Lawson,. 2:24.42
FOURTH HEAT : (8 laps) 1. Abreu, 2. Daum, 3. Bayston, 4. Gehrke, 5. Decker, 6. W.Johnson, 7. Bell. 2:21.95
SEMI: (12 laps) 1. Jones, 2. C.Frewaldt, 3. Decker, 4. M.Johnson, 5. Nelson, 6. W.Johnson, 7. Schuck, 8. Murdock, 9. Bell, 10. Lawson, 11. McMillan, 12. Fischer. 3:47.04
FEATURE: (25 laps) 1. Rico Abreu, 2. Christopher Bell, 3. Tanner Thorson, 4. Tracy Hines, 5. Zach Daum, 6. Jerry Coons Jr., 7. Tyler Thomas, 8. Spencer Bayston, 9. Isaac Chapple, 10. Matt Johnson, 11. Aaron Schuck, 12. Cody Brewer, 13. Kevin Thomas Jr., 14. Dave Darland, 15. Kyle Jones, 16. Warren Johnson, 17. C.J. Johnson, 18. Jeff Stasa, 19. Steve Buckwalter, 20. Michelle Decker, 21. Chett Gehrke, 22. Tyler Nelson, 23. Chad Frewaldt, 24. Johnny Murdock. NT
——————————–
**Gehrke and Nelson flipped on lap 2 of the feature.
FEATURE LAP LEADERS: Laps 1-11 K.Thomas, Laps 12-25 Abreu.