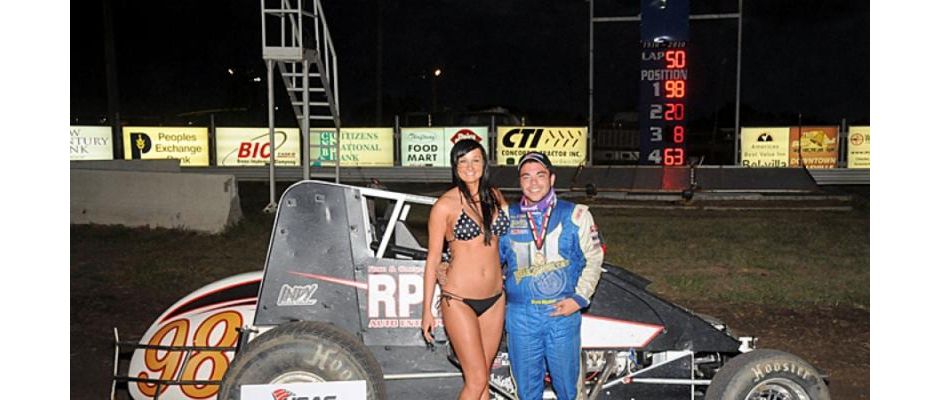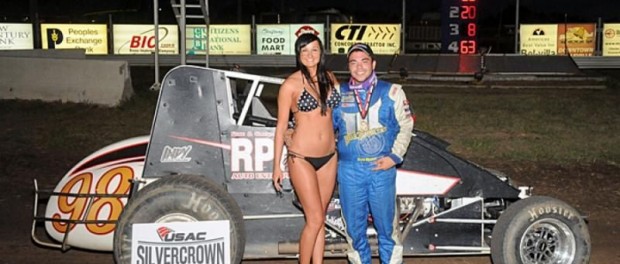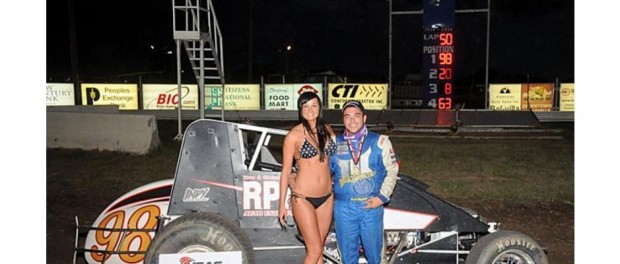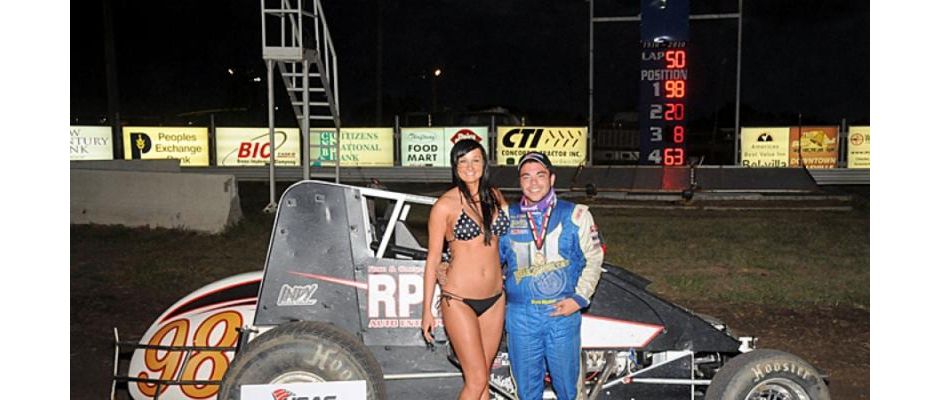 By Bryan Gapinski
Belleville, Kan., July 31—Chris Windom scored a dominating victory winning the 50-lap "Hustle at the High Banks" USAC Silver Crown Series event Friday night at the Belleville High Banks.  "This takes the sting out of last year' event" commented Windom in victory lane referring to last years race which he led until six laps remaining, before running out of fuel.
Windom who set fast time jumped into the lead at the start. Jerry Coons passed two cars on the opening lap moving into second place. Windom began lapping the tail of the field on the seventh lap. Windom held a quarter lap lead over Coons at the completion of Lap 12.
Three laps later Windom continued his blistering pace lapping up to the ninth place car. Coons ran unchallenged in second place. The battle for third place between Kody Swanson, Justin Grant and Shane Cockrum was the best battle for position on the track.
Windom held a half-lap lead at the midway point over Coons. Windom continued running in lapped traffic, increasing his lead. Kevin Thomas Jr. spun with nine laps remaining bringing out the events first caution. The caution erased Windom's thirteen second-plus lead.
On the restart with a clear track ahead, Windom driving the RPM-Fred Gormly owned RPM Auto Enterprise/Maxium/Mopar No. 98 easily finished ahead of Coons, Grant, Swanson, and Cockrum. Garrett Hake won the 15-lap JayHusker Micro series feature.
SUMMARY
QUALIFICATIONS: 1. Chris Windom, 98, RPM/Gormly-17.356; 2. Kody Swanson, 63, DePalma-17.587; 3. Justin Grant, 8, Carli-17.745; 4. Jerry Coons Jr., 20, Nolen-17.761; 5. C.J. Leary, 30, Leary/6R Racing-17.825; 6. Shane Cockrum, 71, Hardy Boys-17.844; 7. Aaron Pierce, 26, Pierce-17.911; 8. Kevin Thomas Jr., 17, RW/Curb-Agajanian-18.026; 9. A.J. Fike, 3, RFMS-18.061; 10. Brady Bacon, 48, Martens-18.118; 11. Steve Buckwalter, 53, SET-18.255; 12. Shane Cottle, 81, Williams-18.278; 13. Rex Norris III, 16, Norris-18.825; 14. Austin Nemire, 91, Hemelgarn-19.529; 15. Patrick Lawson, 2, Lawson-19.739; 16. Chris Fetter, 89, Fetter-19.938; 17. Terry James, 23, Satterthwaite-20.679.
FEATURE: (50 Laps) 1. Chris Windom, 2. Jerry Coons Jr., 3. Justin Grant, 4. Kody Swanson, 5. Shane Cockrum, 6. C.J. Leary, 7. Brady Bacon, 8. Kevin Thomas Jr., 9. Steve Buckwalter, 10. Aaron Pierce, 11. A.J. Fike, 12. Austin Nemire, 13. Rex Norris III, 14. Terry James, 15. Chris Fetter, 16. Shane Cottle, 17. Patrick Lawson.
——————————————————
FEATURE LAP LEADERS: Laps 1-50 Windom.