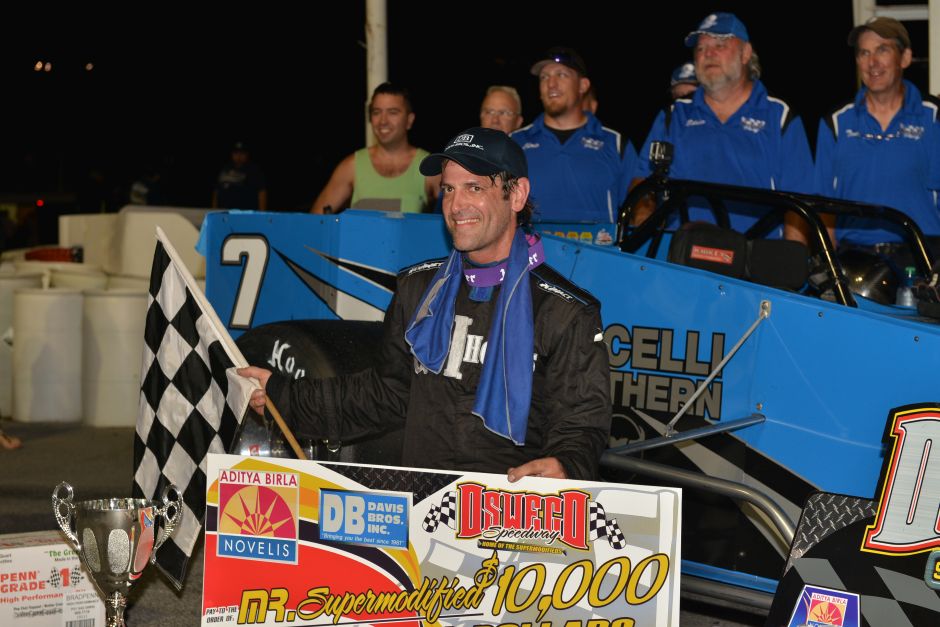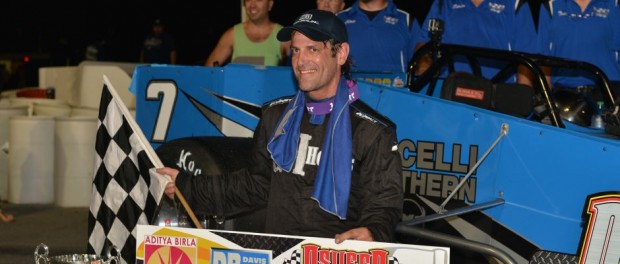 OSWEGO, NY (August 2, 2015) – In what was arguably the greatest five lap finish in Oswego Speedway's 65 years, Otto Sitterly, Ray Graham, and Michael Barnes swapped the lead no less than nine times over the course of the final five laps in Saturday night's $10,000 to win Mr. Novelis Supermodified, with Sitterly eventually snagging the lead for good just one lap from the finish in front of nationally televised cameras from SPEED SPORT and MAVTV.
An action filled event from the drop of the green flag, Michael Muldoon charged away to the early lead before tangling with a lapped machine on lap 25, collecting fellow front runners Kody Graham and Summer Champion Dave Danzer.
Sitterly started the 75-lap main from the 11th position, passed Jeff Abold for second on lap 40, and then began his assault at the lead on lap 70.
The victory is Sitterly's third career triumph in the Mr. Novelis Supermodified main, adding to wins in 2006 and 2013. Sitterly now has 36 total Supermodified wins at Oswego, putting him seventh all-time behind only Jim Shampine, Bentley Warren, Ed Bellinger Jr., Joe Gosek, Nolan Swift, and Greg Furlong.
Graham and Barnes were forced to settle for podium finishes with the front three separated by only .757 seconds at race's end.
"First of all I have to thank every one of the fans that came out tonight and supported this great race," said Sitterly, in Turning Stone Resort Casino Victory Lane. "I've also got to thank Ray Graham and Michael Barnes. It is nice to have us all be able to race together like that. I really can't explain what happened, but we ended up on top. It's pretty good."
Bob Bond and Tim Devendorf charged across the stripe in the top five with Abold, Tim Snyder, Dave Gruel, Pat Lavery, and Stephen Gioia III filling the top ten.
A total of 25 Novelis Supermodifieds took the green flag on Saturday with Muldoon and Snyder leading the field to green.
Muldoon blasted to the point early on in the No. 51, leaving little doubt early as to who the remainder of the field would have to beat for $10,000.
Snyder held tight to second early on, but would eventually push high in turn two, sliding back to the fifth position, allowing Ray Graham, Kody Graham, and Danzer to make their way through.
Eventually the lead group would hit lapped traffic around lap 20, which would see the front four positions tighten up dramatically.
On lap 25, the leaders approached rookie Aric Iosue with Iosue and Muldoon touching wheels sending Muldoon, Kody Graham, and Danzer all into the foam. Muldoon and Danzer would be done for the night, with Graham rejoining at the tail side of the field.
With the leader and defending race winner now out of the action a third of the way through the event, Ray Graham now took the point with Abold restarting in the runner-up position and Sitterly lurking in third, having charged from 11th.
As Graham, Abold, and Sitterly checked away, Barnes began his charge in the No. 68.
After starting 12th, Barnes drove underneath Snyder for fourth on lap 26 and began to reel in the front runners.
By lap 43 Sitterly and Barnes had managed to work by Abold for second and third and just one lap later Kody Graham was again involved in a jingle, this time with Dave Cliff on the back stretch. The caution would result in a red flag refueling period with 31 laps to go.
When the race resumed Ray Graham led Sitterly, Barnes, Abold, Snyder, Devendorf, Lavery, Dave Shullick Jr., Bond, and Gioia.
Again the front three pulled away as green lights came on with Bond now pressing in the No. 47. Bond would drive by Devendorf, Snyder, and Abold in a period of about 15-laps to position himself fourth in the order behind Graham, Sitterly, and Barnes.
By lap 65 it was evident that it was going to be a three horse race to the finish and at lap 70 all hell broke loose.
Sitterly first made the charge on Graham to the outside in turn three, but slipped high giving the low lane to Barnes to steal second.
Barnes wouldn't stop there.
After diving low on Sitterly in turn four, he then swung high on Graham into turn one to briefly take the lead with three laps to go.
Graham would not be outdone, storming back to the low side off turn two, making a lane for Sitterly to drive back to second.
But Barnes, known for working the high side, charged incredibly hard around both Sitterly and Graham back to the lead into turn three.
Yet again, the outside lane could not take it, as Barnes grabbed the lead he slid high, nearly tagging the outside wall, handing the lead back to Graham and second to Sitterly.
Barnes lost a lot of ground in that great charge for the point, leaving the battle now to Graham and Sitterly over the final circuits.
Sitterly would again muster another charge to the low side in turn three on the next lap, but pushed way high again handing the lead back to Graham.
As the lead duo hit the line with two laps to go Graham still led, but as they hit turn one Sitterly made an uncharacteristic low side move between one and two to surprise Graham off the second corner. Sitterly had to then dart high from there to clear lap traffic, taking the lead for good on the white flag.
Graham and Barnes would then chase Sitterly over the final 5/8 mile, falling just short of a $10,000 pay day in one of the most dramatic finishes in Speedway history.
"That was how you want to race," said Graham. "We obviously wanted to win this one tonight, but we'll take second, especially in a great race like that. We just got too tight to be able to hold him off late in the race."
Barnes, who missed the first two races of the season, found the podium yet again.
"Nobody was fast at the end," said Barnes. "I don't know what Hoosier thinks they are giving us, but it is not good. There is no way we should have gotten loose and we did. It was a great finish but we wanted the $10,000."
Shell Shock Custom Helmet Paint heat race victories went to Muldoon, Sitterly, and Danzer.
The Radical Race Gear Lap Leader was Ray Graham while Sitterly notched the Lighthouse Lanes Hard Charger Award with Devendorf claiming the Lighthouse Lanes Up and Comer prize.
Racing at Oswego Speedway continues on Saturday, August 8 with the 65th Anniversary special featuring the Novelis Supermodifieds and Pathfinder Bank SBS with just $5 admission.
Pit gates will open at 2 p.m. on August 8 with front and rear grandstands opening at 4 p.m. Racing will go green at 6:30 p.m.
Kids 16 and under with paid adult and active military with I.D. are free.
For more information on Oswego Speedway visit online at www.oswegospeedway.com or call (315) 342-0646. Visit the Speedway on social media @OswegoSpeedway or on Facebook at www.facebook.com/OswegoSpeedway.
Oswego Speedway
Oswego, NY
Saturday, August 1st, 2015
$10,000 to Win Mr. Novelis Supermodified
$1,500 to Win Mr. Pathfinder Bank SBS
presented by Davis Bros. Inc.
BOX SCORE:
Mr. Novelis Supermodified (75-laps): 1. 7 – Otto Sitterly, 2. 91 – Ray Graham, 3. 68 – Michael Barnes, 4. 47 – Bob Bond, 5. 5 – Tim Devendorf, 6. 05 – Jeff Abold, 7. 0 – Tim Snyder, 8. 50 – Dave Gruel, 9. 22 – Pat Lavery, 10. 9 – Stephen Gioia III, 11. 2 – Dave Shullick Jr, 12. 96 – Lou LeVea Sr, 13. 26 – Shaun Gosselin, 14. 06 – Dave Cliff, 15. 21 – Kody Graham, 16. 24 – Jerry Curran, 17. 51 – Michael Muldoon, 18. 52 – Dave Danzer, 19. 11 – Aric Iosue, 20. 79 – Brian Sobus, 21. 02 – Brandon Bellinger, 22. 56 – Hal LaTulip, 23. 83 – Lou LeVea Jr, 24. 00 – Joe Gosek, 25. 01 – Dan Connors
Lighthouse Lanes Hard Charger: #7 – Otto Sitterly
Lighthouse Lanes Up and Comer: #5 – Tim Devendorf
Radical Racegear Lap Leader: #91 – Ray Graham
Heat #1 (12-laps): 1. 51 – Michael Muldoon, 2. 91 – Ray Graham, 3. 47 – Bob Bond, 4. 22 – Pat Lavery, 5. 2 – Dave Shullick Jr, 6. 9 – Stephen Gioia III, 7. 96 – Lou LeVea Sr, 8. 83 – Lou LeVea Jr, 9. 01 – Dan Connors
Heat #2 (12-laps): 1. 7 – Otto Sitterly, 2. 0 – Tim Snyder, 3. 5 – Tim Devendorf, 4. 50 – Dave Gruel, 5. 06 – Dave Cliff, 6. 02 – Brandon Bellinger, 7. 11 – Aric Iosue
Heat #3 (12-laps): 1. 52 – Dave Danzer, 2. 05 – Jeff Abold, 3. 21 – Kody Graham, 4. 68 – Michael Barnes, 5. 24 – Jerry Curran, 6. 56 – Hal LaTulip, 7. 26 – Shaun Gosselin, 8. 00 – Joe Gosek
Pathfinder Bank SBS
Mr. Pathfinder Bank SBS (35-laps): 1. 50 – Dave Cliff, 2. 18 – Andrew Schartner, 3. 91 – Barry Kingsley, 4. 87 – Matt Magner, 5. 69 – Mark Castiglia, 6. 54 – Camden Proud, 7. 7 – Alex Hoag, 8. 24 – AJ Bernys, 9. 13 – Russ Brown, 10. 22 – Mike Bruce, 11. 9 – Jack Patrick, 12. 99 – Dennis Rupert, 13. 8 – Josh Kerr, 14. 76 – Scott Shafer, 15. 93 – JJ Andrews, 16. 04 – Kreig Heroth, 17. 14 – Alex McRae, 18. 74 – Mike Bond, 19. 15 – James Babcock, 20. 1 – Anthony Losurdo, 21. 01 – Dalton Doyle, 22. 90 – Greg O'Connor, 23. 98 – Jason Simmons, 24. 88 – Ron Pratt, 25. 97 – Jeremy Pitcher
D&S Landscaping Hard Charger: #13 – Russ Brown
Nice Price Auto Sales Up and Comer: #87 – Matt Magner
White's Car Care 4th Place: #87 – Matt Magner
Sherwood Racing Wheels Lap Leader: #91 – Barry Kingsley
Bacc-Off Hard Luck Award: #90 – Greg O'Connor
Heat #1 (10-laps): 1. 69 – Mark Castiglia, 2. 50 – Dave Cliff, 3. 99 – Dennis Rupert, 4. 93 – JJ Andrews, 5. 24 – AJ Bernys, 6. 1 – Anthony Losurdo, 7. 74 – Mike Bond, 8. 14 – Alex McRae, 9. 88 – Ron Pratt
Heat #2 (10-laps): 1. 01 – Dalton Doyle, 2. 8 – Josh Kerr, 3. 90 – Greg O'Connor, 4. 54 – Camden Proud, 5. 9 – Jack Patrick, 6. 76 – Scott Shafer, 7. 97 – Jeremy Pitcher, 8. 7 – Alex Hoag
Heat #3 (10-laps): 1. 87 – Matt Magner, 2. 18 – Andrew Schartner, 3. 91 – Barry Kingsley, 4. 22 – Mike Bruce, 5. 04 – Kreig Heroth, 6. 15 – James Babcock, 7. 13 – Russ Brown, 8. 98 – Jason Simmons