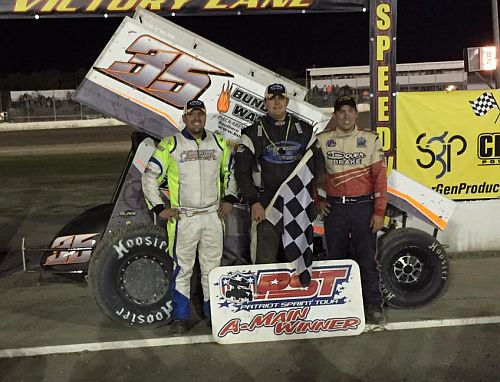 By Rich Vleck
 DUNDEE, NY, (August 7, 2015)- Jared Zimbardi has racked up plenty of wins over his career and had his share even this season, but this one had a different feel as it was his first as a father.
"It's the most special part," declared Zimbardi in Black Rock Speedway Victory Lane, scoring the win in the 25-lap A-Verdi A-Main presented by M&W Aluminum Products to sweep the season at the fast 4/10-mile.  The win comes less than two weeks after the birth of his daughter, Audrey.  Her arrival removed his championship aspirations for this year, but it has not slowed "The Juice" down when he hits the track
Zimbardi was fast from the start of the feature, battling side-by-side with newly-crowned 2015 PST America Champion Sammy Reakes for the first lap and a half, until he was able to clear him on the second lap, but it was Bryan Howland, the winner of this event in 2014, who would be his biggest challenger.
The two most-decorated PST Champions put on quite a show dueling in lapped traffic, as Howland chased down Zimbardi and passed him on lap nine to take the advantage.  Howland then found lapped traffic a hindrance a few laps later, as Zimbardi zoomed back by on lap 14.
"I was really surprised, he got underneath me and I realized he was pretty good," said Zimbardi, of Bradford, PA, after the race.  "I figured I'd see what happens and keep running the bottom.  I don't know if the tires came in or what but I caught him."
The first caution of the race did not appear until lap 17 with Zimbardi holding a slim advantage at the time. On the restart, Howland set up a sweet maneuver to drive around the outside of the No. 35 to retake the lead.  Not to be outdone, Zimbardi drove in hard on the bottom of turn one and took the lead back.  A classic race to the finish was in the making, but Howland's night would end five laps short as a tie rod broke on the No. 51, forcing him to stop over the banking in turn three.
"When he got back by me on the restart I'm just smiling because it was a good race.  I've never been part of a race where the lead swapped back and forth like that," reflected Zimbardi. "I hate to see him have problems because I feel like we would have battled like that until the end, who knows who would have won."
On what would be the final restart, Zimbardi only got better as he clicked off his first laps in the 13 second bracket of the night and drove away to score the win.
"I started backing off the throttle to keep the cars straight and it's amazing how sometimes you can't just get in these and smash the throttle down, but the crew does a great job to hook the car up at the end of the race when it counts."
It was Zimbardi's 24th career PST win, his fifth at Black Rock and his fifth win of 2015.  It is worth noting that all five of his wins this season have come on a Friday.
Sammy Reakes IV had a stout race car and was able to finish in second, which was more than enough for the Palermo, NY resident to claim the 2015 PST America Championship.
"The car was on a rail tonight, Jared was just a little bit better," noted Reakes after the event.  "I felt like in lapped traffic I could run with him and if we stayed in traffic I might have had a shot but to win this championship is just amazing."
Coming in to the night, Reakes only needed to start the feature to put a virtual lock on the championship, but by virtue of his runner-up finish, he officially has locked up the crown, which was important to "The Honeybadger".
"I didn't relax until I went across the checkered flag and I knew I could just celebrate tonight.  It's a dream come true. This is probably the highest level of racing I will reach so to win a championship at it is pretty special."
Reakes had been so focused on winning the championship over the last month that he had stated that he felt he wasn't getting the most out of his race car. By starting the feature he was able to race harder and had a huge smile on his face to be able to score his best finish since May.
It was an impressive three months for Reakes as he finished every PST America event in the top 10, scoring two wins and five podium finishes along the way.
Another feel good story on the night was turned in by Danny Varin, who won his heat race and drove up to finish in third.  It was Varin's first race back since a terrifying incident at Rolling Wheels two weeks earlier where his car caught on fire and he suffered second degree burns.  Varin was particularly pleased that he felt his 00 was just a little off and he was still good enough to get to third.
Birthday boy Kyle Drum put a cap on a fine season, coming home in fourth.  It was seventh top five of the season for Drum, who had not planned on running the entire tour at the start of the year but was able to finish up second in points.
Jonathan Preston was yet another great story as the rookie 360 sprint driver won the Evingham Site Excavation Dash4Cash and then parlayed that in to a top five finish.  In just his third start in a 360, the Romulus, NY driver looked terrific in his family's No. 22.
Paul Habeck had difficulty getting to the track, then nearly got collected in a heat race spin, but survived all of that to finish in sixth.  Nine-time Black Rock sprint winner George Suprick drove up to seventh, getting by Darryl Ruggles in the late stages as Ruggles finished eighth. Steve Collins finished in ninth while Joe Trenca was the hard-charger, driving up to 10th in his first BRS appearance.
A total of 22 sprints were on hand for the 39th appearance for the Patriots in Dundee. Jimmy Stitzel looked good in his heat race but broke while leading and was scratched for the night.  It was also a tough night for Scott Just as he dropped a valve in his engine on lap 20.
Patriot Sprint Tour America Series Results: 8/7/2015, Black Rock Speedway, DUNDEE, NY.
A-Verdi A-Main presented by M&W Aluminum Products (25 Laps)- 1. Jared Zimbardi (35), 2. Sammy Reakes IV (17), 3. Danny Varin (00), 4. Kyle Drum (47), 5. Jonathan Preston (22), 6. Paul Habeck (25H), 7. George Suprick (87), 8. Darryl Ruggles (48JR), 9. Steve Collins (67), 10. Joe Trenca (98), 11. Tyler Graves (25G), 12. Dave Just (54J), 13. Jake Muench (14), 14. Will Glover (21), 15. Alysha Ruggles (48A), 16. Josh Azzi (17z), 17. Dave Wickham (80), 18. Derrick Juliano (1J), 19. Pete Richardson (67R), 20. Bryan Howland (51), 21. Scott Just (54JR), DNS: Jimmy Stitzel (4).
Lap Leaders- Reakes 1, Zimbardi 2-8, Howland 9-13, Zimbardi 14-17, Howland 18, Zimbardi 19-25.
Evingham Site Excavation Four Laps of Fame (4 Laps)- 1. Jonathan Preston (22), 2. Scott Just (54JR), 3. Alysha Ruggles (48A), 4. George Suprick (87), 5. Tyler Graves (25G), 6. Steve Collins (67).
Heats (8 Laps Each)-
Race 1: Varin, D. Ruggles, Drum, Collins, Suprick, Trenca, Wickham, Juliano.
Race 2: Zimbardi, Howland, A. Ruggles, S. Just, Graves, Azzi, Stitzel.
Race 3: Reakes, Habeck, Preston, D. Just, Glover, Richardson, Muench.
Hoosier Tire Canada/ Mike Emhof Motorsports Recipient: Graves.
Pole Position Raceway Pole Winner: Reakes.
Patriot Sprint Tour America Series Point Standings (Top 10)- Reakes 2039, Drum 1977, Collins 1786, D. Just 1772, S. Just 1758, Suprick 1753, Zimbardi 1719, Graves 1433, Hutchinson 1405, Muench 1153.
Evingham Site Excavation Four Laps of Fame Dash Series Standings (Top Five)- Kreutter and Collins 24, Zimbardi and Reakes 18, S. Just 17.
Patriot Tank Lines Hard Charger of the Season Standings (Top Five)- Zimbardi 70, Suprick 44, Barney 39, D. Just 36, Reakes 35.
Danny Willmes Enterprises Lap Leader Standings (Top Five)- Zimbardi 97, Poirier 43, Reakes 38, Howland 34, Collins 31.