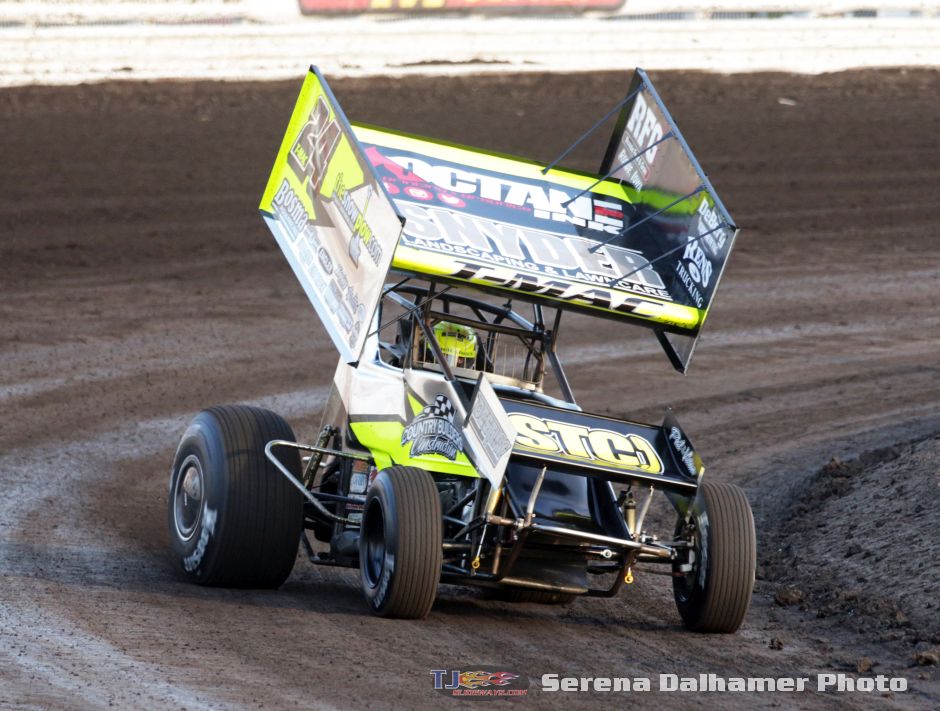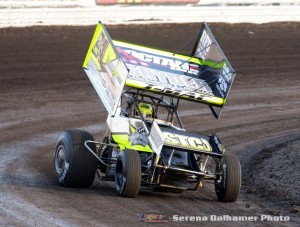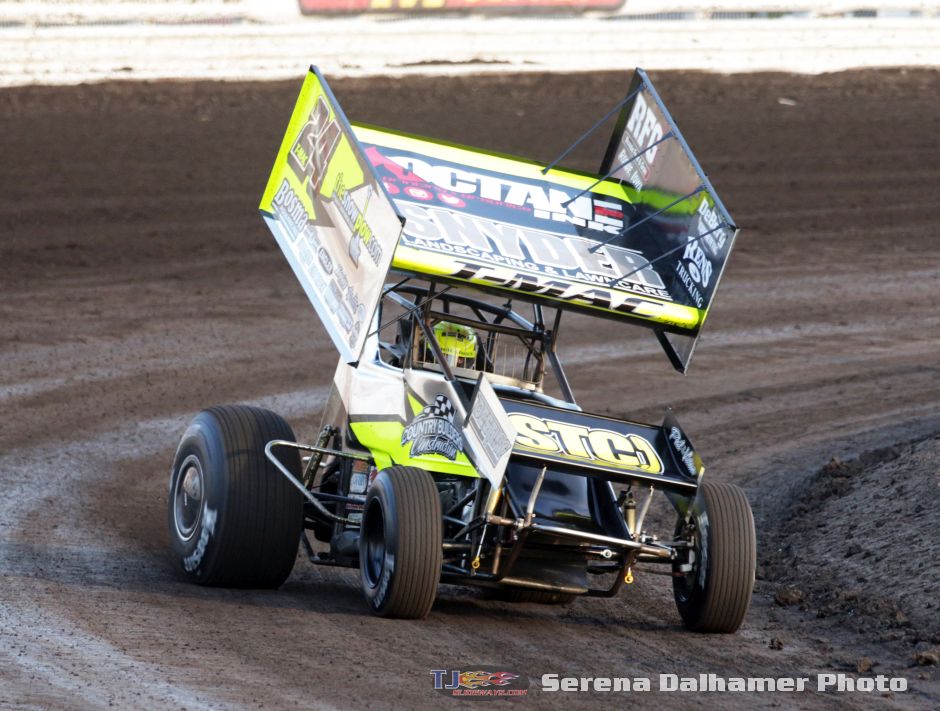 by Bryan Hulbert and Bill Wright
Knoxville, IA, August 8, 2015 – If a face would appear next to the definition of the domination in the Dictionary, it just might be that of Terry McCarl, as the Altoona, Iowa native added a fourth championship trophy to his shelf in the 25th annual Arnold Motor Supply 360 Knoxville Nationals presented by Great Southern Bank.
Jumping to the lead twice as the caution for Justin Henderson and Ryan Roberts brought back the original start back, McCarl's SnowPlow.com No. 24 buzzed the cushion with ease to lead the full 25 laps for the night's $10,000 payday.
"Man, I'm use to going left after the scales. It's been a while since I got to turn right here," chuckled an elated Terry McCarl following his fifth career Knoxville Raceway victory in a 360cid Sprint Car. "What an honor to win this event for the fourth time. I said earlier, we really hadn't planned on running this weekend had it not been for Don Long and Searsboro Telephone and Jamie Moyle."
Asked what was his key to victory, McCarl replied, "Last night because we don't run 360's very often so it taught us a lot. We tightened the car more for tonight and when I was out there running, I thought if someone passes us, they must be running really good. I didn't think the bottom was as good as it was last night. Dusty is so good on the bottom, and I didn't ever hear anybody so I didn't think there was enough to try down there."
As much as four seconds ahead of the No. 82 of Dusty Zomer, a few hold ups in slower traffic allowed the Buffalo Wild Wings entry to close to 2.719 seconds at the drop of the checkered flag.
"The car was close, but I knew Terry was going to be tough to beat coming off the front row like that too. It was going to be a good race, but the top was just wide open. Last night I was running on the bottom, but it was just a little narrow so I never really did give it a shot," said Zomer. "Hats off to Terry and his entire team. They were fast tonight."
Marking his best finish in the 360 Nationals, Lucas Oil ASCS National Tour point's leader, Aaron Reutzel, took the final podium step in the B.C. Fundz No. 87 after pulling off a hard slide job through turns three and four; blocking the charge on the low line entering the first turn on the second lap.
"When you run third to T-Mac and Dusty Zomer, that's nothing to hang your head over, especially looking at all the people we did beat," commented the Clute, Texas shoe. "This was a hell of a run by this team. I can't thank Scottie McDonald enough with Dissolvalloy. If it wasn't for him, we wouldn't be standing here tonight but I've got a lot of great people here tonight; especially Christy Miller and I know Bob's looking down smiling right now."
Able to run down the No. 87 on several occasions, Wayne Johnson came close a few times to retake the third spot, but slower traffic kept the Townline Variety No. 77x fourth with Sammy Swindell taking fifth in the Cooper Motorsports No. 01.
Clint Garner crossed sixth with Brian Brown working from 11th to seventh. Danny Lasoski was eighth with Kevin Swindell making it to ninth from 15th. Bronson Maeschen was the night's KSE Hard Charger with a 24th to 10th run.
With impending weather removing 305cid competition from the lineup, five features were contested with Jake Bubak winning the E-Feature. Jeff Swindell led the way in the D-Feature with Sam Hafertepe, Jr. taking the win in the C-Feature. The final chance to make the show went to Ryan Roberts.
Join us Sunday night, August 9 for the 4th Annual Kustom Concrete Pumping Capitani Classic! For more information on Knoxville Raceway, visit www.KnoxvilleRaceway.com!
KNOXVILLE RACEWAY, Knoxville, IA
August 8, 2015
360 RESULTS
E main, 8 Laps, No Time: 1. Jake Bubak (1); 2. Randy Hannagan (4); 3. Brandon Wimmer (7); 4. Lance Moss (6); 5. James Mosher (8); 6. Kaley Gharst (2); 7. Kris Miller (11); 8. Danny Smith (5); 9. Jason Schroeder (16); 10. Adam Speckman (13); 11. Darren Smith (12); 12. Blake Hahn (10); 13. Tyler Brooks (14); 14. Jared Goerges (9); 15. Kevin Ingle (15); 16. Mike Dapra (17); 17. Caleb Helms (3);
D main, 10 Laps, No Time: 1. Jeff Swindell (2); 2. Danny Jennings (4); 3. Ricky Montgomery (3); 4. Parker Price-Miller (7); 5. Justyn Cox (6); 6. Ryan Bernal (5); 7. Tasker Phillips (8); 8. Jack Dover (13); 9. DJ Netto (11); 10. Alan Zoutte (1); 11. Phil Dietz (9); 12. Jake Bubak (18); 13. Brooke Tatnell (10); 14. Randy Hannagan (19); 15. Dylan Peterson (16); 16. Michael Lang (17); 17. Brandon Wimmer (20); 18. Colby Copeland (15); 19. Kaley Gharst (21); 20. Rick Ziehl (12); 21. Kris Miller (24); 22. Jordan Weaver (14); 23. James Mosher (23); 24. Lance Moss (22);
C main, 12 Laps, No Time: 1. Sam Hafertepe Jr. (4); 2. Ian Madsen (1); 3. Lee Grosz (3); 4. Scottie McDonald (5); 5. Seth Bergman (10); 6. Jonathan Cornell (6); 7. Chris Martin (8); 8. Johnny Herrera (9); 9. Harli White (12); 10. Matt Covington (11); 11. Brandon Hanks (2); 12. Jeff Swindell (18); 13. Scott Winters (16); 14. Tasker Phillips (24); 15. Ryan Bernal (23); 16. Cody Ledger (7); 17. Ricky Montgomery (20); 18. Sheldon Haudenschild (14); 19. Kyle Bellm (17); 20. Bart Friedrichsen (13); 21. Tom Lenz (15); 22. Danny Jennings (19); 23. Justyn Cox (22); 24. Parker Price-Miller (21);
B main, 15 Laps, No Time: 1. Ryan Roberts (1); 2. Billy Alley (3); 3. Tony Shilling (6); 4. Bronson Maeschen (2); 5. Davey Heskin (15); 6. Russ Hall (4); 7. Thomas Kennedy (9); 8. Mark Smith (18); 9. Matt Moro (11); 10. Joe Beaver (14); 11. John Carney II (12); 12. Don Droud Jr. (13); 13. Ian Madsen (21); 14. Seth Bergman (24); 15. Carson McCarl (17); 16. Nate Van Haaften (7); 17. Lee Grosz (22); 18. Curt Michael (8); 19. Scottie McDonald (23); 20. Willie Croft (19); 21. Sam Hafertepe Jr. (20); 22. Josh Baughman (5); 23. Sawyer Phillips (10); 24. Jordyn Brazier (16);
A main, 25 Laps, No Time: 1. Terry McCarl (1); 2. Dusty Zomer (2); 3. Aaron Reutzel (6); 4. Wayne Johnson (4); 5. Sammy Swindell (5); 6. Clint Garner (3); 7. Brian Brown (11); 8. Danny Lasoski (8); 9. Kevin Swindell (15); 10. Bronson Maeschen (24); 11. Calvin Landis (9); 12. Tony Shilling (23); 13. Tony Bruce Jr. (12); 14. Jon Agan (17); 15. Jamie Ball (18); 16. Ryan Giles (10); 17. Billy Alley (22); 18. Casey Friedrichsen (14); 19. Bryan Clauson (13); 20. Tyler Thomas (20); 21. Jac Haudenschild (16); 22. Justin Henderson (19); 23. Tim Shaffer (7); 24. Ryan Roberts (21);